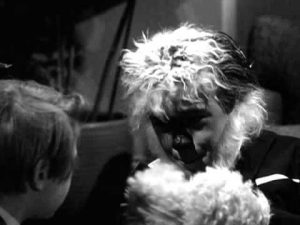 So, Transmutations. The "kewl powerz" of the Promethean set. Let's talk about them.
In Promethean's first edition, Transmutations worked more or less like the powers in other White Wolf games; they had a linear progression (though you could buy them out of sequence for an additional experience cost), and they covered a lot of the bases: aura sight, some mild shapeshifting, combat power here, stealth power there. Most of the powers worked pretty well in-theme, with a few weird outliers, not that I'm ever going to complain about something weird in Promethean.
For the second edition, though, we wanted to mix things up a bit. We wanted to earn the name "Transmutation." As such, here are my notes from the outline:
Principles of Transmutations
Transmutations are all about change. They change the Promethean's mind, soul, body, Azoth, whatever or they change the world around her. If you're changing a living thing, you're pumping it full of Azoth. If that changes its body, it should run the risk of doing lethal damage if you get it wrong. If that changes its mind, it should run the risk of creating or worsening Disquiet, or causing a breaking point.
Prometheans don't have much in the way of mental manipulation powers, and what they do have should center on Disquiet. A lot of the Mesmerism Transmutations can get rethought; I don't want Prometheans to have mind control in any fine-control way. The best they can do is get someone to take brief, understandable and in-character action. Ignore you and leave you alone? Sure. Show a momentary act of kindness? Probably. Post-hypnotic suggestion? No.
Nothing that requires long, drawn out rolls or extended actions. For one thing, they eat words, but I also don't think they're in-theme.
Everything requires Pyros expenditure, and all Transmutations get more impressive as you pump more Pyros into them.
So with all that in mind, my authors came up with a system for Transmutations that I think is pretty cool, but is pretty different from the way the powers in Chronicles of Darkness games generally work. Check it out.
Every Refinement has two Transmutations. Each Transmutation is broken down into four Alembics. Each Alembic is broken down into four Distillations. With me so far?
When you adopt a new Refinement, your Transmutations change. So lets say I'm on the Refinement of Gold (a good starting place); my Transmutations are Deception and Mesmerism. I choose one Alembic from each one. I can use any Distillation from those Alembics; Distillations aren't learned, you just activate them by spending Pyros. Distillations are roughly broken down into a persistent effect (doesn't require any Pyros expenditure, it's just always on) and three abilities that cost 1, 2, or 3 Pyros to "charge" for the scene.
When I change Refinements, let's say to Stannum (I had a bad time on Aurum), my Refinements change from Deception and Mesmerism to Electrification and Disquietism. I pick new Alembics (one from each Transmutation), and on I go.
Ah, you say, there must be more to it than that. Yes! If you master a Role, you add an Alembic from each Transmutation while you're on that Refinement. Since each Transmutation only has four Alembics, once you've mastered three Roles, you have access to the entire Transmutation…while you're in that Refinement.
But suppose I'm playing my character (on Stannum, remember) and I decide that the Weaponize Alembic is just too useful to give up (I apparently had a really bad time on Aurum). I can expend Vitriol to calcify the Alembic, making it a permanent part of my alchemical makeup. Now, that Alembic doesn't count toward my total; when I change Refinements again, I get to pick the appropriate number Alembics (one from each Transmutation plus one from each Transmutation per Role I've mastered in that Refinement – if the Refinement is entirely new to me I just get one from each Transmutation), plus I keep Weaponize.
I'm sure you'd love an example, so here's the first Alembic of the Metamorphosis Transmutation:
Metamorphosis
Prometheans who follow the Refinement of Cuprum believe that their bodies are not unlike clay, waiting to be shaped into something more useful. They learn the secrets of Metamorphosis in order to change their appearance or even bodily shape. Some make the attempt to shift in just the right manner to make the body fit what the world demands. Others simply relish the opportunity to learn tricks that make survival just that much easier.
Charging a Metamorphosis Distillation without flaring disfigurements imposes the Atavistic Condition (p. XX).
Metamorphosis is divided into four Alembics. Those Alembics are: Aptare (the ability to adapt to the environment), Bestiae Facies (changing into animal-like forms), Tegere (the ability to create armor due to shapeshifting), and Verto (the ability to change appearance).
Aptare
Pariahs often live in remote, inhospitable places. While the Promethean body can take far more punishment than a human, it is neither invulnerable nor immune to the need for basic necessities such as food and water. With some practice, the Pariah forces her body to adapt to go without or to function in ways it was never intended.
Persistent: The Pariah ignores the effects of one Environmental Tilt per scene. She chooses which Tilt to ignore, her body adapting to the circumstances. She may only ignore Tilts that have environmental consequences — extremes of heat or cold, heavy rains, flooding, earthquakes, and so on. The Pariah cannot breathe water or survive in a vacuum without charging the Alembic, however.
Blessing of Tethys
The Promethean changes her physiology to breathe water instead of air. She suffers no outward signs of this alteration. Instead, the lining in her lungs changes to filter oxygen from water instead of air.
Cost: 1 Pyros
Dice Pool: None
Action: Instant
Once this power is activated, the character's lungs change to breathe water. This effect persists until the Promethean spends 1 Pyros to reverse the effect. During this exchange, any residual air or water in the character's lungs is instantly and effortlessly expelled, so the character is in no danger of drowning.
Scuttling Spider
Sometimes a Promethean needs to scale a cliff, tree, or other vertical surface. This could be to acquire food, to escape from enemies, predators, or natural disasters, or to find shelter. Her hands and feet grow tiny hooks, suckers, or similar miniature adhesive adaptations. Her bones become hollow, enabling her to climb vertical surfaces without tearing pieces of that surface off.
Cost: 2 Pyros
Action: Reflexive
Dice Pool: None
The Pariah adapts her body as described. For the remainder of the scene, she may scale vertical obstructions effortlessly, moving as her usual Speed. Particularly slick surfaces may require a Strength + Athletics roll to make headway (a Climbing Specialty certainly applies). Even slick surfaces are no barrier, as she may climb them as she would any other barrier. In addition, she may move upside-down across ceilings and similar surfaces with a successful Strength + Athletics roll.
Procrustean Shape
With full control over her own body, the Promethean can adapt to any number of situations. This power allows her to change her own proportions for a variety of effects.
Cost: 3 Pyros
Dice Pool: Resolve + Medicine + Azoth
Action: Instant
Roll Results
Dramatic Failure: The Pariah attempts to alter some aspect of her body and fails utterly. She suffers from the Stunned Tilt, as the pain makes her temporarily unable to act.
Failure: The Promethean fails to adapt her body.
Success: The Pariah successfully alters her body, adopting one facet from the list below.
Exceptional Success: The character may select two alterations from the list below.
Alterations
The following list is provided to act as examples of alterations possible with this Distillation. Similar abilities may be available at the Storyteller's discretion.
Long Arms: The Promethean's arms extend, gaining a +1 to Defense while in close combat as his reach gives him an advantage. Alternatively, the character may extend only one arm up to two feet per success to reach something out of his reach, but suffers a –1 penalty to all actions while in combat.
Long Legs: The character's legs lengthen, lengthening her stride. She gains a +1 to Speed per success.
Malleable Skeleton: The Pariah makes his bones like rubber, enabling him to twist and squeeze his body through any opening at least one foot in diameter. While moving through the opening, the character may move at half of her Speed, but loses Defense. If used in conjunction with Long Arms or Long Legs, the limbs are pliable, able to bend around corners and perform similar feats.
Altered Body: The character's body alters as desired. He can make his body rubbery and pliant, or harden it like rock. Regardless of the method, the character gains armor equal to the activation successes as his body simply absorbs or deflects impacts.