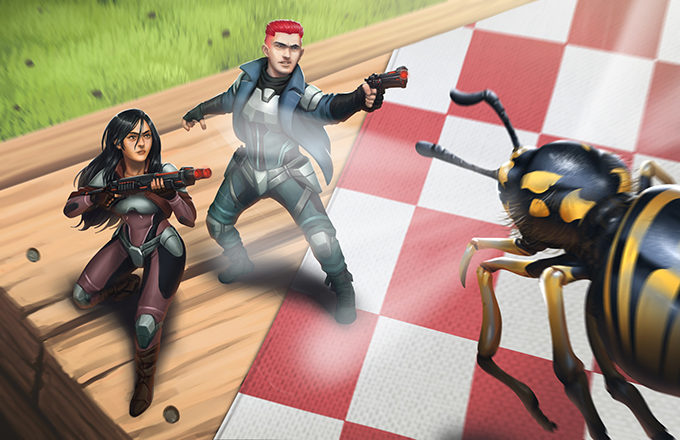 (Trinity Continuum Player's Guide on BackerKit)
That's right – the TCPG Crowdfunded on BackerKit campaign ends this Thursday, the 20th!
We're charging towards 800 backers right now, and with the excitement that always happens in the last two days, there's no telling how much further we will go! So if you haven't backed – now's the time!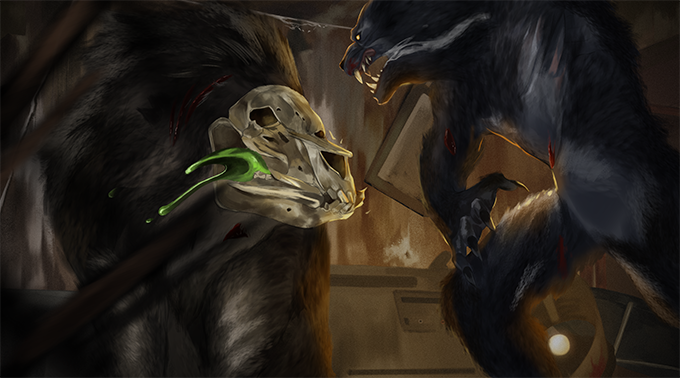 Just a heads-up, this was a day of many meetings, so the "flavor text" this week is going to be really abbreviated. Sorry about that, but a lack of time combined with my hunt and peck typing have conspired to make getting y'all the info, "the crunch", a priority, and so my usual wacky prose must be curtailed!
We took a look at our Onyx Path Mailing List stats to – wait! you didn't know that there's an Onyx Path Mailing List that sends out two aggregated emails per week automatically (Tuesdays and Thursdays) to folks who've signed up for it?
(Which is different than the aggravated emails that I usually get!)
What that means is that you'll get this MMN blog, plus any blog posts from over the weekend on Tuesday, and then the Wednesday Release/Sales blog and anything else we post between those days gets included, too! Ian's Monthly Roundup, blog posts for games like Matthew's current series of teasers for The World Below – they're all included, you won't miss any of them, and they show up in your inbox automatically!
I haven't mentioned the Mailing List for quite a while, so it's great to see so many of you already signed up – and if you're new to the idea, go ahead and click on that lil box there on the right side of the Onyx Path website!
It's just that easy.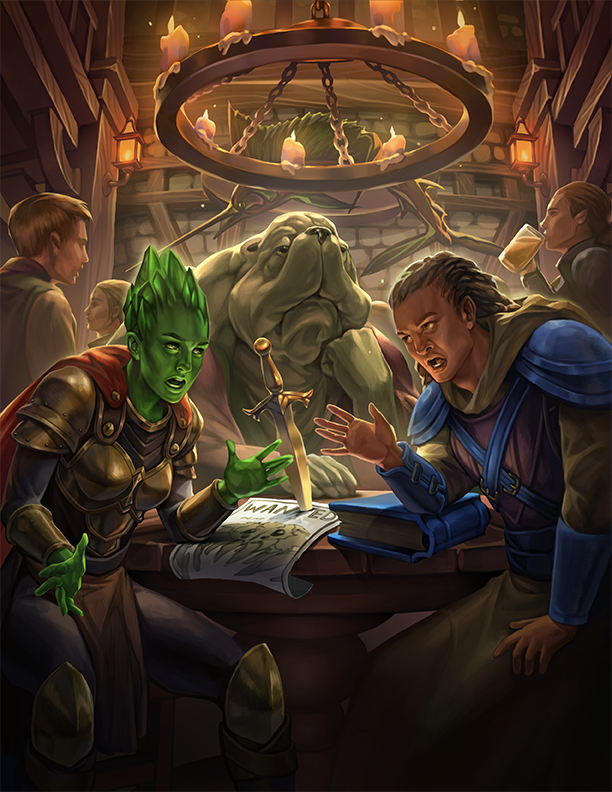 Speaking of Matthew's The World Below blogs (which come out every Thursday), last week featured the winning ideas offered online concerning the destruction of the previously thriving settlement of Glowstream. From the blog:
Thank you to all the commenters, and a special thanks to T.J. Wilson, whose idea formed the core of this lore entry, and everyone else who commented, as I've tried to incorporate a little something of each of your suggestions! We even added a little Stephen Kingism in there, at the end.

As you may have determined from previous blogs, characters in The World Below consist of three Paths, currently known as their Dawn, their Dialectic, and their Calling. Each grants access to something different in the game and is determined by different things, too. Dawns are an amalgamated origin for a character, while Dialectics speak to a character's internal synthesis with the World Below. As already-mentioned, a Calling is a character's destiny and role in the pack.
Loyal commenters, please state below whether you want to know more about Dawns, Dialectics, or Callings, and next Thursday you'll receive more information on the one that garners the greatest number of votes! I also invite you to comment with anything further you want discussed in these blogs regarding The World Below. What aspect of the game really interests you?
You can check out last week's blog for just what did happen to Glowstream, and then add your vote in the comments via this link: https://theonyxpath.com/the-world-below-glowstream/
Another thing Matthew is looking for are entries to our TikTok Contest I mentioned a couple of week's ago. We're looking for short vids, really, so TikTok or FB or whatever venue works for you so long as you let us know about it directly, and/or via links or hashtags. Could be funny, informative, a package opening, whatever. Could be for any of our Onyx Path games, and the winner gets a $150 coupon!
The Fantastic Four! That's my newly coined name (as of this blog) for our fantastic Onyx Pathcast hosts – which now includes Danielle Lauzon! Please join me in welcoming Danielle officially as the fourth host of our Pathcast, which we think will provide even more flexibility for our topics (and banter)!
Danielle's first official session will be available this coming Friday- so we hope you'll download and let us know what you think!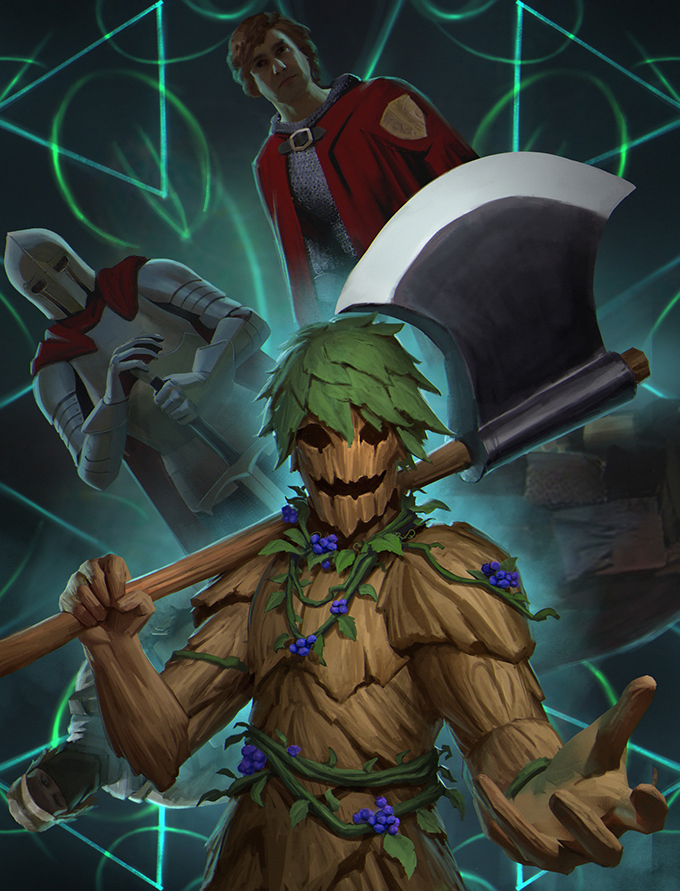 We talked a fair bit about the GAMA convention all next week, where we'll be represented at the IPR booth and giving away copies of the freshly printed Storypath Ultra Brochure. If you want one of these physical copies of the newest iteration of the Storypath System – let your local game store know so they can snag you one!
We ALSO talked about this year's OPP Con! More properly, the Onyx Path Virtual Convention to be held online from June 16th – 18th! I'll be sharing more news as to what we'll be doing, but figure on pulse-pounding panels, riveting reveals of upcoming projects, genuinely great gaming, and captivating chances to chat with your Onyx Path favorites!
Hope Stan appreciates all that awesome alliteration!
Finally, if you've missed the Comments section of the MMN from last week, you missed a very fun series of back and forth posts discussing the theoretical urban dark fantasy/horror game world that Onyx Path could potentially make – someday – and commenters letting me know their thoughts on our projects and this potential project, how WoD and CofD handled the themes and topics, and generally what they are into with supernatural games and media.
It's been a lot of fun, and I'm hoping we can extend it into this week's Comments – so previous posters, can you jump over here? And if you have thoughts and want to share them with me and your fellow posters – you are sincerely more than welcome!
C'mon down! Set aspell.
Y'all come back now, to:
MANY WORLDS, ONE PATH!
---
BLURBS!
---
KICKSTARTER/CROWDFUNDING!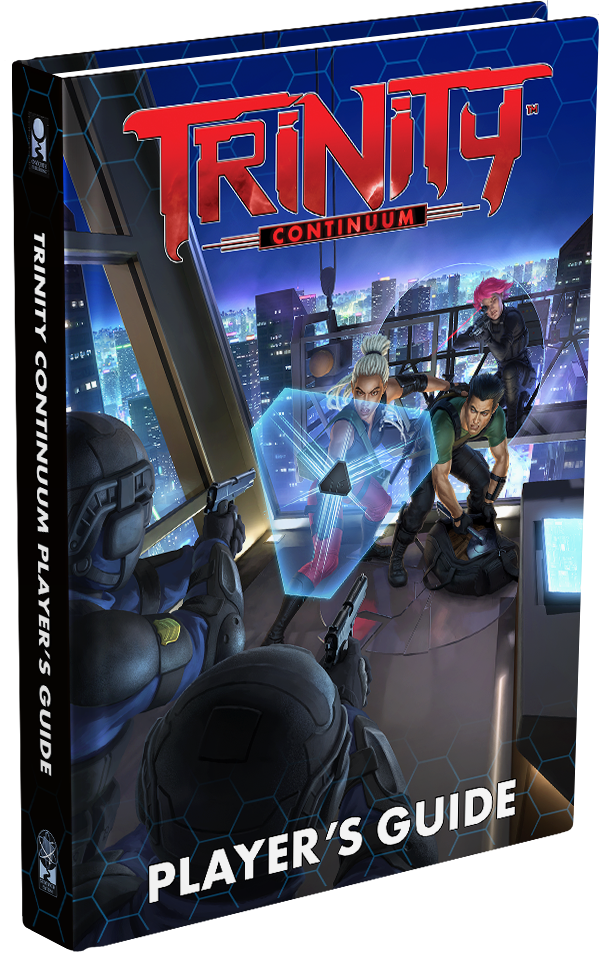 LAST FEW DAYS!!! The Trinity Continuum Player's Guide funded in a tad over Four Hours on Crowdfunding On BackerKit, and we're headed to 800 backers! Come join us and help us top that, and, of course, here come the Stretch Goals!
Here's the link so you can join in:
https://www.backerkit.com/call_to_action/95ca375d-7d44-4b47-9cc6-df11bd469a90/landing
---
Onyx Path Media!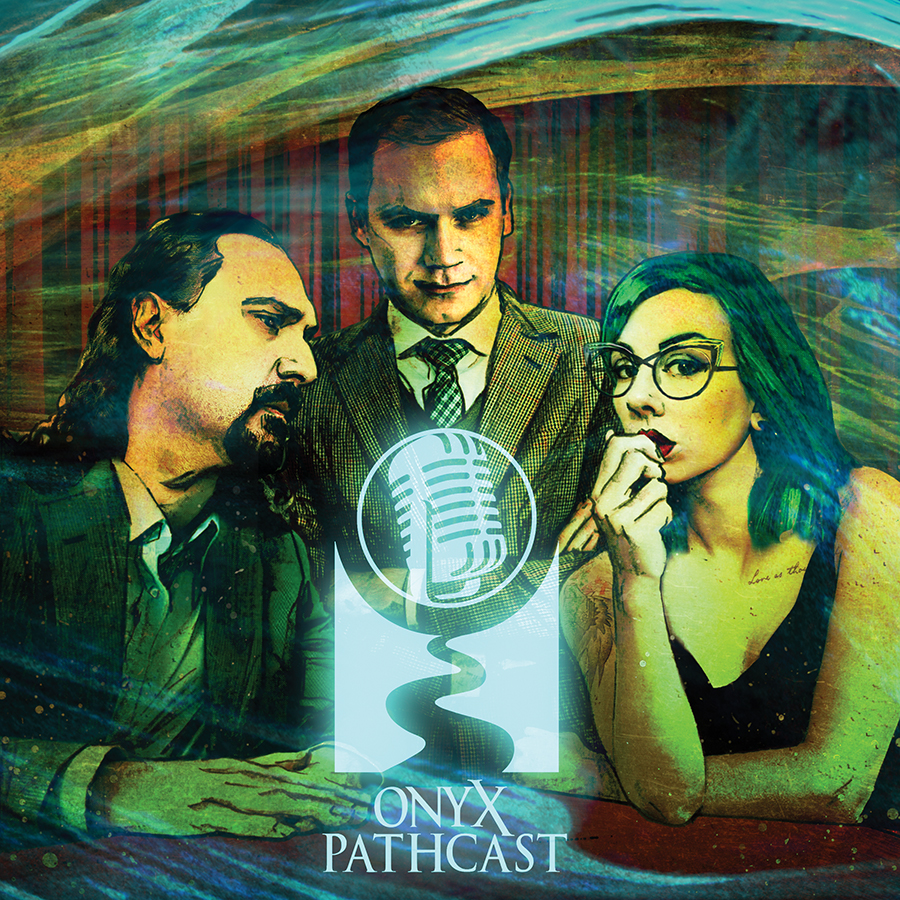 This week:
Dixie and Eddy formally welcome Danielle as the fourth host of the Pathcast, and interview her about what she's been doing lately, as well as some more chat about the Trinity Player's Guide.
As always, this Friday's Onyx Pathcast will be on Podbean or your favorite podcast venue! https://onyxpathcast.podbean.com/
---
Onyx Path Media now has its own blog on Tuesdays! We'll continue posting our highlight of the week here, but Tuesday will be the day to visit if you want to catch up on actual plays, interviews, deep dives, and other assorted Onyx Path media!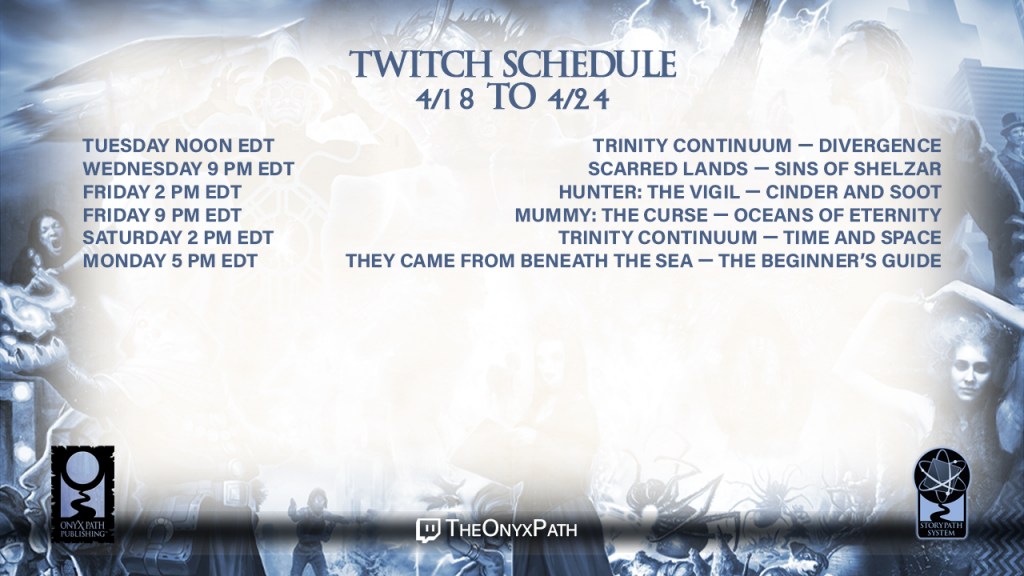 Please check out our attached media schedule for the videos on our Twitch channel this week! In particular, keep those eyes open for our Storypath Showcase, where we give an excellent profile of our various Storypath games and how to play them!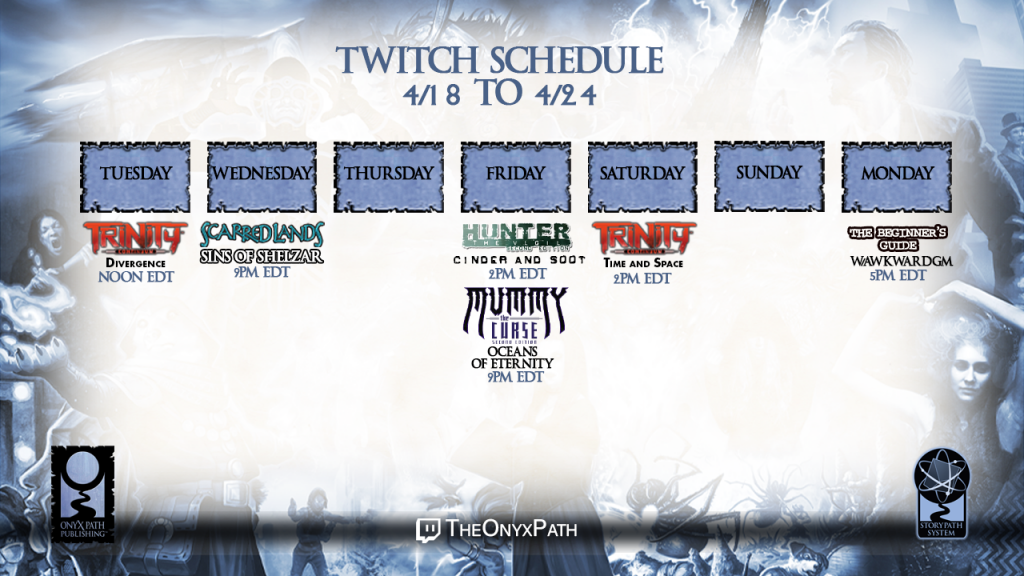 MEDIA HIGHLIGHT OF THE WEEK:
The wonderful Story Told RPG Podcast has recorded a wonderful episode all about the Book of Lasting Death for Mummy: The Curse 2e! You can find the podcast here – https://thestorytold.libsyn.com/episode-123-the-book-of-lasting-death – and the book here: https://www.drivethrurpg.com/product/406043/The-Book-of-Lasting-Death?affiliate_id=13&src=OnyxPathWeds
The Onyx Path News discusses recent and upcoming releases! You can find it on our YouTube channel (click the bell to be informed when we go live!) but if you missed the last episode, here it is: https://youtube.com/live/O8ygaDg_Xyg
---
Virtual Tabletop!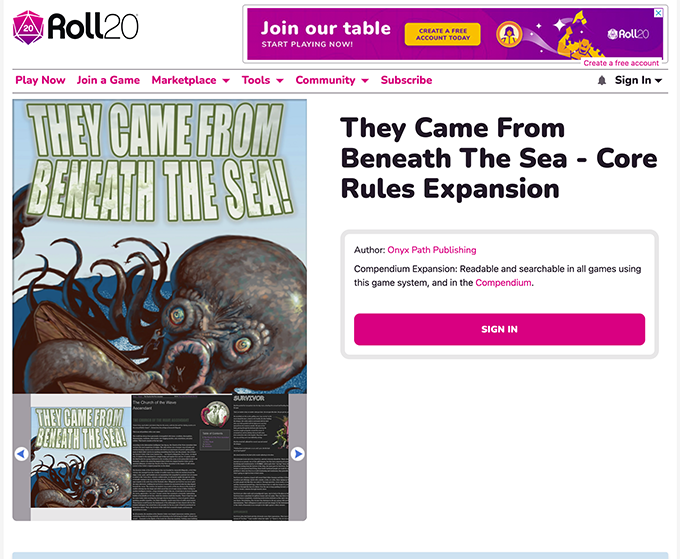 NEW!
They Came From Beneath the Sea! on Roll20 VTT!
https://marketplace.roll20.net/browse/bundle/22308/they-came-from-beneath-the-sea
Here are some more shots from the They Came From Beneath the Sea! Compendium!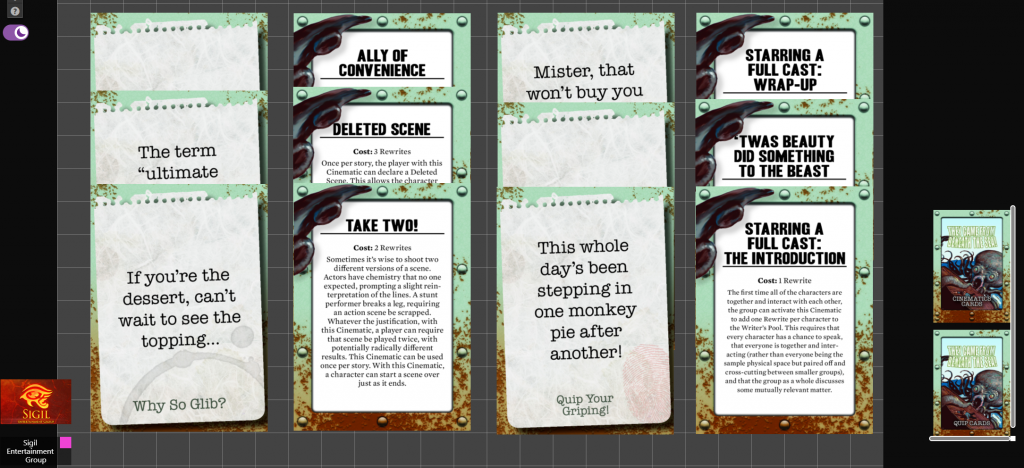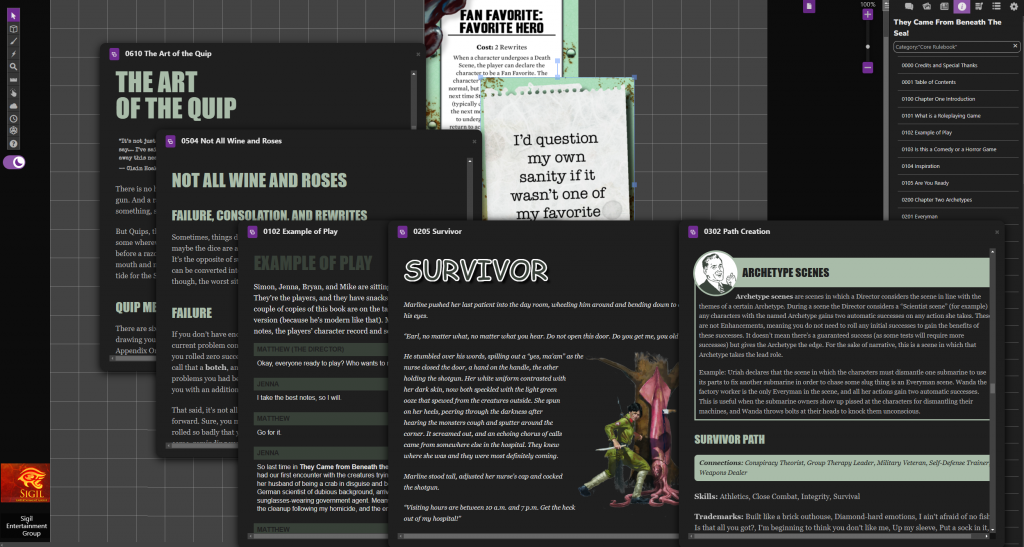 And there's also the Scion Jumpstart, all ready for Roll20 VTT fun!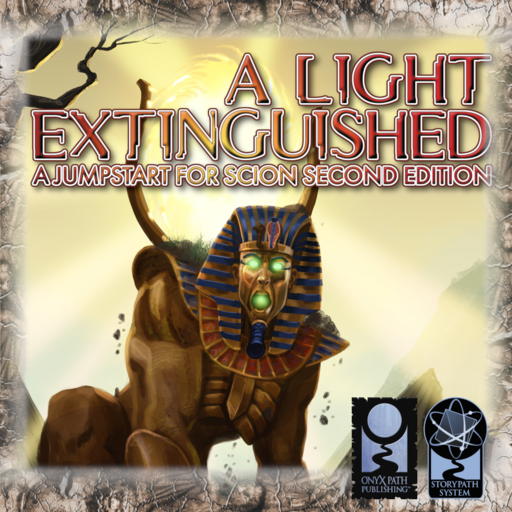 https://marketplace.roll20.net/browse/bundle/21165/a-light-extinguished-a-jumpstart-for-scion-second-edition
More news and links when we have them!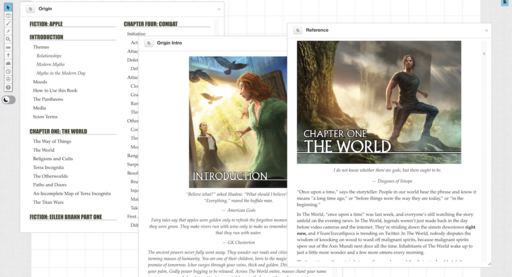 The Scion: Origin and Scion Hero Compendiums are now available on Roll20!

https://marketplace.roll20.net/browse/publisher/1716/onyx-path-publishing

Scion is just the start! They Came From Beneath the Sea! and other
Onyx Path RPGs are in development for Roll20 virtual tabletop!

The first of our official Scion sheets designed for Foundry VTT are
now available!

Direct Link: https://foundryvtt.co
Looking for more virtual tabletop resources? We have a selection of
Tokens, Encounters, and more available now at DriveThruRPG!

Get 'em here: https://bit.ly/3SnrNJ7

---
Our Sales Partners!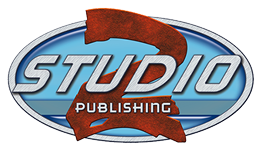 We're working with Studio2 to provide our traditionally printed books out into your local game stores. Game stores can order via their usual distributors, and can also contact Studio2 directly. And individuals can check out our projects via the links below!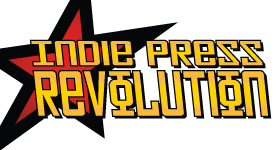 Looking for our Deluxe or Prestige Edition books, dice, and screens? Try this link! http://www.indiepressrevolution.com/xcart/Onyx-Path-Publishing/
https://www.indiepressrevolution.com/xcart/Deals-and-Specials/

As always, you can find Onyx Path's titles in PDF and PoD versions at DriveThruRPG.com!
Amazon and Barnes & Noble!
You can now read our fiction from the comfort and convenience of your Kindle (from Amazon) and Nook (from Barnes & Noble).

Check out Melody Through the Mirrorshade Lens and Facets of Truth , as well as Trinity Continuum: Terat and The Hollow Courts on Kindle in the Kindle store!
---
On Sale This Week!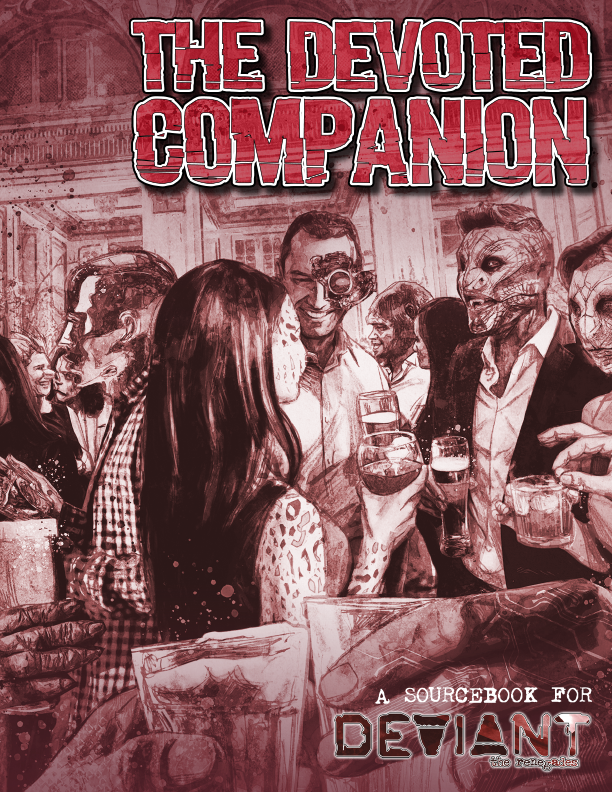 Loyally devoted to their conspiracies, Devoted are valuable agents willing to go toe to toe against the Renegades! The PDF and PoD versions of The Devoted Companion for Deviant: The Renegades will be available Weds on DTRPG!
Also available this Wednesday on Roll20, VTT tokens for both Scarred Lands – Wise & Wicked and Scarred Lands – Blood Sea – official tokens for online play!
---
Conventions!
As we are slowly returning to attending conventions in person after the current COVID-19 outbreak, keep an eye out here for more physical and virtual conventions we're going to be involved with!
Once again…the creature RISES! Here comes the Onyx Path Virtual Convention (June 16th – 18th)!! More news to come!!!
We'll be at the IPR booth at the GAMA Trade Show April, 24th to 28th, so let your friendly local game store know that they can talk to us there! And if you ARE a retailer, we'd love to chat with you right there!
Game Night With Onyx Path Publishing at Start.Playing is the last Friday of every month! Come play some They Came From! in celebration of the upcoming They Came From…? KS! (But any of our game lines are welcome all day long!)
Please spread the word about GMing games as much as
possible. Details on how list a game are at the bottom of the page in
the FAQ:

https://startplaying.games/event/game-night-onyx-path
---
And now, the new project status updates!
Our full list of projects will be available monthly on our blog! Check out March's full list report here:
DEVELOPMENT STATUS FROM EDDY
Here are the projects that moved to the next stage of production:
Redlines
Scion – Scion: God Player's Guide
Matthew: All the options you could want to make our already epic God game even more so! I love a book with additional tools for players, so I'm very much looking forward to this one.
Final Draft
Tasty Bit – Scion Demigod: Village
Eddy: Redlines were done. Some really fun ideas here of a lost Welsh village and how it ties into The World. I can't wait to see the final draft!
Development
Exalted – Abyssals
Danielle: Final drafts have escaped from the Underworld and now populate the developers' desks.
TC: Aether – Aether Audiobook
Eddy: Matthew has turned around a final draft of the audiobook script. Now for me to read it and start planning out the audio design!
Manuscript Approval
They Came From! – They Came From…?
Matthew: Our mysterious They Came From…! book approaches editing, but must first be carefully scrutinized by Rich. What genre do you think this game covers? Answers in the comments below, and a shiny penny to whomever guesses correctly!
Editing
Tasty Bit – TC: Aeon: Spaceship
Eddy: I was pretty happy with the final draft of this, and it went through approvals very quickly! Now it's off to editing.
Post-Editing Development
Realms of Pugmire – Pugmire 2nd Edition
Eddy: I haven't cracked open the files yet, but I'm sure Dixie did her usual stellar editing job. She even made a lexicon for me! I'm going to carve out some time and go through it all again, word by word, to make absolutely sure it's where I want it to be.
---
ART DIRECTION FROM MIKE CHANEY!
In Art Direction
Ex3 Eight Directions – Sketches coming in… finals starting to trickle in.
Ex3 Many Faced Strangers – The Art Chefs guys are working on this one next.
TCF Cyclops Cave/Classified – I have Lee on Classified halves… but trying to think of another person to do some. I'm gonna see if anyone in his crew has a similar b&w style and is available.
TCF ?– Larry's fulls are in. Cover working. Other artwork is in progress… I'll have more info from Maria later this evening on that.
TM20 Lore of the Traditions  – Last of the art is in the works.
M20 Victorian Jumpstart – Contracting.
SCION Once and Future – Reviewing finals and hopefully moving into the finish line.
SCION Dragon Jumpstart – Art in progress.
TC Anima – Most of the MMO art in.
TC Assassins VTT Adventure – Difficulty with an artist. Trying to work it out.
DTR Clade Companion – Figuring out an artist roster…
W20 Icons of Rage – Getting notes over to Maria…
In Layout
MtAw Tome of the Pentacle – Started during AR proofing phases.
Ex3 Crucible of Legends – Josh is working on it.
W20 Howls of the Apocalypse – To Travis for layout.
HTV Tending the Flame – Working on that this week.
Proofing
W20 Apocalyptic Record – God willing and if the river don't rise, it'll go to Paradox by end of the week.
Indexing
At Press
TC: Adventure! – PoD proofs on the way. Trad printing files prepping.
Exalted Essence – Awaiting errata, the Indexing.
M20 Victorian Age – At KS fulfiller.
M20 Victorian Age Screen – At KS fulfillment shipper.
Scion Dragon Screen – AT KS fulfillment shipper.
Scion Dragon – At KS fulfiller.
Scion Masks of the Mythos – At KS fulfiller.
Scion Masks of the Mythos Screen – At KS fulfillment shipper.
Storypath Ultra Brochure – At IPR and ready for GAMA.
They Came From! Tasty Bit Compilation – Prepping PoD.
Ex3 Surface Truths – PoD proof on the way.
SL Vigil Watch Kelder Mtns – Inputting errata changes.
TC Stampede of Justice (Adventure JS) – Errata being put in.
DEVIANT Devoted Companion – PDF and PoD versions available on DTRPG this Weds!
---
Today's Reason to Celebrate!
Today is International Bat Appreciation Day! "Bats contribute towards controlling pests, create rich fertilizer for landowners, and pollinate fruit and flowers." And they almost never fly into your hair and definitely never cause Wanderers-style international plagues. Go bats!