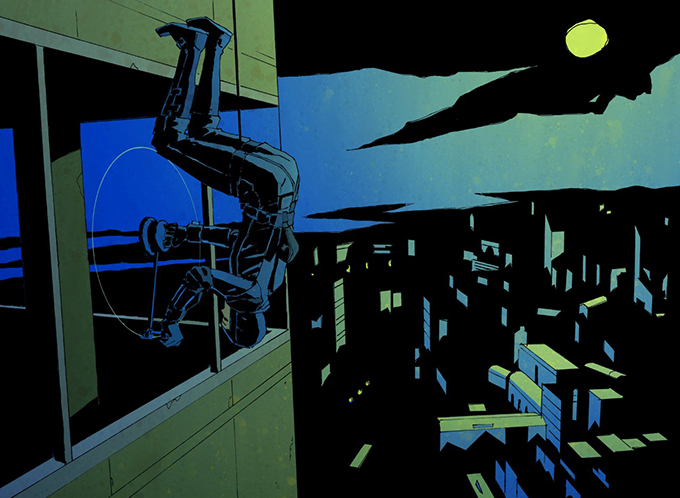 Yep! It's all about the Talents!
And by "it", I mean the Trinity Continuum Player's Guide, currently with ten days left on Crowdfunded By BackerKit (link below in the Crowdfunding section). We're over 200% funded with over 700 backers, and we're just thrilled that so many backers have followed us there to enable us to get another TC book into stores!
Thanks, folks! Tell your friends!
The Talents, to clarify, are a large part of the focus of this book, but not the only focus. In the main, the TCPG is a supplement for the Trinity Continuum core book, so yes, Talents are a big part – but the book is there to expand on the core, so the extra material can work for any of the Trinity Continuum lines. Ala the core book.
So, the new abilities and especially the fantastic new dimensions (the microverse, the ocean, etc.) are there for any of the lines, not just the built-in modern era setting in the core!
Talents, to return to the title of this blog, are featured here, but they're also part of all the TC game lines, as well. Novas aren't in every line, nor are Psions, but some version of talents are. In thinking about them, I always go back to something Ian and I first went over when we were first looking at reworking the whole Trinity line into the Trinity Continuum: Talents are people who act and the universe bends towards them.
What I mean is, they're the characters that we see in other media surviving stuff that real-world folks would be toast from. Finding clues no one in the real world would notice – not to mention driving right into open parking spaces in front of crime scenes in a busy city.
And in the Trinity Continuum, we built in a reason why that is so. The whole TC works off the idea that action creates a response from the intrinsic forces of reality that enables more action. Heroes (and villains, really) at the most basic level get that bit of extra oomph in order to go forth and make things happen. They're basically really lucky as reinforced by reality.
In the Trinity Continuum, Indy could totally have been just fine making a sea voyage holding onto the top of a submarine's periscope. John McClane could actually fall down a shiny air shaft and grab hold of a metal-edged ledge without ripping his fingers off.
For Talents, what is normally improbable happens daily, and what is impossible…is merely improbable.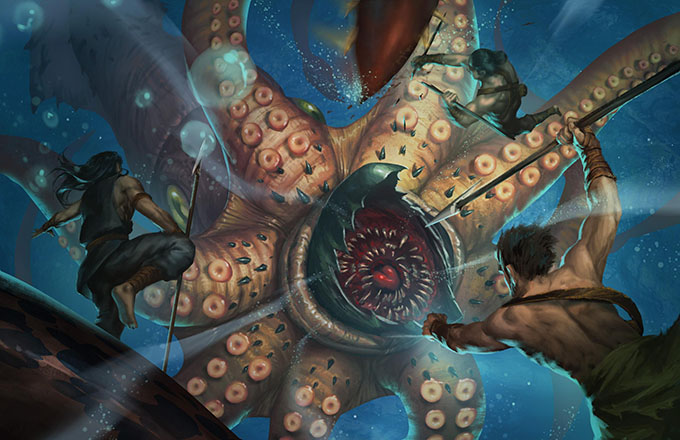 For a practical example of how that all works, please do listen to the last few episodes of the Onyx Pathcast, as Talent PCs are being created, and this Friday's episode where those characters jump into action in an Actual Play session.
Plus, if just listening isn't your thing, but you want to know more: check out Travis' interview of developer Danielle Lauzon now on our Onyx Path YouTube channel. (Links in our Media section below)
Danielle reveals and clarifies with great relish, so you'll be sure to enjoy it!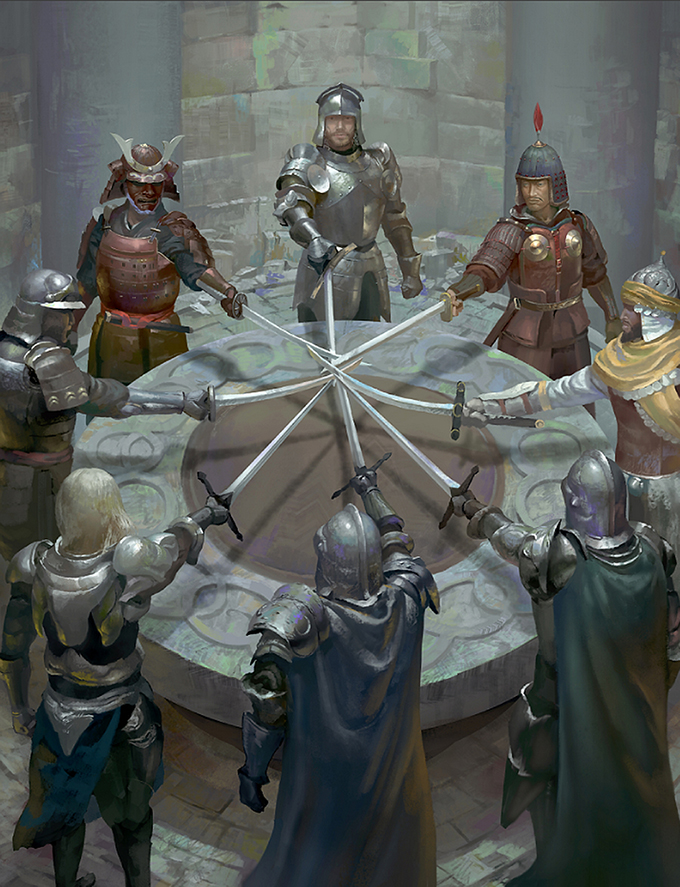 The Talented Monday Meeting
Since Matthew was unable to attend, we all naturally talked about projects he has oversight over (and which he originally pitched). As some of you eagle-eyed blog readers have already wondered about, we had a project entitled They Came From? on the Progress Report (and it's back this week).
Besides the note there, art director Mirthful Mike let me know that the cover art was coming along, with all-around swell guy cover artist Larry Blamire working on how to incorporate all the different elements from inside the text onto the cover. Larry's a smart fella, so it should be interesting to see how he did it when the cover is revealed for the upcoming crowdfunding campaign!
One thing Mathew is also working on is both the writing for The World Below, our new fantasy game utilizing the Storypath Ultra rules, and also providing folks with weekly World Below teasers. This last week was a peek at sorceries from the Umbral Wisdom. What that is…you'll have to check out here: https://theonyxpath.com/the-world-below-umbral-wisdom/
And then, in a change of pace, Matthew briefly described the lost settlement of Glowstream, and then posted:
So, the question to you fine readers is, what happened to Glowstream? Glowstream, among other settlements, is an open question in The World Below, but this is your chance to come up with a hook, reason, rumour, or danger that caused the settlement's ruin. You don't need to write an essay or break it down entirely, but simply come up with something that enhances the mystery and would make it appeal to your group or even a casual reader.
Find out this week which entry was the winner!
Meanwhile, last week Eddy and I reviewed the manuscript for Branch Riders, a TTRPG from the talented folks at The Bodhanna Group. This is a very different role for us as we are commenting on the fruits of the labors of another group of creators outside Onyx Path as the publishers of the project. While Eddy and I have offered thoughts during the creation process, the vast, vast, majority of the creative work is by the Bodhanna Group.
And it is very cool work at that!
We have both Jack Berkenstock and Doug Underhill, both part of the creative team of the project, as members of the Branch Riders section of our Discord, so please do pop in there and pepper them with questions!
Another group of talented folks we're working with are the team at NerdyKeppie who are now offering messenger bags featuring the logo and choice pieces of Exalted: Essence art emblazoned upon them. Backers of the Essence crowdfunding campaign got early notice of these, and now it's everybody else's turn!
Check them out on their website – here's the link to the logo by itself, the others can be found in the Bags and Backpack section: https://nerdykeppie.com/collections/bags-and-backpacks/pattern_exalted-essence-logo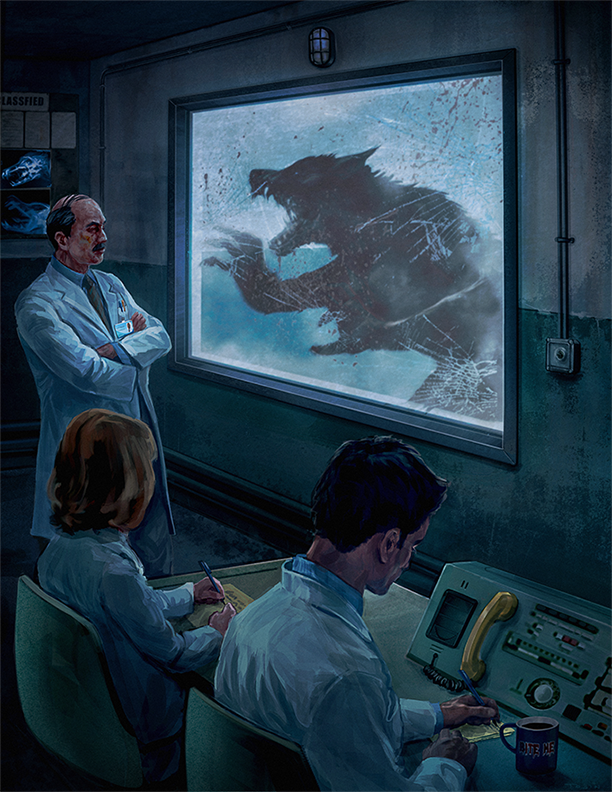 Gonna take some time here to go through a few of the questions and comments that popped up on various social media sites, and in particular, our newly reborn official forums, since I know that not everyone reads all of our sites. So, for some of you, these bits of explanation may be totally new, and for others, somehow familiar!
If Onyx Path can't make new CofD books, how about making a new Urban Fantasy line? In and of itself, an interesting question. Within the thread, though, there seemed to be some confusion as to whether that's essentially a new edition of CofD with upgraded rules, which we absolutely do not have the rights to do, or a new game world. I wanted to head off any sort of discussion that was "redoing WoD or CofD" because, again, we do not own those properties and even making up groups like the Grujah vampires or Sheers of the Shone magic-users would not be something we could or should do.
So if we created an urban horror/fantasy setting, it would have to be our own thing. Which would probably be a lot of fun to do, but sometime in the future. We still have WoD20 and CofD books on the schedule to publish!
X Part of a Storypath-based game line is broken. I could write an entire blog just on this and how iterations can work, but for now please do be assured that we do heed folks' concerns if they find something that doesn't work or make sense to them. We've added multiple proofing passes over the years to try and catch these things, and we try and fix them if we agree that the issue needs fixing. Overall, Storypath is a system that we have had five years of response to, and we think folks who find some of the system mechanisms screwy will enjoy taking a look at Storypath Ultra – the result of our learning what we need to tweak.
Can we have a separate Hunter 5th Edition area on the forums? Sorry, that's not a game line we have created anything for. But, y'know, I don't think we've stopped anybody from posting their thoughts about the books in the WoD area; we're just not devoting our limited real estate on our forums to something we have no connection to.
Which is actually akin to this:
When is Onyx Path going to update the CofD templates on the Storytellers Vault community content site? We're not. We can't. We have no connection to, nor ability to access, the SV, as that's owned completely by Paradox. We do have our own community content sites for the games we actually own, so those we try and keep updating as quickly as we can!
Onyx Path doesn't edit their books! Simply not true. We have professional editors go over every book, and multiple proofing passes for the creative team to review the books both before and after the editing phase. As anyone reading has no doubt noticed, as they wait for an anticipated book to get through the production process.
Additionally, we have added several errata and comments phases over the years – starting with comments on the text provided to KS backers, and extending through the Advance and Backer PDF errata phases. Note that I said "additionally" – that's in addition to the editing/proofing we do in-house. We recognize, after decades in this business, that there will always be mistakes and other bits that get missed during reading and re-reading, and a fresh set of eyes – or many dozens, can only help.
This writer or developer is making this bad because they hate X. I admit this is a hot-button issue for me, but seriously, most of these comments are either assumptions or extrapolations that essentially want to blame one person in a very team-oriented creation process. The way we, and most non-indy game creators, work there is really very little that only one person has created and published. Almost every bit of your favorite TTRPG project has had multiple people reviewing it during the creation process. Which is not to say that mistakes aren't made – just that they slipped through a team, not one person with an agenda.
Similarly, analyses of a creator's state of mind, inner motivations, or how they hate or love anything that they are creating all fall into the same reality. If they are hired to work on a project, they are part of – and most importantly, to work with – a team. I really can't speak for all game companies about this, but it's absolutely part of working on stuff for Onyx Path.
Show some love for Game X.
You don't publish more stuff for Game Y because you hate it.
You don't publish more for Game Y because you love Game Z more.
Folks, we love them. Really. We wouldn't be in this weird corner of publishing working on stuff we hate or are even meh about. You have to love it in order to keep doing it after all this time. Certainly, on a game-by-game basis, we're going to be more energized by certain games – whether for the settings or the rules, or both.
For example, if a Pugmire book rockets through the publishing process, it's not because everybody involved just luvs the doggos, or even that we luv Eddy, although both are very lovable. It's because Eddy wrote clear development notes to the writers, who delivered on time or early, and Eddy sent tight art notes to Mike, who was able to get artists capable of working in the style we need for Pugmire specifically and so required fewer passes on sketches and finishes and the text and art fell right into the layout without massive revisions.
If only we had more times when all those elements worked so smoothly together!
So, wrapping it up, if you take nothing else away from these notes: we all love Eddy, and we love working on all of these, frankly, spectacular projects that we get to share with you so we can happily roam our:
MANY WORLDS, ONE PATH!
---
BLURBS!
---
KICKSTARTER/CROWDFUNDING!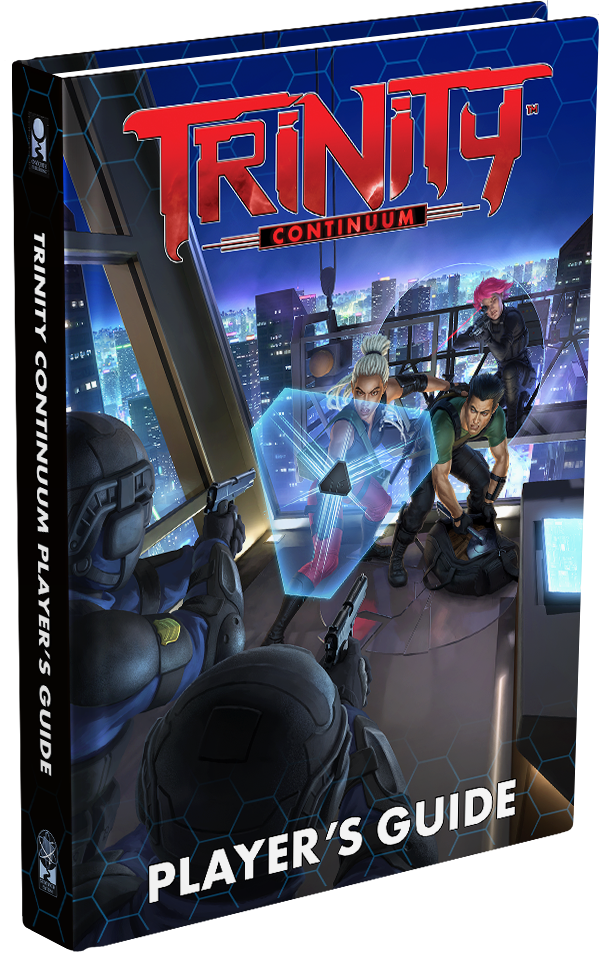 The Trinity Continuum Player's Guide funded in a tad over Four Hours on Crowdfunding On BackerKit, and we're over 200% funded! Here come the Stretch Goals!
Here's the link so you can join in:
https://www.backerkit.com/call_to_action/95ca375d-7d44-4b47-9cc6-df11bd469a90/landing
---
Onyx Path Media!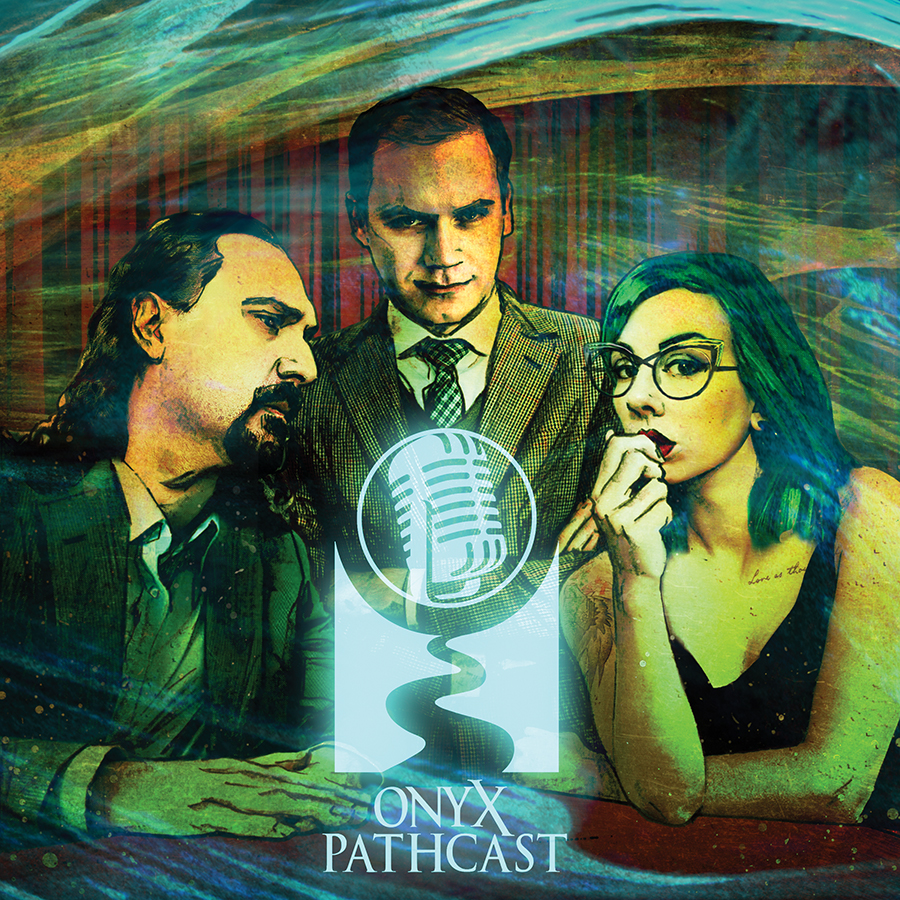 This week:
Danielle, Dixie, and Matthew use the characters they made with the Trinity Continuum Player's Guide and play a short adventure!
As always, this Friday's Onyx Pathcast will be on Podbean or your favorite podcast venue! https://onyxpathcast.podbean.com/
---
Onyx Path Media now has its own blog on Tuesdays! We'll continue posting our highlight of the week here, but Tuesday will be the day to visit if you want to catch up on actual plays, interviews, deep dives, and other assorted Onyx Path media!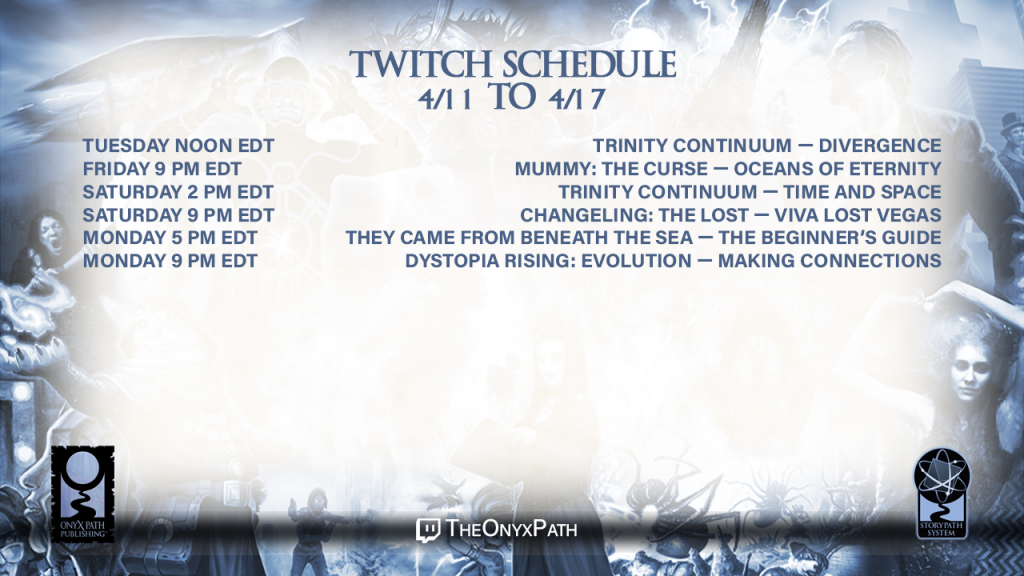 Please check out our attached media schedule for the videos on our Twitch channel this week! In particular, keep those eyes open for our Storypath Showcase, where we give an excellent profile of our various Storypath games and how to play them!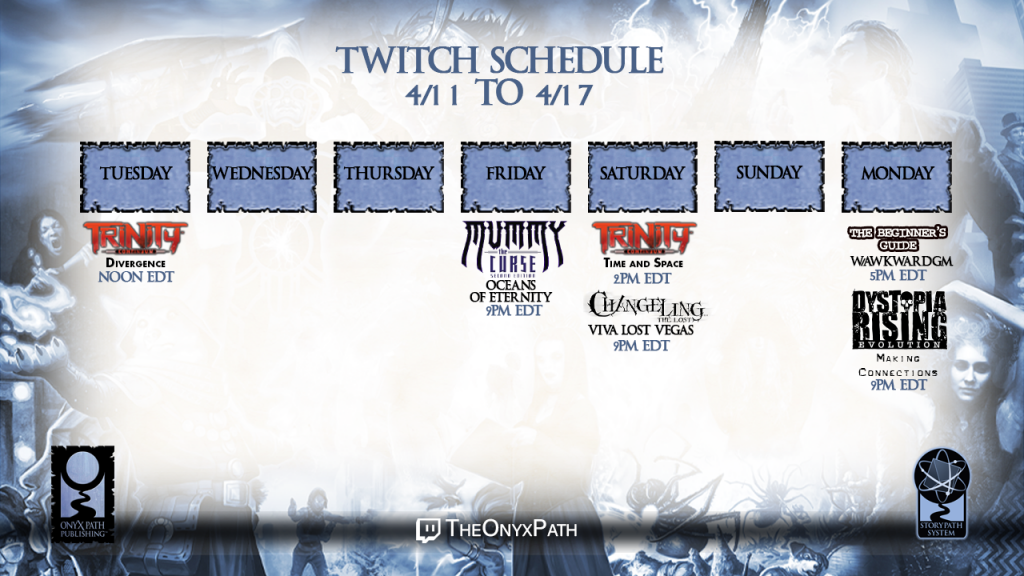 MEDIA HIGHLIGHT OF THE WEEK:
If you missed the conversation Travis Legge and Danielle Lauzon had over on our Twitch channel last week, concerning the Trinity Continuum Player's Guide, you can check it out right here and learn all about this book's content and secrets: https://youtu.be/1IMtMv4kgRQ
The Onyx Path News discusses recent and upcoming releases! You can find it on our YouTube channel (click the bell to be informed when we go live!) but if you missed the last episode, here it is: https://youtu.be/_aeFr_kQj6Y
---
Virtual Tabletop!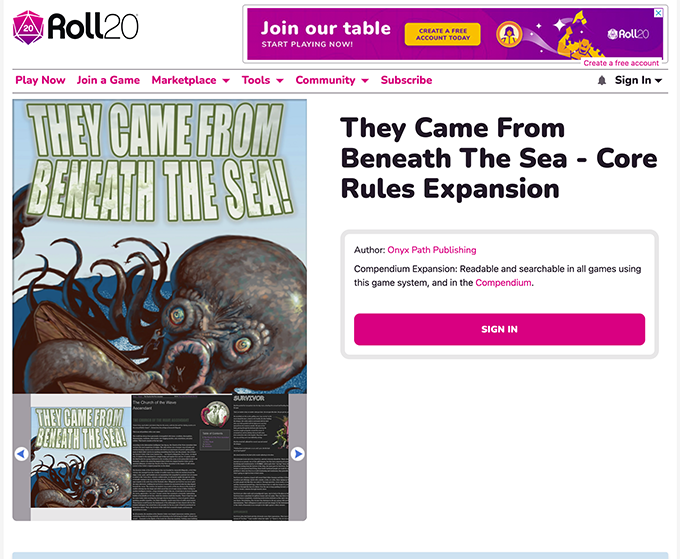 NEW!
They Came From Beneath the Sea! on Roll20 VTT!
https://marketplace.roll20.net/browse/bundle/22308/they-came-from-beneath-the-sea
Here are some more shots from the They Came From Beneath the Sea! Compendium!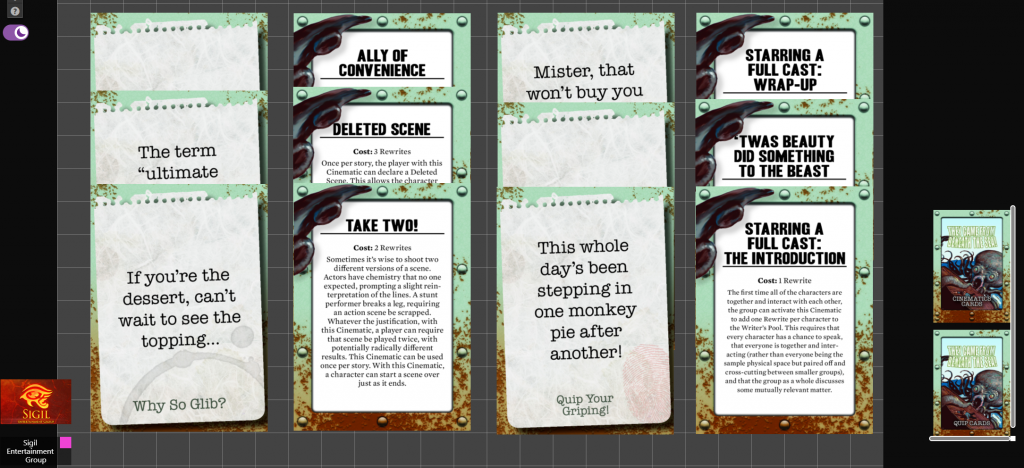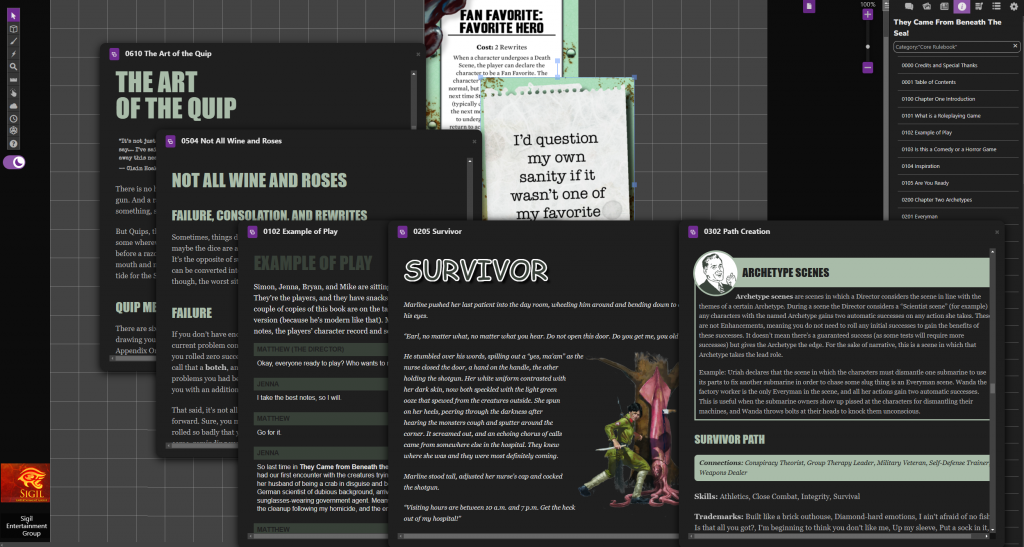 And there's also the Scion Jumpstart, all ready for Roll20 VTT fun!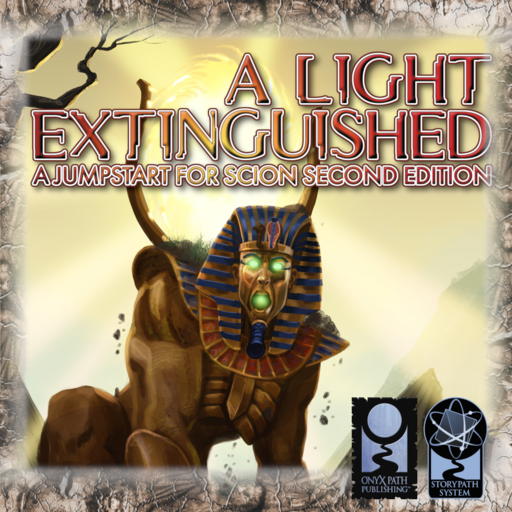 https://marketplace.roll20.net/browse/bundle/21165/a-light-extinguished-a-jumpstart-for-scion-second-edition
More news and links when we have them!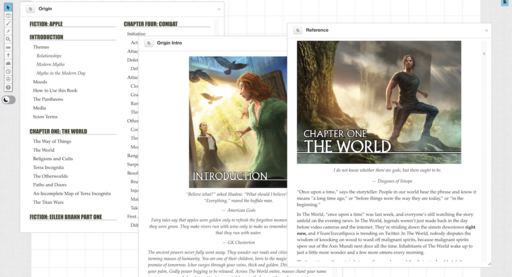 The Scion: Origin and Scion Hero Compendiums are now available on Roll20!

https://marketplace.roll20.net/browse/publisher/1716/onyx-path-publishing

Scion is just the start! They Came From Beneath the Sea! and other
Onyx Path RPGs are in development for Roll20 virtual tabletop!

The first of our official Scion sheets designed for Foundry VTT are
now available!

Direct Link: https://foundryvtt.co
Looking for more virtual tabletop resources? We have a selection of
Tokens, Encounters, and more available now at DriveThruRPG!

Get 'em here: https://bit.ly/3SnrNJ7

---
Our Sales Partners!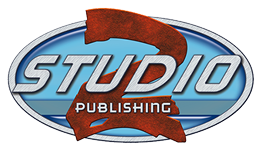 We're working with Studio2 to provide our traditionally printed books out into your local game stores. Game stores can order via their usual distributors, and can also contact Studio2 directly. And individuals can check out our projects via the links below!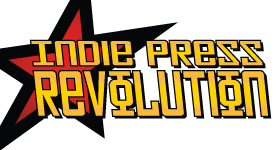 Looking for our Deluxe or Prestige Edition books, dice, and screens? Try this link! http://www.indiepressrevolution.com/xcart/Onyx-Path-Publishing/
https://www.indiepressrevolution.com/xcart/Deals-and-Specials/

As always, you can find Onyx Path's titles in PDF and PoD versions at DriveThruRPG.com!
Amazon and Barnes & Noble!
You can now read our fiction from the comfort and convenience of your Kindle (from Amazon) and Nook (from Barnes & Noble).

Check out Melody Through the Mirrorshade Lens and Facets of Truth , as well as Trinity Continuum: Terat and The Hollow Courts on Kindle in the Kindle store!
---
On Sale This Week!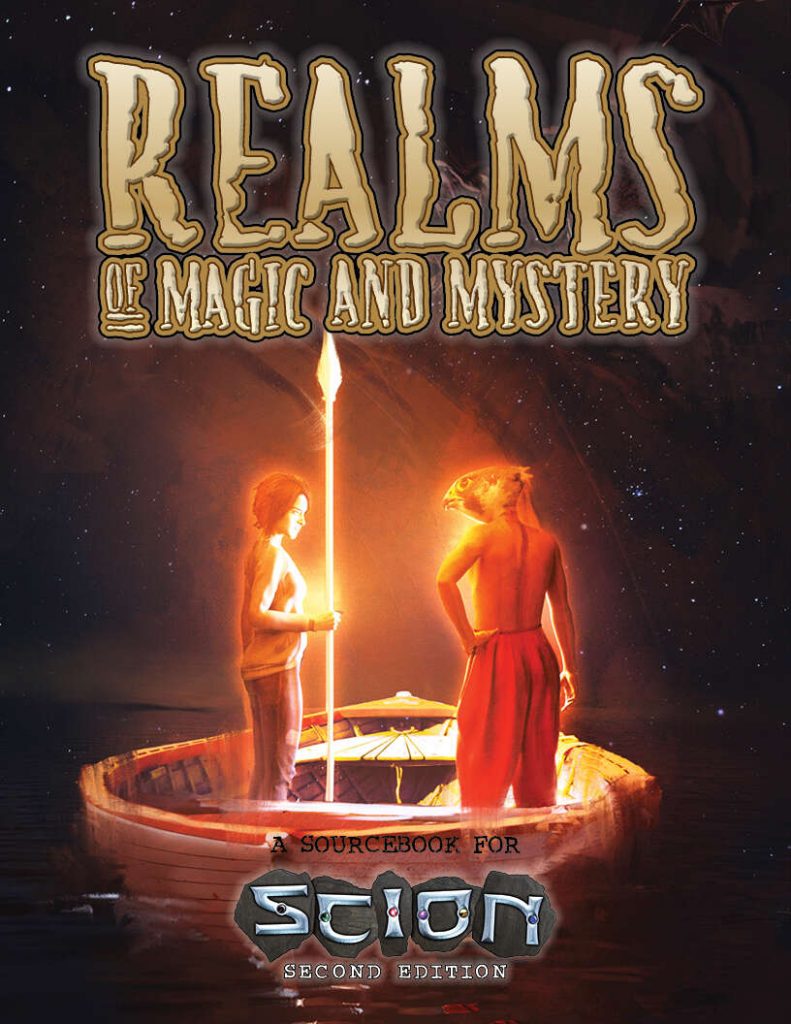 Travel with us to many strange and wondrous places in the worlds of Scion! The PDF and PoD versions of Realms of Magic and Mystery will be available Weds on DTRPG!
Also available this Wednesday on DTRPG, VTT tokens for both Scion: Dragon and Scion: Masks of the Mythos – official tokens for online play on any platform!
---
Conventions!
As we are slowly returning to attending conventions in person after the current COVID-19 outbreak, keep an eye out here for more physical and virtual conventions we're going to be involved with!
We'll be at the IPR booth at the GAMA Trade Show April, 24th to 28th, so let your friendly local game store know that they can talk to us there! And if you ARE a retailer, we'd love to chat with you right there!
Game Night With Onyx Path Publishing at Start.Playing is the last Friday of every month! Come play some They Came From! in celebration of the upcoming They Came From…? KS! (But any of our game lines are welcome all day long!)
Please spread the word about GMing games as much as
possible. Details on how list a game are at the bottom of the page in
the FAQ:

https://startplaying.games/event/game-night-onyx-path
---
And now, the new project status updates!
Our full list of projects will be available monthly on our blog! Check out March's full list report here:
DEVELOPMENT STATUS FROM EDDY
Here are the projects that moved to the next stage of production:
First Draft
TC Aether – Aether Companion
Eddy: The next of the TC: Aether sourcebooks is underway! This one focuses mostly on new worlds and gates to explore, as well as other elements to fold into your Trinity Continuum: Aether game.
Tasty Bit – They Came from CLASSIFIED!: Hotel Lobby
Eddy: The first of two Tasty Bits moving ahead! This one is new, as we present a snazzy hotel lobby for your agents from They Came From CLASSIFIED! to lounge around in.
Redlines
Tasty Bit – Scion Demigod: Village
Eddy: The second of two Tasty Bits moving ahead! This one is about a small village with a mysterious secret — perfect for budding Demigods to get wrapped up with.
Final Draft
Branch Riders – Branch Riders
Eddy: Our comments pass is done! We're going to have some meetings with the Branch Riders team to talk over our thoughts, but all in all we're very impressed with what this team has put together! We really think this game will be something special.
---
ART DIRECTION FROM MIKE CHANEY!
In Art Direction
TC From the Shadows – Going to Navella after 8 Directions wraps up.
DTR Clade Companion – Now that Tilen is done with Tending the Flame, it's time for this to get done.
M20 Lore of the Traditions – Last of the art coming in.
TC Player's Guide KS – Crowdfunding campaign rolling!
TC Assassins VTT Adventure – Maps contracted, art starting to come in.
In Layout
W20 Apocalyptic Record – Entire book should be laid out and in proofing by end of the week.
MtAw Tome of the Pentacle – Starting during AR proofing phases.
Ex3 Crucible of Legends – With Josh.
W20 Howls of the Apocalypse – Going to Travis for layout.
HTV Tending the Flame – All the art is in, now layout.
Proofing
Indexing
At Press
TC: Adventure! – PoD proofs ordered. Trad printing files prepping.
Exalted Essence – Awaiting errata.
M20 Victorian Age – At KS fulfiller.
M20 Victorian Age Screen – At KS fulfillment shipper.
Scion Dragon Screen – AT KS fulfillment shipper.
Scion Dragon – At KS fulfiller.
Scion Masks of the Mythos – At KS fulfiller.
Scion Masks of the Mythos Screen – At KS fulfillment shipper.
Storypath Ultra Brochure – Headed to IPR from printer.
They Came From! Tasty Bit Compilation – Advance PDF errata gathering.
DEVIANT Devoted Companion – PoD proof ordered.
Ex3 Surface Truths – PoD proof ordered.
SL Vigil Watch Kelder Mtns – Backer PDF errata closing this Weds.
TC Stampede of Justice (Adventure JS) – Backer PDF errata closing this Weds.
SCION Realms of Magic and Mystery – PDF and PoD versions on sale this Weds on DTRPG!
---
Today's Reason to Celebrate!
On Wednesday, Vampire: The Requiem 2nd Edition will have been in existence (starting with its original title of Blood & Smoke) for longer than VtR first edition! How's that for immortal vampires!