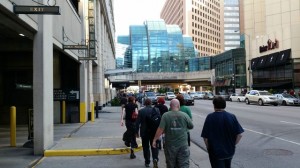 Above you see the Onyx Path crew boldly striding through the dangerous wildlands of Indianapolis on our way to Gen Con 2014.
Warning: this Gen Con Recap promises to be a long one. Regular product updates next week.
A lot of my weekly posts talked about the buildup to Gen Con this year, so I won't belabor just how complex the logistics of that was, and I'll encapsulate it by saying that we pretty much created the booth and all of our give-aways from scratch, and had to arrange shipments from multiple locations, flights from multiple locations, and a tetris game of hotel rooms of who was coming in and leaving when mixed in with which hotels were part of the exhibitor package. And even though I was very stressed out, it really did all come together as planned.
Tuesday: An advance team of elite specialists come in from Philly, Atlanta, and Toronto, with plans to rendezvous at the Indy airport. The others' flights are later than planned, and I immediately snap into action and get a table at the Harry and Izzy's in the airport and order a shrimp cocktail. (Harry and Izzy's is an offshoot of Indy's famous St. Elmo's Steakhouse and has the most delicious shrimp cocktail with the most horseradishy cocktail sauce I've ever had the burning pleasure to consume. I have spasmed uncontrollably and watched grown men weep at how biting the sauce is. It is a compelling part of my time in Indy every year). In less than two hours, Eddy and Mirthful Mike join me in from Atlanta, so naturally we order a couple of shrimp cocktails as we wait for Ian to get a new flight after his first one is cancelled. Eventually we give up on Ian after his new flight is delayed and share a cab into town and check into our two hotel rooms. Once Ian arrives, we head out to dinner at the Ram (a local brewpub that was and is one of the great supporters of Gen Con, even going so far as to open their back room to gaming) and run into Jon Hodgson and crew from Cubicle 7. Jon is not only the Art Director at C7, but created the Onyx Path video we had running in the booth all week. Finally Eddy and I adjourned to our hotel bar for a nightcap and to start settling the terms for his new game with Onyx Path.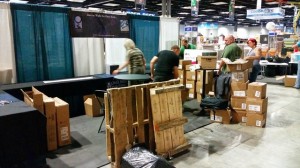 Wednesday: Booth Set-up Day! This is why we came in on Tuesday, so that we'd have all day to set up and deal with any issues. The picture above shows it with flooring and tables in place. Pretty much the only real adjustments to our plans were that despite carefully measuring the black drapes for our tables they still weren't long enough, and the booth backdrop was white and green- something I had not realized when envisioning how everything would look. So basically, I wanted more black in our booth. How much blacker could it get? None blacker enough, I say. Fortunately, we were able to borrow a black cloth for the center section, which really helped. Rollickin' Rose, her friend Audrey, and Jason Needham, our own Baron Samedi from the forums, all arrived at different points in the afternoon to help and we got badges and hotel rooms sorted out. We were very selective in which books we brought for sale- really only the newest and the core books. As they needed to be bought from DTRPG as PoDs, anything we brought was an expense so we had to keep that in mind. Plus, even though this was a sales-oriented show for a lot of game companies, for us the purpose was to continue to engage with current fans, and to continue to spread the word about Onyx Path. We wanted the booth to be a place to meet and greet, and not so much a revenue maker.
Once everything was in place, and we checked that the video was running properly, we headed out to our traditional Weds night, pre-GenCon, dinner at Buca di Beppo. This gives us a chance to review the booth, re-focus on our goals, establish expectations of behavior and who is responsible for what, but mostly to have a good time with just the booth crew before all hell breaks loose. Then, a bunch of us went over to the Diana Jones Awards and had a great time there chatting away with other gaming industry folks we don't get to see face to face except at Gen Con, like Matt Forbeck, Will Hindmarch, and Jim Zub (to name a few folks you might know from their WW and Onyx Path work). Will Wheaton was also there, but I didn't talk to him as I just don't know what to say to celebrities- he seems like a nice guy, though. Congrats to Robin Laws for winning for Hillfolk– well deserved, and I told Robin I'd be grabbing a few ideas from his KS for our Dark Eras Kickstarter later this year.  After a couple of hours, I slipped away to my favorite martini bar (name withheld at the request of my compatriots) to meet up with a bunch of old friends, and was lassoed into joining a section of the place where Peter Adkinson and his friends had already set up a cigar smoke-wreathed camp. Peter was, of course, the CEO of WOTC, and currently that of Gen Con, and we've known each other since I worked on art for WOTC right before they came up with Magic the Gathering. Strangely enough, we've never actually worked directly together, but we always have fun hanging out. I actually left before closing because I had to get up and to the booth to greet the first day of the con.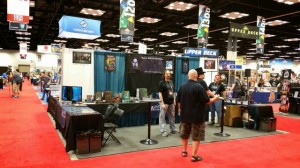 Thursday: The Big Day. So we stood there, in the booth, facing out at the doors. The rumble from outside was intimidating, but we knew we were ready. The picture above is actually a little before the doors opened. But open they did and in came a human onrush like a tidal wave crashing into a town. Right past our booth on either side and towards the two big companies with Gen Con exclusive items. The lines formed, and while we were bemused, or perhaps even disheartened, to watch so many people completely not even noticing us…I noticed that while they stood in line, the conventioneers were watching our Onyx Path video and checking out our booth. Next thing we knew, those folks returned to check us out (after they got their exclusives). And they just kept coming all day. Which was good, because our creative freelancers also kept popping into the booth, and we could often put fan and writer or developer together for some fun and revealing conversations.
At noon I scampered off to sit on the Industry Guests of Honor "Art Matters" panel with Jon Hodgson, and Elisa Teague. Better attended than I expected for an "art" panel, as its the writers and game creators that usually get the bigger crowds. And I've found that most folks at one of these are there because they to some degree already believe that art matters in RPG books, so we're mostly expressing how we see it and how we have used art in our projects. Still, there were some excellent questions from the audience as to how and why you get certain art, so that was fun. Popped over to the Hyatt to get Dave Martin and the Wrecking Crew settled into their rooms, and had a brief strategy session with him over a slice of pizza. Dave's Crew ran about 40 different events for us in just under 4 days that ran the gamut of WW and Onyx Path settings. And then back to the next GoH panel, this time to one I had pushed for last year and was so thrilled by the response that we did it again this year: "The Return to the Castle of Gender Representation". (In art, mostly). This panel, featuring Jon again, as well as our friends Nicole Lindroos and Steve Kenson of Green Ronin, was much more attended- pretty much filled the room- and was so thought-provoking and helpful that we could have gone a lot longer.
Next, most of the core Onyx Path Publishing crew had a summit meeting to discuss where we are and where each of them would like to see Onyx grow towards. I have very definite ideas, but as anyone who has read my blogs (or Kickstarter estimates) knows, I'm not always right about everything. The whole Onyx crew is in this together, and communication of shared goals is really important in a young company. Amazingly, as we discussed ideas and preferences in our hotel room and later at dinner at St. Elmos (where I had another shrimp cocktail and got to gleefully watch Eddy tear up repeatedly eating his), it became clear that we were all happy with our current direction and wanted to keep moving as we have been. It was late by the time we were done, and most of the gang headed to their rooms, but I'd been good the night before and it was time to venture into the smoke-filled caverns of the Fiery Dragon again for shots of lemon-drops, and Batman discussions. Back in my room at 3:30am.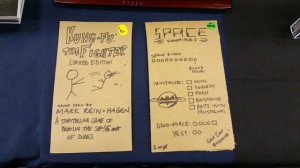 Friday: Meetings Every Hour Starting at 8am. So this day was a blur for me of meetings I can't really go into here. And while I did that, Eddy and Ian found time in our crowded booth (Friday was busy!) to create two games that no doubt will bring them fame and fortune- pictured above. At noon Eddy, Rose, Neall Reamon Price, and I got together to talk over the Onyx Path System we are intending to use for both Scion and the Trinity Continuum. A shrimp cocktail was eaten, and I think a major breakthrough occurred. Another GoH panel at 2 with Steve Kenson on "How To Run A Successful RPG Kickstarter" where Steve shared great wisdom and I nodded alot. Back over to the booth to finally have a bit of time to talk to folks, and I was pulled into an interview with Oomba. Not sure if I came off OK or not, but I mentioned as many upcoming projects as I could and the interviewer asked a couple of good questions about how Onyx Path licensed the WW properties from CCP. Finally managed to have an all too quick dinner with C.A.Suleiman to discuss a cool project of his as well as Mummy, and then off to clean up before heading over to Matt McFarland's 40th Birthday Party. I was having a lot of fun talking with all the guests, but when I went for a drink to the bar (we had to get drinks in the hotel bar, I had every intention of returning- they hadn't served the Captain America shield cake yet), I was waylaid by several d20 buddies wanting me to try out 5th Edition D&D. Right then! Since we're bringing back Scarred Lands and were considering if we should have it be D&D5e as well as Pathfinder compatible, and I really only understand the ins and outs of systems once I play, I pretty much had to take the opportunity. Several hours later, I got to bed.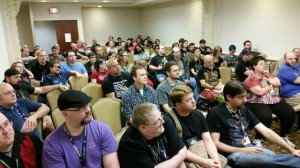 Saturday: Panels! This was Onyx Path panel day, and we were actually quite concerned if we had split our audience by having three separate panels for cWoD, nWoD, and basically everything else we create. Well, the above pic is of the nWoD panel after a few folks left near the end. I dunno if they are OK with naming them, but in the front row there are our intrepid developers who spilled over from the wee desk Rose, Eddy, and I were at in front. So rather than a narrative, since pretty much the panels were the key to our whole Gen Con attendance, here is what we talked about:
– 10am was What's Up With nWoD?: here's the link to the Brochure PDF that has releases for Aug 2014 – Aug 2015 which we referred to during the panel. Eddy, Rose. Dave Brookshaw, Matt McFarland, Matt McElroy, Neall Reamon Price, and C.A. Suleiman in the audience. Here's a link to the recorded audio of the proceedings: https://www.youtube.com/watch?v=dz43KFmHHlk
Highlights:
– 2nd Editions of the nWoD core book and Vampire: the Requiem, and for the currently scheduled WtF and MtA Chronicle books will be 2nd Editions too.
– 2nd Editions of Promethean and Changeling the Lost next year. They will have built in Chronicles as well.
– The new game for 2015 is Beast: The Primordial. There was a lot of Q&A about this.
Then I had some time for lunch, but between interviews and signing Magic cards (Red and Blue Elemental Blasts were the runaway favorites to be signed this year) I actually only had time for a shrimp cocktail and ran out on Scott Holden as we discussed Scarred Lands.
– 3pm was What's Up With Onyx Path?: here's the link to the Brochure PDF that has releases for Aug 2014 – Aug 2015 which we referred to during the panel. Eddy, Neall Reamon Price, Dave Brookshaw. Rose in the audience. Here's a link to the recorded audio of the proceedings: https://www.youtube.com/watch?v=_D7PWrGzfW4
Highlights:
– We were able to talk in more detail about the Onyx Path System for Scion and the Trinity Continuum, as well as the games themselves. It was a packed room and lots of interest.
– Rose is getting back to working on Cavaliers of Mars after pinch hitting on a couple of other projects for us.
– No Exalted fans attacked me. Thank you so much for your patience.
– We're putting together a schedule for Scarred Lands for next year right now, not much to say yet, but we did have a couple of copies of a new adventure, The Gauntlet of Spiragos, at the booth. Hit the link to get your free PDF.
– We announced Eddy Webb's new game Pugmire, which I think has surprising range for a fantasy setting featuring sentient dogs as PCs. There was much discussion of this as the audience either cheered or scratched their heads in bewilderment. Woof.
– 4pm was What's Up With cWoD?: here's the link to the Brochure PDF that has releases for Aug 2014 – Aug 2015 which we referred to during the panel. Eddy, Matt McElroy. Rose in the audience. Here's a link to the recorded audio of the proceedings: https://www.youtube.com/watch?v=aL9D2_pGucY
Highlights:
– V20 Lore of the Clans and Beckett's Jyhad Diary were both seen as adding more depth and story to V20, even if some of Beckett's info might be suspect as Eddy explained.
– W20 Shattered Dreams for both Garou and Fera being a series of wars through the ages was ooohed by some of the audience.
– With a full M20 schedule, we still surprised folks with the Victorian Mage announcement.
– Folks were reassured when I told them that Rich Dansky is working away on Wraith 20th.
– Changeling the Dreaming 20th Anniversary Edition was confirmed!
(If I can, I'll link each panel to an audio recording we made once those are pulled together).
I raced out to a White Wolf reunion-style dinner with Pauline Benney, Brian Petkash, Dean Burnham, Fred Yelk, and the god-king himself, Steve Wieck. Just burgers and beer (well, a cocktail for me), but it was awesome to sit and catch up on families and life in general. We all were there for a lot of WW's history and have many stories. Returning to the hotel, most of the gang took off for other commitments, but Pauline and Brian and I adjourned to the bar where we were waved over by Nicole and Chris from Green Ronin. Few people realize that Nicole was at WW when it was being formed, and that she did the layout for the first edition of Vampire: the Masquerade– so we had real oldtimer stories to share! Time flew, and I was soon pulled out to finish that D&D 5th adventure- death to the Hill Giants! Yet, once finished, it was still only 2am on a Saturday night, so three of us found our way to the pub that food service folks go to after hours and closed out the place. In bed at 4am.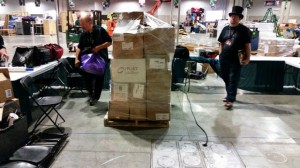 Sunday: Closing Day! How could it be time already? Yet here we were, answering questions and hanging out with folks all day until the dreaded announcement that the hall was closing. At that point, Rollickin' Rose, Audrey, and Mirthful Mike had left for the airport, so the rest of us dismantled the booth in a frenzy of activity. By 7pm, it was as you see it in the picture above, and out the door we went. We rearranged the last two hotel rooms, and got dinner at the Rock Bottom Brew Pub– best nachos I had there! Most everybody was bushed, but I went over to the hotel next door to play some games of Flashpoint: Fire Rescue. This was a Sunday night tradition with the Fiery Dragon guys, but I never stayed Sunday night until this year. So that was a lot of fun. Nearby, Monica Valentinelli was running a game of Firefly (she's the developer) which sure sounded like fun, too. Matt McElroy was having one of his spells, and by the time he got back to Madison on Monday, he needed to go in for a heart operation. (He's home and doing great now folks, but will be off the grid a bit in the next weeks). Some hugs, goodbyes, I love you mans, later and to bed I went around 2am.
Monday: Flying home. Slept in. Forgot how good that feels. Eddy and I discussed more details of Pugmire. Out for lunch, another shrimp cocktail, and to the airport. Got to say goodbye to Jon Hodgson on the flight as he too was headed to Philly, although he connected to fly back to the UK. Picked up by Lisa and the boys and to home. Whew.
So, while I'll be providing more info in the weeks to come about how things went, overall it was a smashing success that hit exactly what we wanted to do. And because that would not have happened without the help of our whole Onyx Path crew, and this blog sounds a bit like the all-me edition, here are some of the gang's thoughts about the Gen Con 2014:
Eddy Webb:
1- Not nearly as much "White Wolf is still around?" confusion. People seem to be getting that Onyx Path is the inheritor of the tabletop properties, both literally and emotionally. On "emotionally," I mean that a number of people referred to our way of doing things at the "Onyx Path way" instead of the "White Wolf way." That's a really cool thing.
2- Conversely, I think the larger "White Wolf family" is getting a little lost. People had trouble finding the MES games, and I had a number of people ask to buy a copy of By Night's book. With the fragmentation of the licenses, we'll have to be more proactive in pointing people in the right places to our fellow partners, since Onyx Path is viewed as a central point.
3- The most consistent reason not to pick up V20 or W20 was weight, not price.
Mirthful Mike Chaney:
1- A lot of interest in upcoming projects. A lot of enthusiasm for Scion 2e and Trinity Continuum….and Changeling 20.
2- Actually had fans come up and say how much they liked the art and design of our books over the last year. Usually all I ever hear about is how much something "sucks" or is "horrible"…so to actually hear that some appreciate the amount of work put in means a lot to me.
3- Still got quite a few "WTF happened to
White Wolf
" questions
on Saturday
. Also a lot of people are still hesitant about ordering PoD as they are concerned about the quality…until we explained that the books we had at the show were actually PoD books.
4- Have to agree with Eddy's point about V20 and W20…size and weight were a bigger factor than price. Not only are we competing with other companies for $$$, but for space in a fan's luggage. And their are a lot more board game and miniature game exhibitors there than there were in 2008.
5- Going barefoot at the show. WTF? Dude's not even in costume…just hoofin' around without shoes on.
1- Last year there seemed to be little to no interest in the Trinity Continuum. This year there were a ton of inquiries about both Trinity and Scion. I heard more about Scion because I spent most of my time at the end with the Scion poster mounted behind me, and the posters turned Scion-side-up on the table next to me. But other booth staffers and freelancers kept pointing people toward me who had Trinity questions, which was delightful.
2- Panels were far more packed than last year, so the word is definitely continuing to get out about who we are and what we do. I still have to answer the "what is Onyx Path" question quite a bit, though. Lots of weird questions along the lines of "I heard a rumour that Onyx Path had bought the World of Darkness from CCP," or "I heard a rumour that you guys end ending the new World of Darkness to focus on the old," or whatever.
And although I already thanked the booth team in private, here we go in public: Rose, Audrey, Ian, Jason, Eddy, Mike- you were fantastic with making the booth a destination for our community. Mike, the amount of cool items like the brochure, the posters, the bags and tablecloths and everything that you made happen was brilliant. Monica and Matt, we are indebted to you both for your experienced guiding advice from the time we started planning this. Neall, David, Matt, Colin, Jim, Travis, you made every fan a little happier as you hung out and chatted at the booth. Could not have done this without you all. Thanks!
I could totally go for one more shrimp cocktail right now…