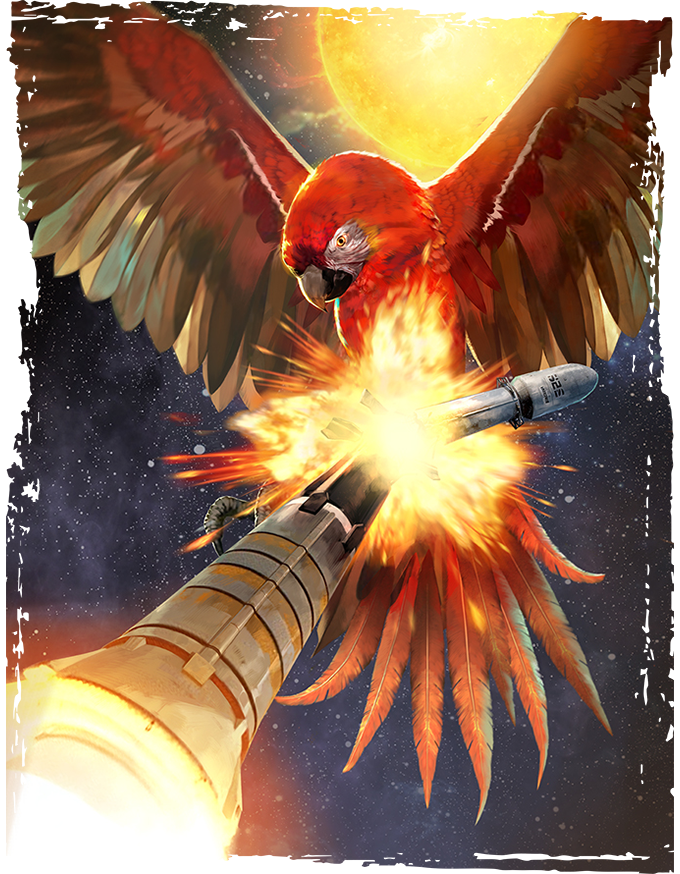 Surprisingly AWESOME!
We are in the LAST FEW DAYS of the two-book Titans Rising and Titanomachy Kickstarter campaign for Scion, and as we close in to the final stretch, we're hoping that our Stretch Goals get bulked out with some additional meaty ones! Including one called Gifts of the Titans!
We've hit the goal from day one, so the more traditionally printed hardcover books we have pledges for, the bigger and therefore better the print run will be! (And despite asking for folks to spread the word and pledge for the hardcovers – we really do appreciate everyone who has backed this so far! We wanted to get these two books into retail stores and our backers have made that happen! Thanks, a thousand-times Thanks!)
Even though the KS ends on Thursday, you can still catch the equally awesome Titans Rising Actual Play on the Onyx Path Twitch Channel this coming Friday at 7pm Eastern US time! It'll be too late to pledge to the KS itself, but give us a week or two to get the BackerKit post-KS site up, and you'll still be able to contribute there! (Plus, I believe that James – our Crowdfunding Concierge – will still send out the full book text to folks who order on BackerKit).
Y'all know that all of our crowdfunding campaigns have post-campaign BackerKit sites, right? They're there and active for as long as we can keep them able to accept new contributions and upgraded pledges! We know that these are tough economic times, and everybody is really busy, so us using BackerKit gives everybody a second chance to enjoy the crowdfunding fun!
Looking forward, our next crowdfunding effort actually is completely on BackerKit as they have entered the crowdfunding arena with a campaign site of their own! That lets us start with their marketing program to get the word out, their crowdfunding platform to run the campaign, and then we use them as always post-campaign. A one-stop shop both for us and for you!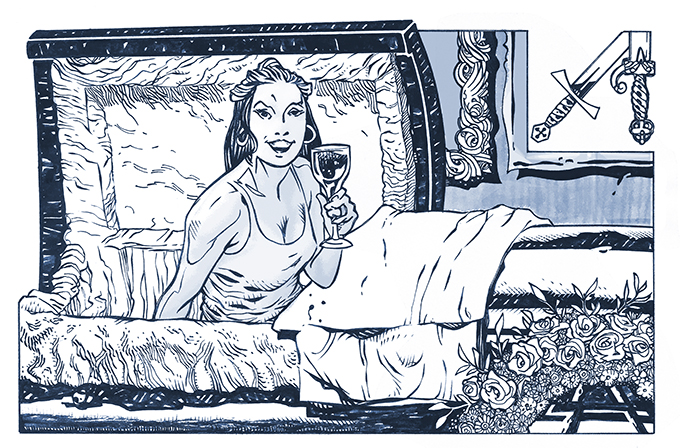 Our next crowdfunder, is, as mentioned last week, The World Below! Something awful happened on the surface that drove many intelligent (and some not-so-intelligent) creatures to desperately seek refuge underground – only to find a world of danger and wonder that they must survive! Expect the campaign mid-October!
But that brief description is not all we have for you in terms of info. Oh no, there are all sorts of places you can look to for the various bits and pieces we have released so far. First off, the single biggest slice of The World Below has been released in the form of its ready-to-play Ashcan that provides players a chance to get started in a narrow slice of everything you can do in the vast expanse of caverns, tunnels, clefts, abysses, lakes, rivers, and seas, underground!
You can get that PDF and/or PoD physical booklet here on DTRPG: https://www.drivethrurpg.com/product/442253/The-World-Below-Ashcan-Edition
For several months, The World Below creator and developer Matthew Dawkins was posting weekly TWB blog posts on various subjects that you can find here on our Onyx Path website, and now Matthew has brought back his (in)famous Gentleman Gamer's Guide vids to further enlighten folks as to just what lurks below.
You can find these videos on the GG's YouTube site, and the audio on Spotify, with the links below in the Onyx Path Media section. This last one was a look at one of the six currently possible Callings that players could be – Alchemists! As always, the GG not only provides useful info, he also spins detailed stories and shares fascinating rumors encountered in The World Below – but in a very gentleman-ly way!
Last Friday's Onyx Pathcast featured the first part of Matthew leading his fellow Pathcasters through character creation, and this Friday we'll be releasing part the second. Available wherever your favorite podcasts are available.
My understanding is that there are at least a half dozen groups preparing to go live with Actual Plays between now and the campaign's launch, as well as running through the time the campaign is running! We'll get you links for those and of course notices for when any them run on our very own Twitch channel – not all of them will land there.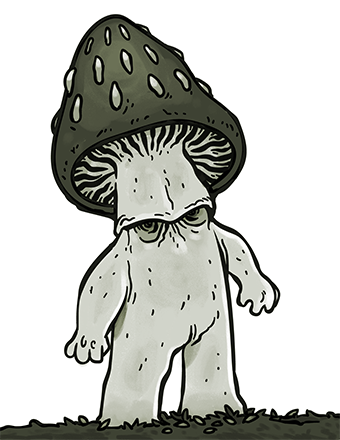 And Also Awesome: The Monday Meeting Crew!
Seriously, we're not a company that has to have a meeting about every aspect of what we do, so the weekly Monday Meeting sets the course for the week by covering all the topics that pertain to what we've done, are doing, and will do in the future! This blog really just presents the tip of the iceberg in terms of what we cover every week, and everyone contributes even if you don't see their names each week.
That's a lot of talent and experience in making TTRPGs in one group, so when we get going on creative brainstorming and on problem solving, real magic can happen.
Then there's the times we're, well, blindsided by something we didn't, maybe even couldn't, anticipate, and that's when the years of working together pay off with concerted team effort.
This week, we reviewed a problem that arose last week, which some of you may be aware of. At least, you might be aware that we did not, in fact, put the M20 Lore of the Traditions PoD on sale last Wednesday as I had announced in last Monday's blog.
Basically, Mirthful Mike discovered that an illustration in the book covered up almost a half column of text on Tuesday as he prepped the files for Wednesday's going live. I made the call to yank the PDF and PoD files down to fix that issue, and the process being what it is, that meant that we could fix the PDF bing-bang-boom and get it put back on DTRPG before it all went live, but the PoDs had to go back to square one in the PoD proofing process.
But, while the DTRPG PoD proofing process is actually a massive pain in the tail, it's a known thing and we can depend on it taking several weeks to go through the steps. What we didn't know is how this mistake occurred and then was missed by two internal rounds of proofing, a proof review by Paradox, and the Backer PDF going out to 1000ish backers, and nobody caught it before the Mirthful One.
He was not so mirthful that day, let me tell you.
So today we discussed two aspects of this: finding out at what stage the error occurred, so we can at least try to shore up that phase of the process, and the very real realization that there just isn't a perfect process for avoiding mistakes. Nobody in publishing can expect to put out a perfectly error-free book. It's a myth, like Swiss cheese on the moon. Mistakes are going to be in the books, and we should fix what we can, especially if they have a real impact on folks' ability to play the game.
But I don't think I, or our managers, or our creators should beat anybody up about it if a mistake makes it through. Why, maybe we should give that plucky lil survivor of a mistake an award or something.
Mmmm, maybe not.

Finally, thanks for everybody's suggestions for what theme I could work with during this upcoming Inktober – upcoming next Sunday! Yikes! I must let you know with no pride whatsover that I'm taking the coward's way out. Knowing how tough it is to stay on target with creating an ink drawing a day, I'm sticking with figures, fantasy world themed, and those I know really well. So for next week's Inktober I'll be drawing my very own D&D characters – the ones I actually played from 1e through 5e – matched to the official Inktober prompts.
A lot of your ideas were actually more interesting themes, and tied into our games here a lot more, but in the end, like I said, it's the easiest path for me with this Inktober. But I do think it is one that can be accomplished with as little artistic angst as possible. Which is worth a lot to me right now with the company stuff I'm doing all October already.
Maybe next year, I'll take a harder path. One that leads to:
MANY WORLDS, ONE PATH!
---
BLURBS!
---
KICKSTARTER/CROWDFUNDING!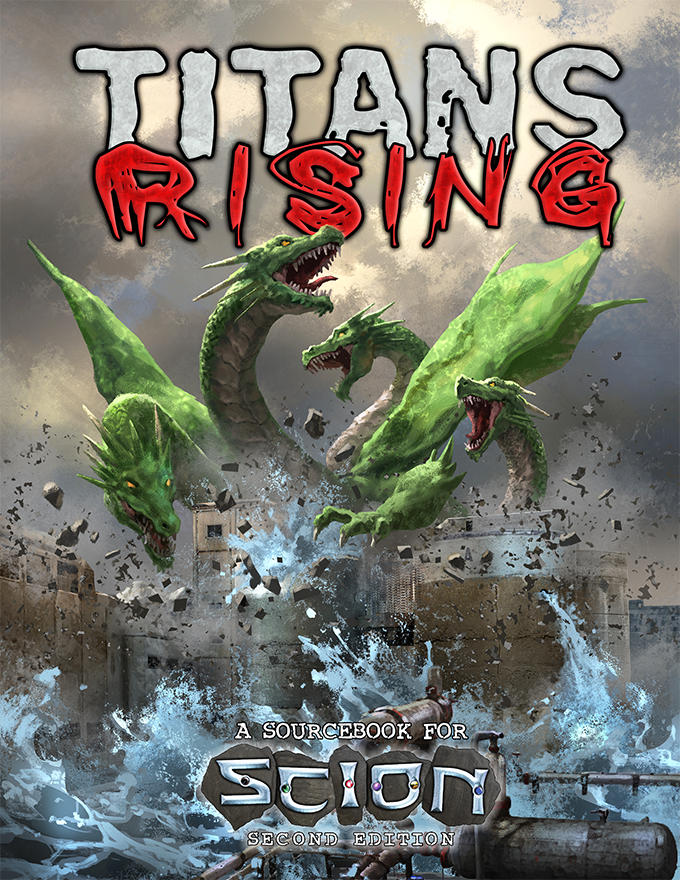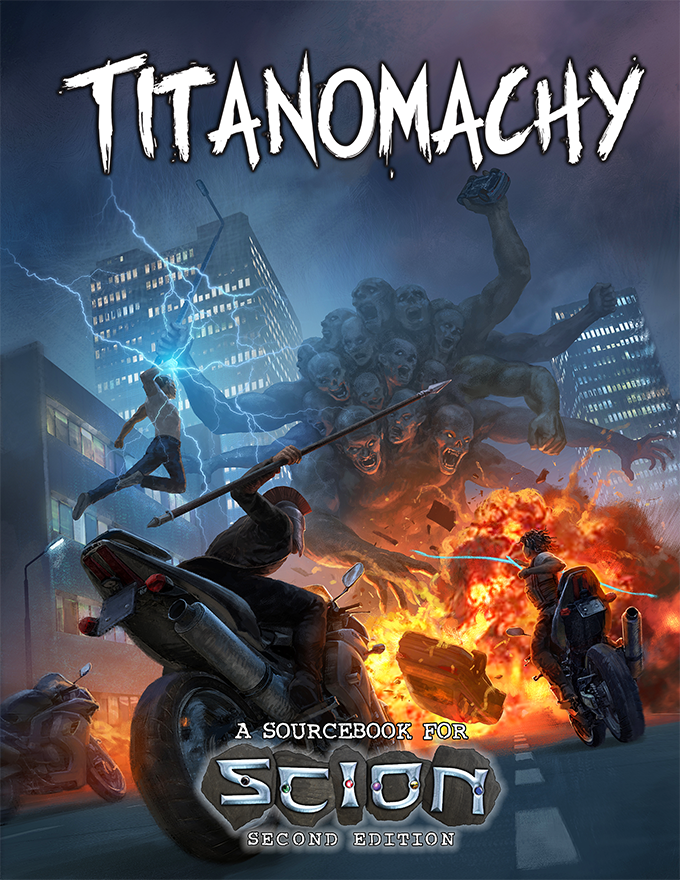 LAST DAYS! Titanomachy and Titans Rising Kickstarter!
https://www.kickstarter.com/projects/200664283/titans-rising-and-titanomachy-for-scion-2nd-edition-rpg
So very close to the next Stretch Goal!
Join the fun!
---
Onyx Path Media!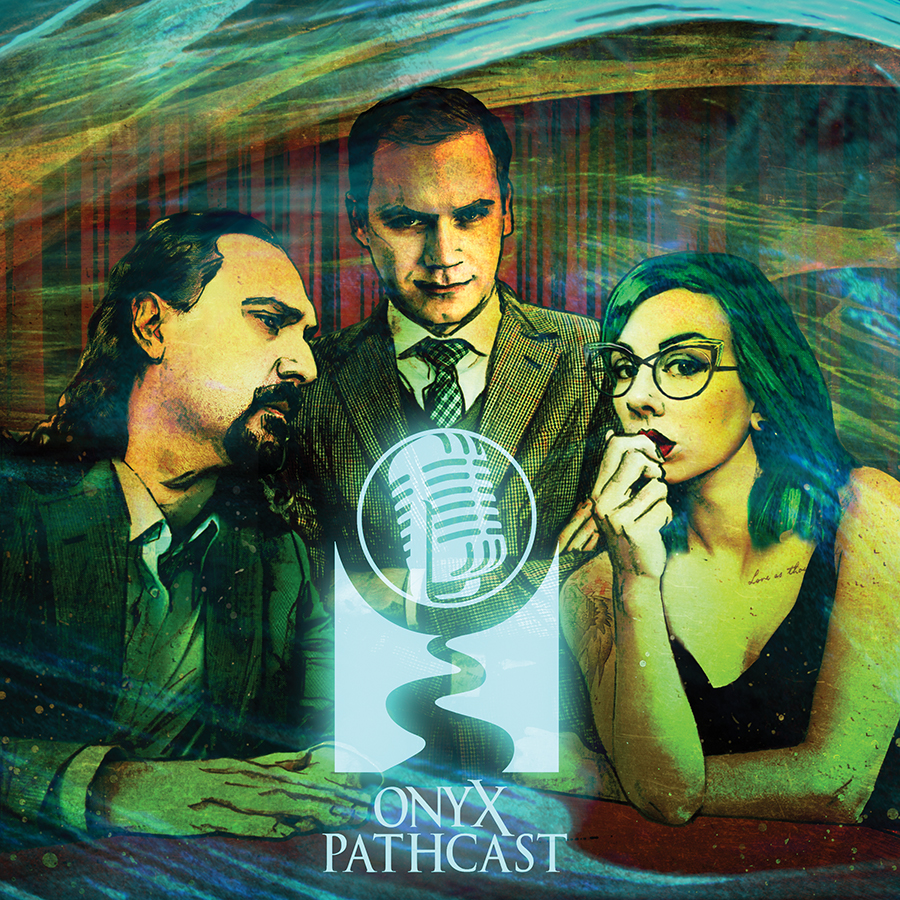 This week:
Part two of character creation in The World Below!
As always, this Friday's Onyx Pathcast will be on Podbean or your favorite podcast venue! https://onyxpathcast.podbean.com/
---
Please check out our attached media schedule for the videos on our Twitch channel this week! In particular, keep those eyes open for our Storypath Showcase, where we give an excellent profile of our various Storypath games and how to play them!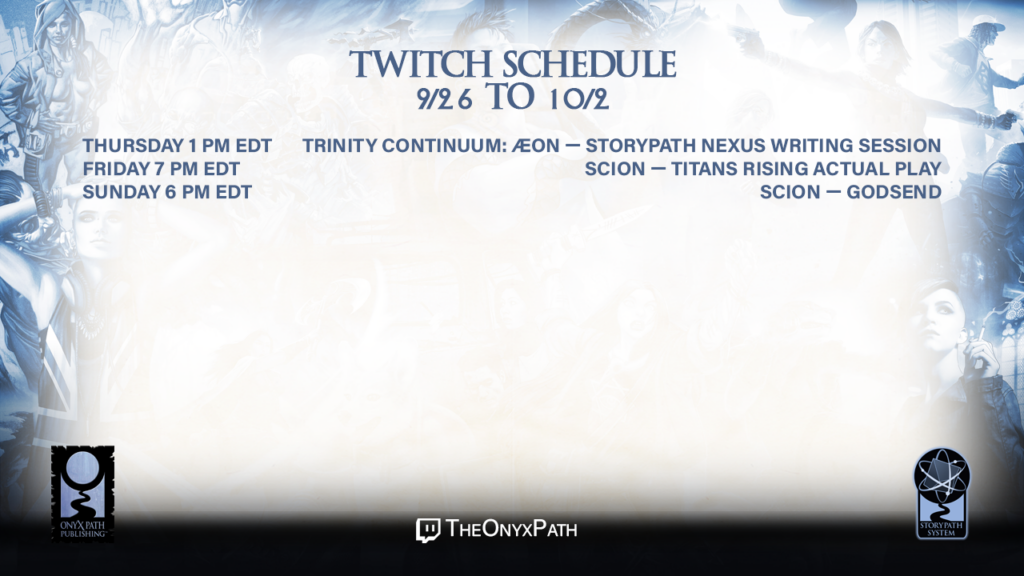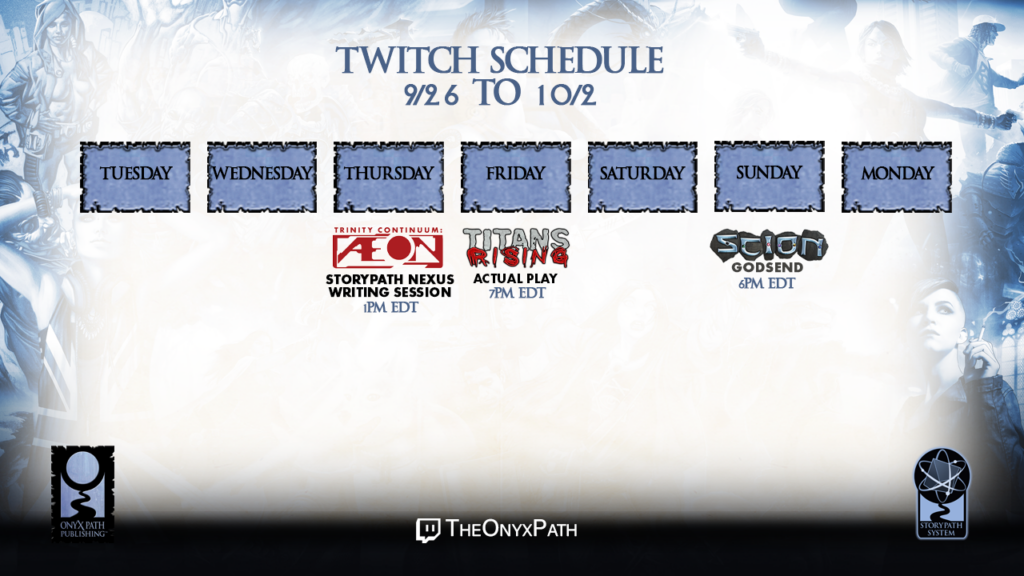 MEDIA HIGHLIGHT OF THE WEEK:
Matthew Dawkins has started up The Gentleman's Guide to The World Below, on YouTube and via podcast! you can find the first episodes right here:
– https://youtu.be/1y-akppKjaA
– https://youtu.be/8t0jyi0p5mo?si=aJ-VYxn0-Vvt1cFd
– https://youtu.be/2zORY9RnRCo?si=dBf2Ke-mjK-syFuM
– https://open.spotify.com/episode/4OERjELeXXBJWj0TRW9X2b?si=57a3d508039f4f75
The Onyx Path News discusses recent and upcoming releases! You can find it on our YouTube channel (click the bell to be informed when we go live!) but if you missed the last episode, here it is: https://www.youtube.com/live/INuXVU_4gkA?si=vyDeDjx2O1Eel-PJ
---
Virtual Tabletop!
New on the Roll20 Marketplace, it's the Scarred Lands' Creature Collection and Camp Murder Lake Tokens for Roll20 VTT play!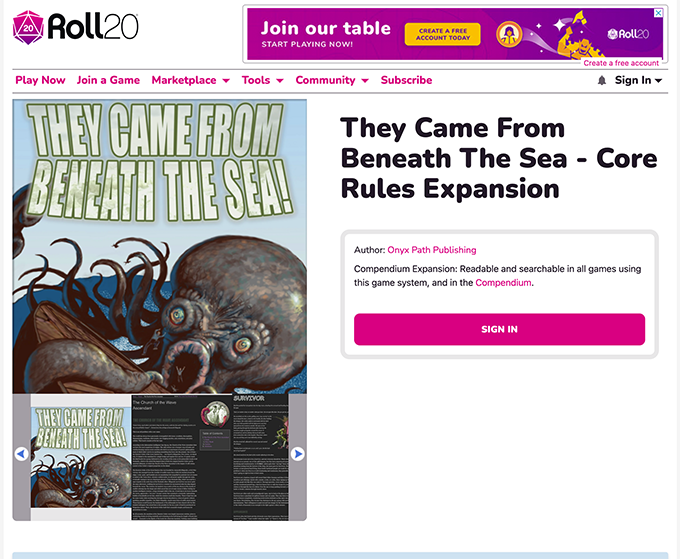 NEW!
They Came From Beneath the Sea! on Roll20 VTT!
https://marketplace.roll20.net/browse/bundle/22308/they-came-from-beneath-the-sea
Here are some more shots from the They Came From Beneath the Sea! Compendium!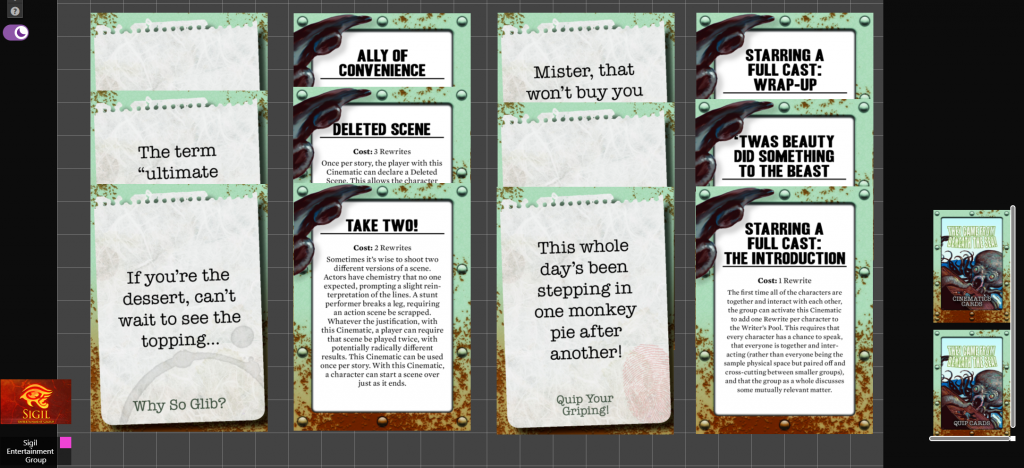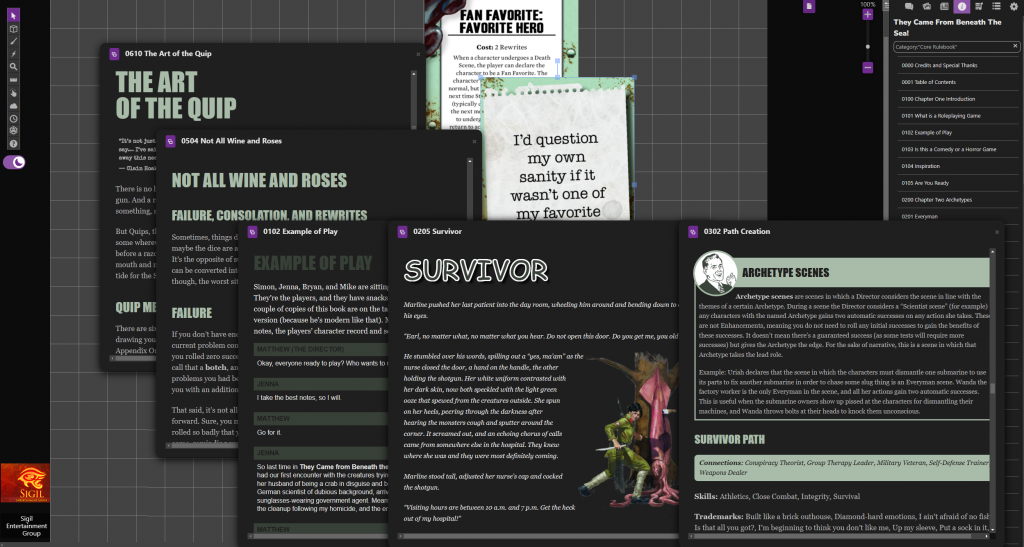 And there's also the Scion Jumpstart, all ready for Roll20 VTT fun!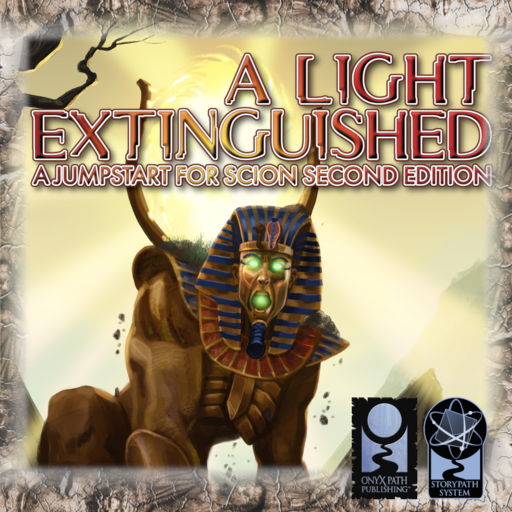 More news and links when we have them!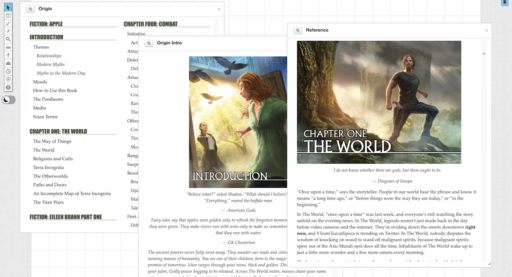 The Scion: Origin and Scion Hero Compendiums are now available on Roll20!

https://marketplace.roll20.net/browse/publisher/1716/onyx-path-publishing

Scion is just the start! They Came From Beneath the Sea! and other
Onyx Path RPGs are in development for Roll20 virtual tabletop!

The first of our official Scion sheets designed for Foundry VTT are
now available!

Direct Link: https://foundryvtt.co
Looking for more virtual tabletop resources? We have a selection of
Tokens, Encounters, and more available now at DriveThruRPG!

Get 'em here: https://bit.ly/3SnrNJ7
---
Our Sales Partners!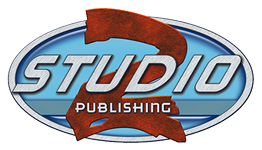 We're working with Studio2 to provide our traditionally printed books out into your local game stores. Game stores can order via their usual distributors, and can also contact Studio2 directly. And individuals can check out our projects via the links below!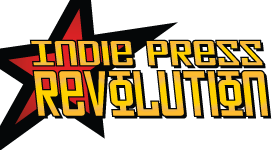 Looking for our Deluxe or Prestige Edition books, dice, and screens? Try this link! http://www.indiepressrevolution.com/xcart/Onyx-Path-Publishing/

As always, you can find Onyx Path's titles in PDF and PoD versions at DriveThruRPG.com!
Amazon and Barnes & Noble!
You can now read our fiction from the comfort and convenience of your Kindle (from Amazon) and Nook (from Barnes & Noble).

Check out Melody Through the Mirrorshade Lens and Facets of Truth, as well as Trinity Continuum: Terat and The Hollow Courts on Kindle in the Kindle store!
---
On Sale This Week!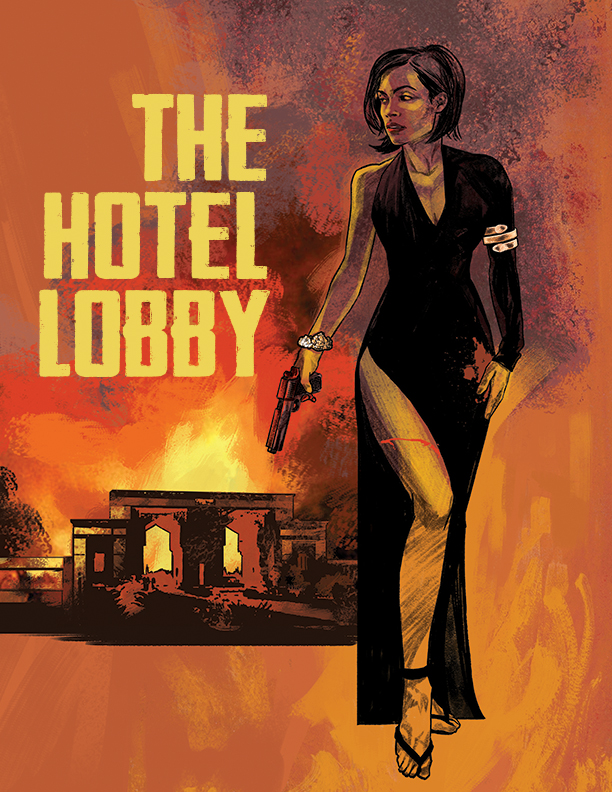 In advance of the other agents, the intrepid operatives gather in the hotel lobby! This month's Tasty Bit PDF is for They Came From [CLASSIFIED]!, is all about hotel lobbies, and will be on sale this Weds on DTRPG!
---
Conventions!
As we are slowly returning to attending conventions in person after the current COVID-19 outbreak, keep an eye out here for more physical and virtual conventions we're going to be involved with!
GameHoleCon (Oct 19th – 22nd) has updated their Exhibitor list, and we're on it!:
https://www.gameholecon.com/
And also: Virtual GameHoleCon is back on: https://virtual.gameholecon.com/


We'll be part of the Studio 2 booth at PAX Unplugged (December 1st – 3rd):
https://unplugged.paxsite.com/
Game Night With Onyx Path Publishing at Start.Playing is this Friday the 29th! Come play some Scion 2nd Edition in celebration of the Titans Rising Kickstarter campaign! (But any of our game lines are welcome all day long!)
Please spread the word about GMing games as much as
possible. Details on how list a game are at the bottom of the page in
the FAQ:

https://startplaying.games/event/game-night-onyx-path
---
Project status updates!
Our full list of projects will be available monthly on our blog! Check out Augusts' full list report here:
DEVELOPMENT STATUS FROM EDDY
Here are the projects that moved to the next stage of production:
Redlines
Tasty Bit – TC: Adventure!: Laboratory
Eddy: As we near the end of this year's Tasty Bits, this one promises to be quite fun: a proper pulp laboratory! I just got the first draft in for this, and I can't wait to dig into it!
Post-Approval Development
Exalted – Abyssals
Danielle: Abyssals has passed on from approvals and now makes its dark descent into editing. But what lies in its path? Is that a crowdfunding campaign on the horizon, brandishing its daiklaive in fury? Whatever will our developers do to vanquish the army of backers ready to shoot money at them?
---
ART DIRECTION FROM MIKE CHANEY!
In Art Direction
Ex3 Exigents – Going over to Paradox for approvals.
Ex3 Many Faced Strangers – We are proceeding to the rest of the art now that all the headshots are done.
Ex3 Abyssals – KS art buy.
The World Below – Prep continues for the KS and advertising…
SCION Titans Rising – KS Ending Soon!
SCION God 2e – With Maria.
TC: Aether – With Maria.
In Layout
Ex Essence Charm Cards
Ex3 Across the 8 Directions – Files with Josh.
HtV Jumpstart
TC Anima Terra Surge Screen
SCION Once and Future
W20 Icons of Rage
Squeaks in the Deep Companion
TCF Classified – Ron Thompson is working up the page designs for the interior.
TCF Cyclops Cave – Working on designing movie poster logos and working on interior page design.
Trinity Continuum CC – Getting assets over to Dixie for that.
Proofing
Ex Essence Novella I – What Lies Forgotten – At Paradox for approval.
Ex Essence Novella 3 – 2nd proof.
Scion CC Guide
Indexing
At Press
TC: Anima – Doing page xxs, incorporating the index, and all that other fun stuff… AND THEN prepping PoD files..
TC: Adventure! – Printer shipping books to fulfillment shipper.
TC Adventure Storyguide Screen and Booklet – Got printer moving forward.
Exalted Essence – Quoting with Printers.
Ex Essence Screen –  Got printer moving forward.
W20 Apocalyptic Record – Printing.
W20 Apocalyptic Record Screen & Booklet – Got printer moving forward.
M20 Lore of the Traditions – Working on the printer quote for the LtD version. PoD files updated.
Ex 3 Crucible of Legends – Page XXs.
TC Assassins VTT Adventure – TC Assassins VTT Adventure – PoD proofs ordered.
TC Adventure Addendum – M.K. incorporating errata.
Scion Dragon Jumpstart – PoD proof ordered.
Ex Essence Novel 2 – Scoundrelsong – PoD proof ordered.
September Tasty Bit: They Came from [CLASSIFIED]! Hotel Lobby at DTRPG!
---
Today's Reason to Celebrate!
Today, in the world of Trinity Continuum: Aberrant, the city of Sao Paulo is saved by the heroic sacrifice of The Fireman, who absorbs the massive nuclear firestorm that could have wiped out thirty square blocks and all who lived within – at the cost of his own life. For our many friends in Brazil – be safe!