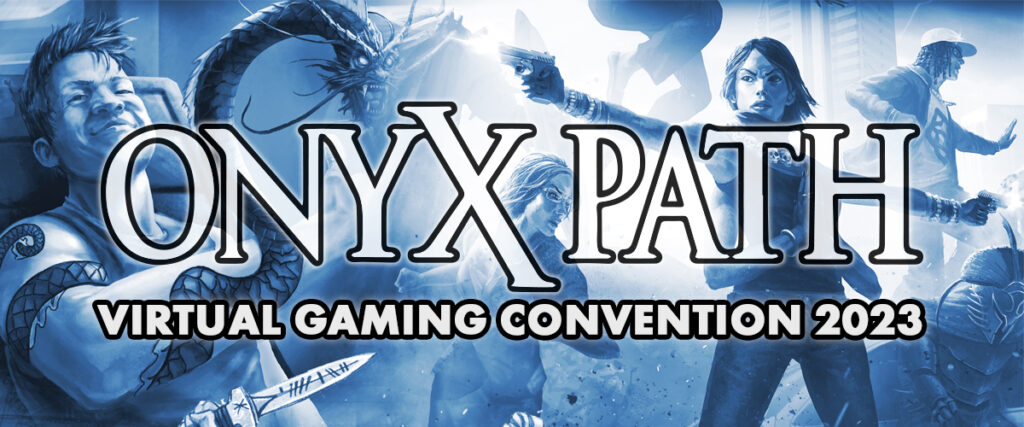 From here until mid-June, we're all-in on getting things set up for the 4th year of the Onyx Path Virtual Gaming Con! 4 years! The little convention that could, born out of the Covid quarantines, half put together by wanting to play and half because we just hadn't seen our community for far too long, is going to be four. Wowser!
So, we have a month to get things all wrapped up, and prep our contingency plans for when those original plans fall flat on their metaphorical faces. Today we reviewed our teases and reveals – of new and upcoming games! Jeez. Most of the panels and things are pretty well scheduled, but just what we're going to announce or hint at, or hint at announcing, is what we needed to nail down.
Pretty sure we have it, at this point. There should be enough for folks who are looking forward to news. And News, even! But not so much that we over-announce and get caught with some disappointed folks if we have to change plans. We've all been there with projects we were looking forward to, so your gang here at Onyx Path tries to balance the hype with the "mostly going to happen"!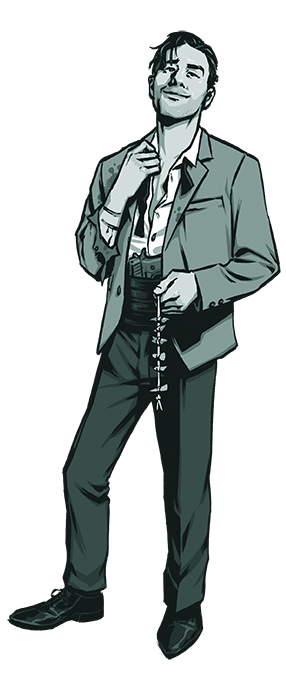 Don't take it from me, here's TV's Travis Legge, who is setting up our set-up:
As the 2023 Onyx Path Virtual Gaming Convention draws near, we're in the process of finalizing a full weekend of panels at the Onyx Path Twitch channel (https://www.twitch.tv/theonyxpath). In addition to mainstays like the Opening Ceremonies, What's Up With Onyx Path? and the live Pathcast, we have a ton of discussions planned to cover our various game lines both old and new! We'll have Q&A sessions, a few interviews with exciting partners discussing upcoming events, and big announcements that you won't want to miss!
Speaking of partners, the Bodhana Group (https://www.thebodhanagroup.org/) is once again our charity of choice! Our friends at StartPlaying (https://startplaying.games/) are joining us to provide coordination so attendees can set up games through them for the weekend with all proceeds going to the Bodhana Group!
In addition to panels, we're providing hours of actual play programming so you can see our games in action! This year we're joined by partnered channels Dork Tales (https://www.twitch.tv/dorktales), Plastic Age Plays (https://www.twitch.tv/plasticageplays), Rolling Nomads (https://www.twitch.tv/rollingnomads), and Simulacra TV (https://www.twitch.tv/simulacratv). These partnerships give us ample room to showcase our various game lines, and we're in the final stages of locking those schedules down. Be sure to follow those partnered channels, and keep an eye on this space for official schedule releases!

In non-convention news, the They Came From? crowdfunding campaign is still coming, and we recently resubmitted the campaign page to Kickstarter, who had some changes in terminology they needed us to make. So, hopefully they will re-review it quickly. Quick enough!
The KS for They Came From? starts Thursday the 25th at 2pm Eastern US Time!
And you can go here and sign up on the pre-launch page to be notified immediately as it goes live: https://www.kickstarter.com/projects/200664283/they-came-from-the-rpg-anthology-tabletop-roleplaying-game
For more info on just what's in the book itself, and maybe even some clues as to the title and the…interesting…nature of the crowdfunding campaign, you can listen to this Friday's Onyx Pathcast on your favorite podcasting venue!
And if you missed last Friday's deep dive into the abyss with the gang's look into The World Below, you can still catch that and learn about our newest fantasy game featuring Storypath Ultra, our newest system! Also, last Thursday the powerful force that is Kaos magic was the topic of Thursday's World Below teaser blog!
Different topic entirely: for those of you who were concerned about the security status of our website, the recent update/upgrade enabled Impish Ian to successfully upgrade it to fully security compliant. So you shouldn't see any more unsecured website messages! (And don't worry, we still haven't had any security breaches!)
Like, nobody ever monkeywrenched us. How's that for a long-time Werewolf: The Apocalypse reference?
Which is only fair, since I was there when we created first edition, but even moreso because yesterday it was 10 years since Werewolf: The Apocalypse's 20th Anniversary Edition was published! That is just so hard to believe – it seems like just yesterday I was reaching out to Bill Bridges and Ethan Skemp about following up V20's success with a deluxe edition for WtA. And that I was reaching out to the ol' art crew like Ron Spencer, Steve Prescott, and RKF.
It's so cool that folks are still enjoying it, and immersing themselves in the compiled lore of the Garou! It's even cooler that we are still able to work on a couple of W20 projects after all this time – thanks, Paradox!
So, to celebrate, there's a sale on W20 gameline PDFs on DTRPG going on right now: 50%! https://www.drivethrurpg.com/browse/pub/4261/Onyx-Path-Publishing/subcategory/8329_20631/Werewolf-20t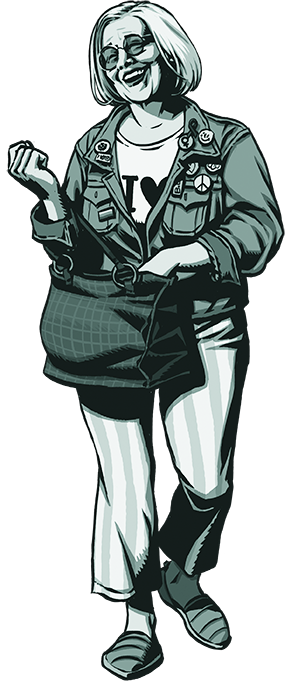 Well, once again we have had a rollickin' good time talking horror gaming in the Comments section of this very blog! Hats off to the creativity and insight our posters have shared this last week as we talked about just which supernatural PC types they'd like to see in a new urban dark fantasy/horror game. Lots and lots of great ideas!
To kind of spin off of that, as well as some prior weeks' posts about how folks like to keep their horror personal, I'm wondering just what is it about certain supernatural creatures that makes our community want to play them? Is it their respective aspects of personal horror, like a werewolf's uncontrollable rage, or the angst of returning from the dead with unfinished business? The fear that you're not actually human for a promethean, or the body-horror of Deviant?
Or, do you play a vampire because you always get VIP treatment in nightclubs? Is it knowing you can rip into your enemies, take their best shots, and stand back up and go again (a whole bunch of our supernatural PCs). Is it your access to the obscure, hidden, arcane, secrets of the world?
These are all good reasons – what really grips you and makes you say "I want to play…THAT!"?
If you get a chance, the phone lines are open and I'd love to hear what compels you to be a monster! Pop onto the Comments below and sound off. 🙂
We've all done it, in some game, somewhere, on one of our:
MANY WORLDS, ONE PATH!
---
BLURBS!
---
KICKSTARTER/CROWDFUNDING!
The KS for They Came From? starts Thursday the 25th at 2pm Eastern US Time!
And you can go here and sign up on the pre-launch page to be notified immediately as it goes live: https://www.kickstarter.com/projects/200664283/they-came-from-the-rpg-anthology-tabletop-roleplaying-
---
Onyx Path Media!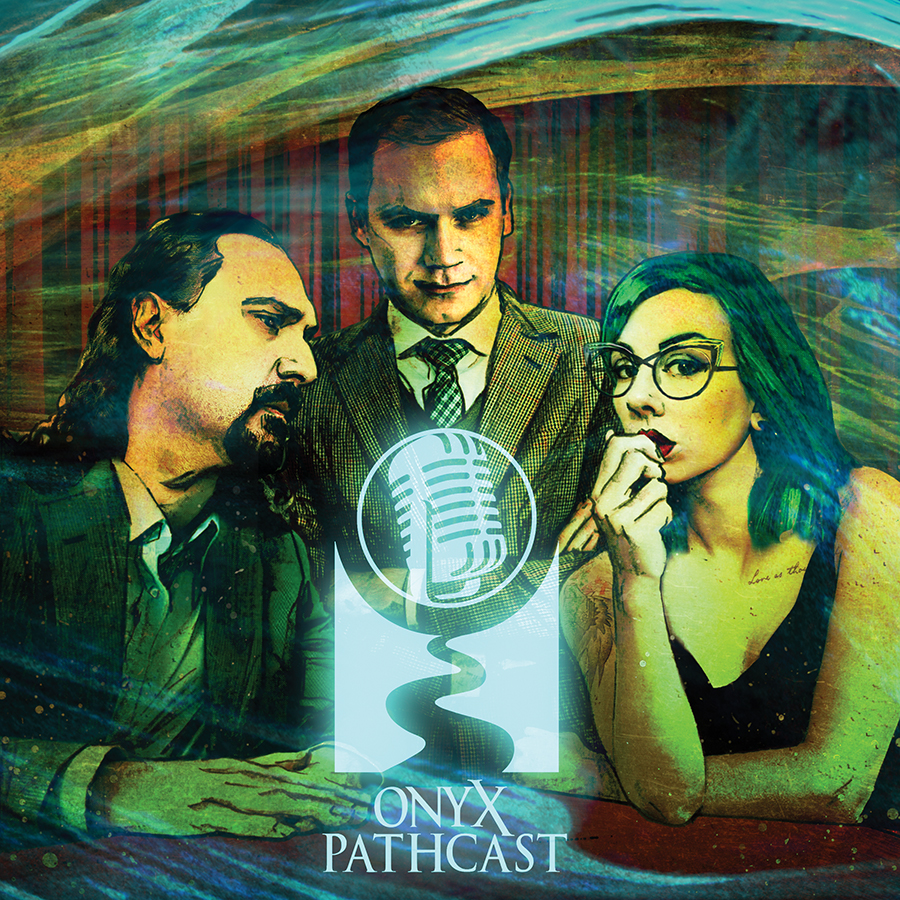 This week:
Dixie and Matthew do a deep dive into the mysterious new They Came From… game coming to crowdfunding soon!
As always, this Friday's Onyx Pathcast will be on Podbean or your favorite podcast venue! https://onyxpathcast.podbean.com/
---
Onyx Path Media now has its own blog on Tuesdays! We'll continue posting our highlight of the week here, but Tuesday will be the day to visit if you want to catch up on actual plays, interviews, deep dives, and other assorted Onyx Path media!
Please check out our attached media schedule for the videos on our Twitch channel this week! In particular, keep those eyes open for our Storypath Showcase, where we give an excellent profile of our various Storypath games and how to play them!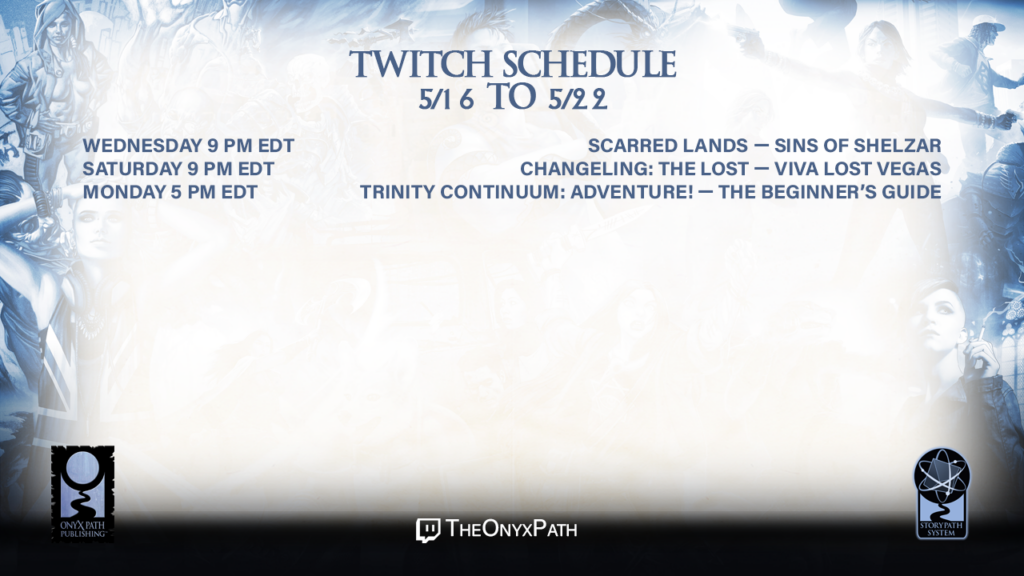 MEDIA HIGHLIGHT OF THE WEEK:
See below:
The Onyx Path News discusses recent and upcoming releases! Matthew is out today, but says: "I'll do this week's episode on Wednesday."
---
Virtual Tabletop!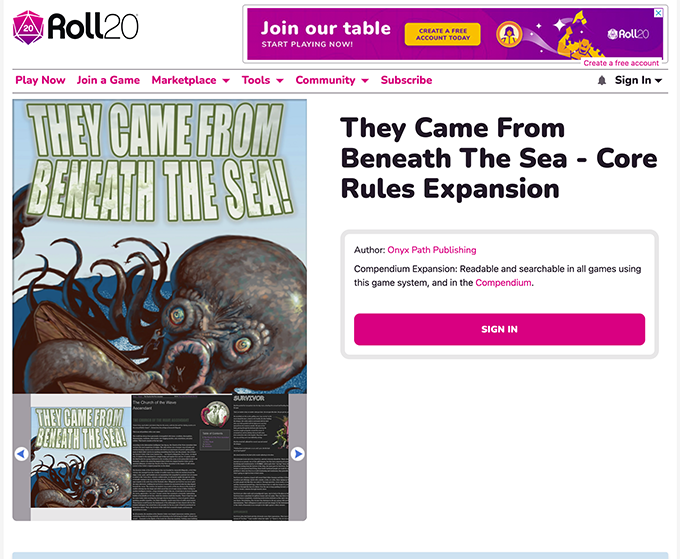 NEW!
They Came From Beneath the Sea! on Roll20 VTT!
https://marketplace.roll20.net/browse/bundle/22308/they-came-from-beneath-the-sea
Here are some more shots from the They Came From Beneath the Sea! Compendium!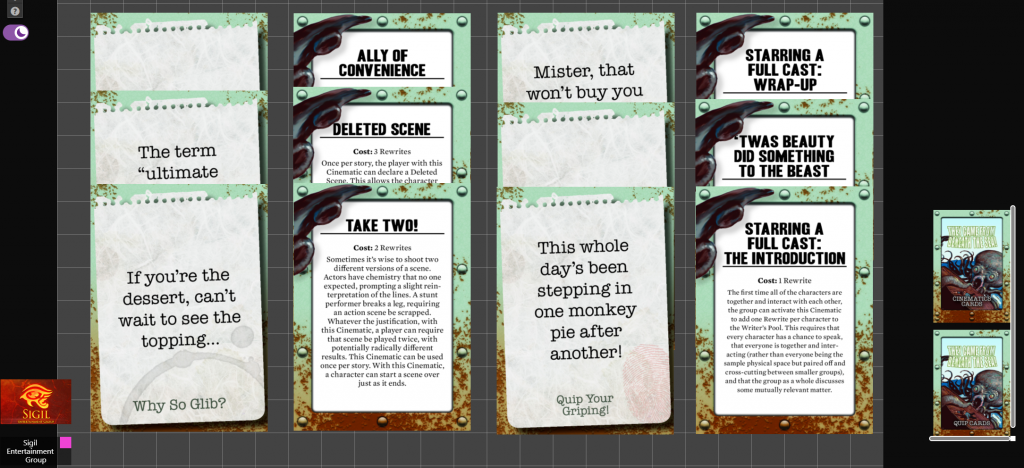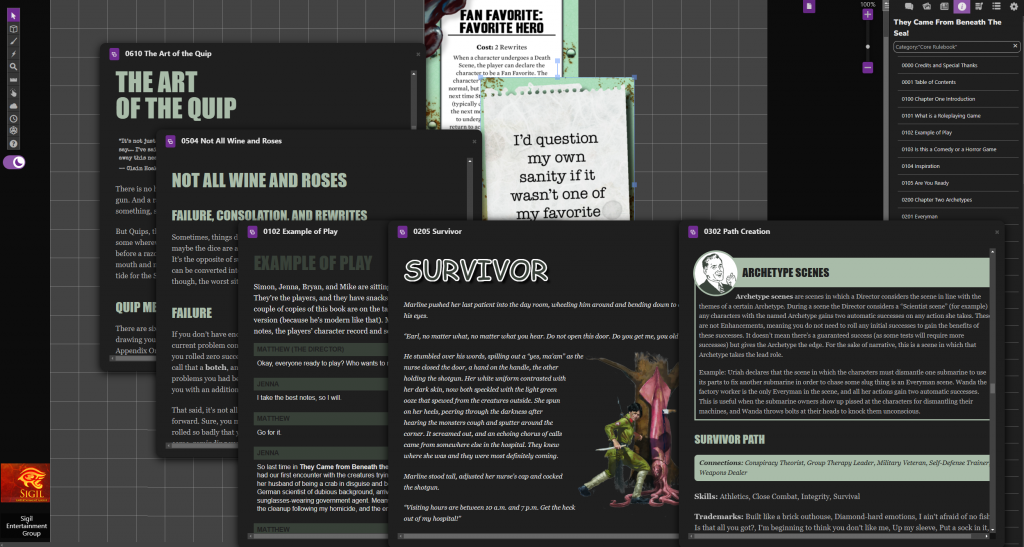 And there's also the Scion Jumpstart, all ready for Roll20 VTT fun!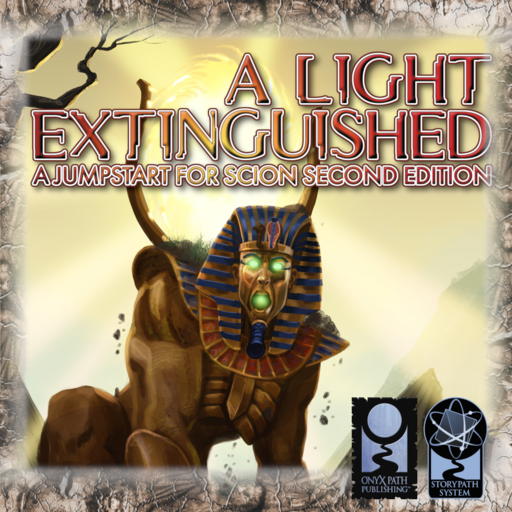 https://marketplace.roll20.net/browse/bundle/21165/a-light-extinguished-a-jumpstart-for-scion-second-edition
More news and links when we have them!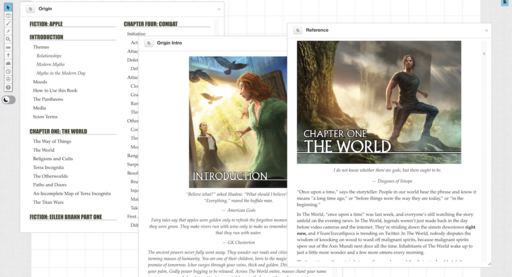 The Scion: Origin and Scion Hero Compendiums are now available on Roll20!

https://marketplace.roll20.net/browse/publisher/1716/onyx-path-publishing

Scion is just the start! They Came From Beneath the Sea! and other
Onyx Path RPGs are in development for Roll20 virtual tabletop!

The first of our official Scion sheets designed for Foundry VTT are
now available!

Direct Link: https://foundryvtt.co
Looking for more virtual tabletop resources? We have a selection of
Tokens, Encounters, and more available now at DriveThruRPG!

Get 'em here: https://bit.ly/3SnrNJ7
---
Our Sales Partners!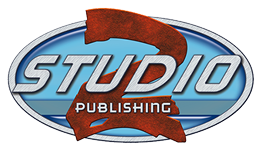 We're working with Studio2 to provide our traditionally printed books out into your local game stores. Game stores can order via their usual distributors, and can also contact Studio2 directly. And individuals can check out our projects via the links below!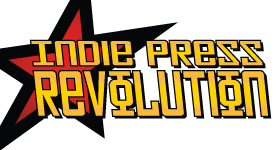 Looking for our Deluxe or Prestige Edition books, dice, and screens? Try this link! http://www.indiepressrevolution.com/xcart/Onyx-Path-Publishing/
https://www.indiepressrevolution.com/xcart/Deals-and-Specials/

As always, you can find Onyx Path's titles in PDF and PoD versions at DriveThruRPG.com!
50% Off W20 PDFs at DTRPG this week:
https://www.drivethrurpg.com/browse/pub/4261/Onyx-Path-Publishing/subcategory/8329_20631/Werewolf-20th-Anniversary
Amazon and Barnes & Noble!
You can now read our fiction from the comfort and convenience of your Kindle (from Amazon) and Nook (from Barnes & Noble).

Check out Melody Through the Mirrorshade Lens and Facets of Truth , as well as Trinity Continuum: Terat and The Hollow Courts on Kindle in the Kindle store!
---
On Sale This Week!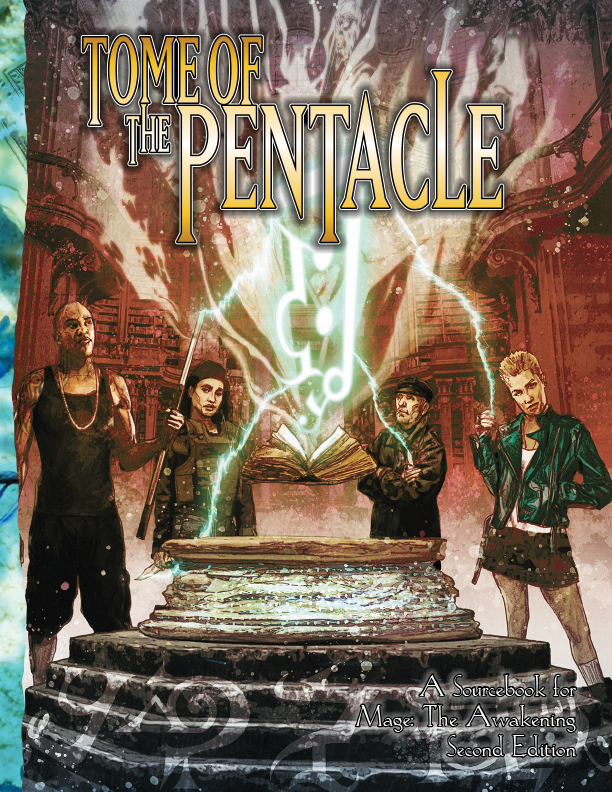 Magically, the Advance PDF of the Tome of the Pentacle for Mage: The Awakening 2e pops into five-fold existence! Advance PDF on sale this Weds on DTRPG!
And on Roll20, in honor of the 5th birthday of Pan's Guide, the VTT Token Pack for Pan's Guide for Pugmire goes live!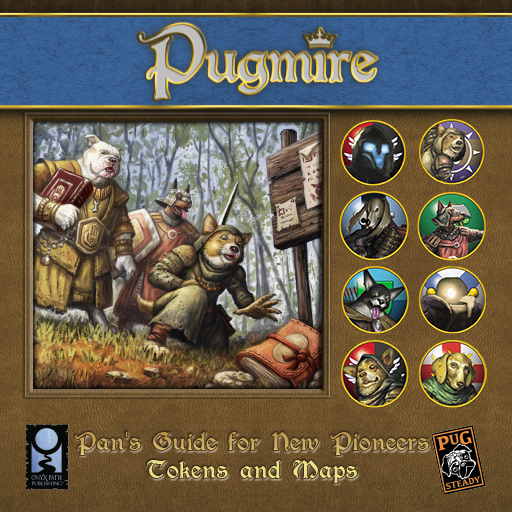 ---
Conventions!
As we are slowly returning to attending conventions in person after the current COVID-19 outbreak, keep an eye out here for more physical and virtual conventions we're going to be involved with!
UK Games Expo (June 2nd – 4th) is almost here. Matthew and Eddy will be running games along with a couple of our awesome developers. Leisure Games will have a small selection of our books for sale at the show. We're also making business cards with a QR code linking to our catalog on DTRPG.
Onyx Path Virtual Convention (June 16th – 18th) We'll be focusing
primarily on Storypath, Exalted, and Pugmire, but any OPP game works! As well as tons of panels, games, and other events, we'll have slots opens for folks to run games, so start making your plans now!
Game Night With Onyx Path Publishing at Start.Playing is the last Friday of every month! Come play some They Came From! in celebration of the upcoming They Came From…? KS! (But any of our game lines are welcome all day long!)
Please spread the word about GMing games as much as
possible. Details on how list a game are at the bottom of the page in
the FAQ:

https://startplaying.games/event/game-night-onyx-path
---
And now, the new project status updates!
Our full list of projects will be available monthly on our blog! Check out April's full list report here: https://theonyxpath.com/release-roundup-april-2023/
DEVELOPMENT STATUS FROM EDDY
Here are the projects that moved to the next stage of production:
Final Draft
Scion – Scion: Divine Inspiration
Matthew: Hallo gov'ner! Gorblimey! This book is bloody brilliant, wot!
Manuscript Approval
TC: Aether – Aether Audiobook
Eddy: The script for this enhanced audiobook has been revised and reviewed, and is now in the capable hands of the approval team!
---
ART DIRECTION FROM MIKE CHANEY!
In Art Direction
SCION Titans Rising – Signed off a couple of sketches.
TC: Aegis – Signed off on a couple of sketches.
In Layout
TC Anima
W20 Apocalyptic Record Screen & Booklet
HTV Tending the Flame – Missing symbols and splats a goin.
TC Assassins VTT Adventure – I have the initial layout about ready to go to proofing.
Wallpapers for Essence, Adventure, Apocalyptic Record
Proofing
W20 Howls of Apocalypse – 2nd proof. Once that's back in to me, I'll fix it and get it over for Paradox approval.
Indexing
At Press
TC Adventure Storyguide Screen and Booklet
They Came From! Tasty Bit Compilation – PoD proof on the way.
Ex3 Surface Truths – PoD proof on the way.
TC Stampede of Justice (Adventure JS) – PoD proof on the way.
TC: Adventure! – Trad printing files prepping. Awaiting specs from Printer.
W20 Apocalyptic Record – PoD proof on the way.
MtAw Tome of the Pentacle – Advance PDF on sale Weds on DTRPG!
---
Today's Reason to Celebrate!
As noted above, Sunday was Werewolf: The Apocalypse 20th Anniversary Edition's 10th birthday! And tomorrow is the 5th birthday for Pan's Guide for Pugmire, the intro book that led all sorts of good doggos to adventure!