Welcome back to our media spotlight blog, with this week's light shining on character creation videos and their uses!
The Spotlight
In our time producing videos and having other people kindly make videos for us, we've found an interesting trend: character creation videos are really popular! It turns out a lot of roleplayers find the "onboarding" part of RPGs – where they create characters and decide the kinds of things they want to achieve in a game – some of the most exciting in video form.
As a result, we're shining a light on some of our recent character creation offerings along with others we've found online:
They Came from [CLASSIFIED]! Character Creation
They Came from the Cyclops's Cave! Character Creation
Wraith: The Oblivion Character Creation
Werewolf: The Apocalypse Character Creation
Pugmire Character Creation
Scion Character Creation
If you want to make a character creation video, please send it our way following the instructions below and we'll happily profile it!
The Video Round-Up
Keep an eye on our Twitch schedule for all manner of games and videos taking place in April!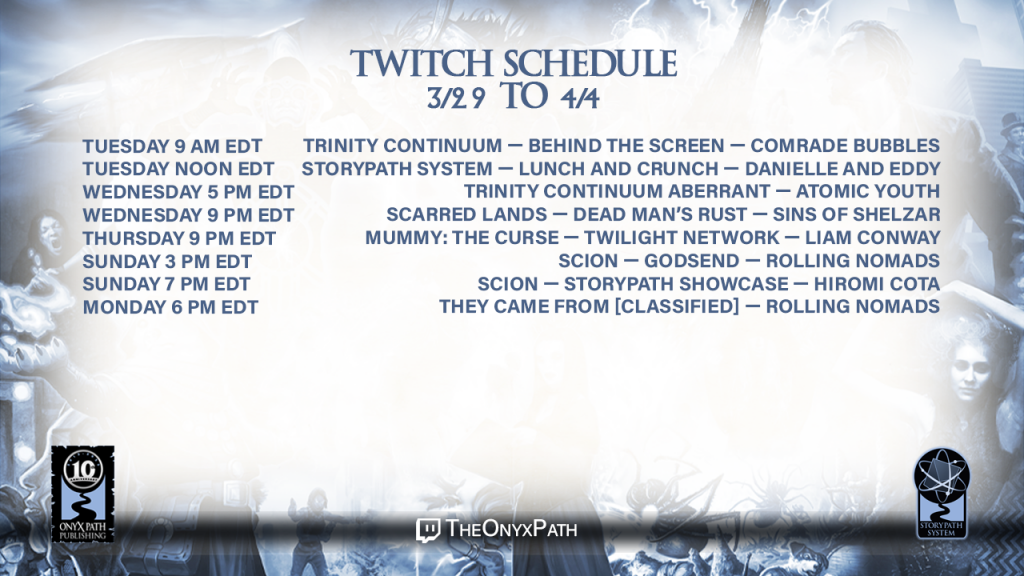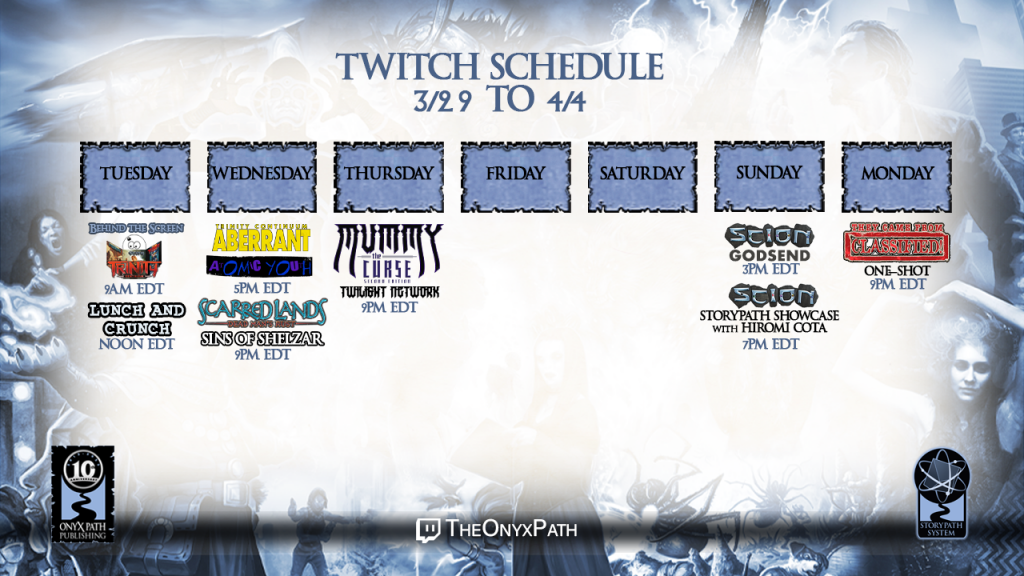 Speaking personally, I'm thrilled to see some Mummy on that schedule and am really excited to see how the CLASSIFIED game goes!
If you're not already following The Onyx Path on YouTube and Twitch, now's an ideal time to do so. We produce a wealth of content on Twitch every week with a group of stellar partners and content creators, and much of that content makes its way to our YouTube channel too. Check it out for yourselves:
https://www.twitch.tv/theonyxpath
https://www.youtube.com/c/TheOnyxPathRPG
Meanwhile, the latest Onyx Path News over on our YouTube channel is available for everyone to view. If you want to catch it live, click on the bell on our channel so you're notified each Friday when it streams!
On the Onyx Path YouTube channel, we have some excellent videos tying into the current Kickstarter campaign, including:
An interview between Travis Legge and myself!
An actual play of Cyclops's Cave!
An interview between Travis Legge and Cyclops co-dev Michele Masale!
And we continue with our fantastic campaign of Scarred Lands:
While Hiromi Cota starts up a Scion story!
We have a couple of episodes of the amazing Aberrant: Atomic Youth from Simulacra Studios for you. Do check out their series:
And that's not all for Simulacra Studios, as they also released their newest episode of Aeon: Luna Rocks:
And if you missed it, Red Moon Roleplaying recently concluded their three-part series of They Came from [CLASSIFIED]!, with Cyclops's Cave! to come!
The Podcast Round-Up
And then we have podcasts! There are so many shows covering our games (and others) out there every week that we can't profile them all, but what helps us see them is when you tell us about them, so don't hesitate to contact us about a good show, such as:
Matthew Dawkins interviewed by Jessica Hancock for E.N. Live regarding the They Came From… line!
https://player.fm/series/not-dnd/ep-3-they-came-from-with-matthew-dawkins
A Bunch of Gamers continues with their stellar Werewolf show:
https://podcasts.apple.com/gb/podcast/a-bunch-of-gamers/id1499268564
And on the subject of Werewolf, do check out Werewolf: The Podcast right here:
https://keepontheheathlands.podbean.com/
While the ever excellent OPCast covers Aberrant right here:
https://anchor.fm/opcast/episodes/Trinity-Continuum-Aberrant-Part-1-of-5-e1etpv4
And our good friends at Red Moon Roleplaying are always running superb games, including the recently concluded They Came from [CLASSIFIED]! right here:
https://www.redmoonroleplaying.com/podcast/2022/3/10/they-came-from-classified-the-electric-touch-01
Where I Read…
Let's look at a few of the active "WIR" threads over on RPG.net, where folks read through our books chapter by chapter and give them deep reviews. Live currently, we have a thread for:
They Came from Beyond the Grave! (just concluded)
Mummy: The Curse 2nd Edition (just concluded)
So if you're more inclined toward reading your reviews, this is a fine place to go.
Do you want to create media?
If you do, you should use the attached form to submit your suggestions for podcasts, review shows, actual plays, deep dives, and more! We'd love to hear from you so we can profile you on our blog and elsewhere: The Form