I've been asked "why do you profile Devil's Luck Gaming so often, Matthew?" The reason is a simple one: I honestly feel you can find actual play content produced at such an excellent quality in so few other places.
The Spotlight

We return to Devil's Luck Gaming as they venture deep into the world of Trinity Continuum: Assassins with dashes of Adventure! thrown in there for good measure. But that's far from all they have to offer. Devil's Luck Gaming have produced excellent shows for Exalted: Essence, Scarred Lands, and a whole range of other games we publish, license, or otherwise support.
Do check out their Twitch here and give them a Follow and a Subscribe:
https://www.twitch.tv/devilsluckgaming
And if Twitch isn't your think, don't despair, as you can find their range of content available via their website here:
THE VIDEO ROUND-UP
If you're not already following Onyx Path on YouTube and Twitch, now's an ideal time to do so. We produce a wealth of content on Twitch every week with a group of stellar partners and content creators, and much of that content makes its way to our YouTube channel too. Don't take our word for it, however; you can check it out for yourselves:
https://www.twitch.tv/theonyxpath
https://www.youtube.com/c/TheOnyxPathRPG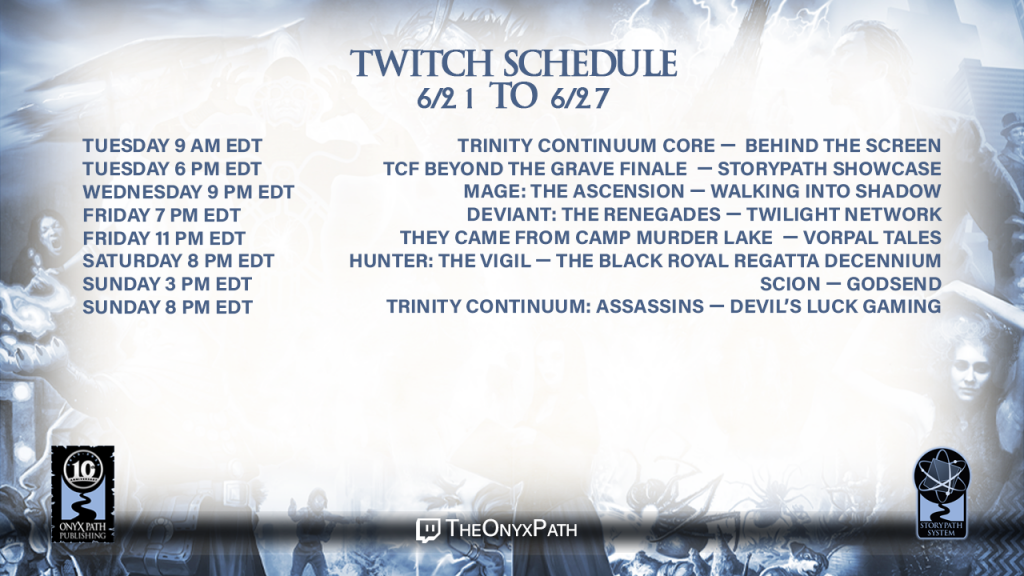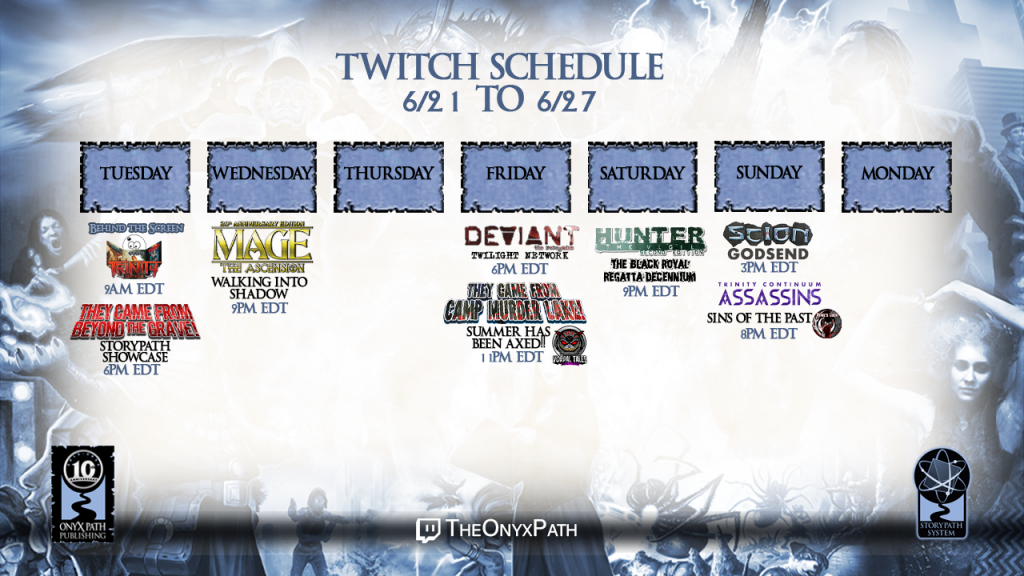 All the content on our YouTube channel has been dedicated to footage from Onyx Path Con, so if you missed our actual plays and panels, tune in and catch up with the following:
Anyway, I'd wager that's more than enough video media for you this week! If you have any videos you want us to spotlight, post them in the comments below!
THE PODCAST ROUND-UP
And then we have the always fun podcast round-up, including:
The Wondrous Atlas of Creation's Destiny looks at characters, concepts, and places throughout Creation, the setting of Exalted 3rd Edition, and spends two episodes a piece examining each and the way you can use them in your Exalted chronicles. They're now discussing the Dragon-Blooded!
Show website: https://www.wondrousatlas.wordpress.com
Anchor: https://anchor.fm/wondrous-atlas-of-creations-destiny
Spotify: https://open.spotify.com/show/00kUymWSFkHbzamDk7Hohm
Apple Podcasts: https://podcasts.apple.com/us/podcast/wondrous-atlas-of-creations-destiny-an-exalted-podcast/id1621765257

Mage: The Podcast has ventured into movie inspirations for Mage:
You can find the always excellent Werewolf: The Podcast right here:
https://keepontheheathlands.podbean.com/
And here's the newish Changeling: The Podcast for you:
https://changelingthepodcast.com
The ever wonderful OPCast delves into the history of Trinity Continuum: Adventure! with their newest episodes:
And Path of Night Podcast delves into Mage, Geist, Werewolf, Changeling, and more in their Chronicles of Darkness podcast, Forgetting Ashville:
https://path-of-night-podcast.simplecast.com/episodes/forgetting-ashville-1-homecoming
Pain in the Dice is a podcast you may be new to, though the hosts are likely familiar names, hailing from the popular Systematic Understanding of Everything, Mage: The Podcast, and The Story Told shows. Chazz, Terry, Monica, and Josh come together routinely to discuss some excellent RPG-related topics, from reviews (including recent ones of Hundred Devils Night Parade and Heirs to the Shogunate) to delves into the industry (RPG distribution, Kickstarter, etc.)
For an insightful and enjoyable listen, seek out Pain in the Dice wherever you listen to your favourite podcasts, or right here on Apple Podcasts:
https://podcasts.apple.com/us/podcast/pain-in-the-dice/id1595769318
A Bunch of Gamers have for some time now been running a lengthy chronicle of Werewolf: The Apocalypse, which for me has proven a massive inspiration for my own chronicle, but have recent dove into the murky depths of They Came from Beneath the Sea!
Check out their range of content over on Apple Podcasts, or wherever you happen to listen to your favourite shows:
https://podcasts.apple.com/gb/podcast/tcfbts-the-crabby-lizard-from-the-murky-depths-part-1-of-2/id1499268564?i=1000478123387
DO YOU WANT TO CREATE MEDIA?
If you do, you should use the attached form to submit your suggestions for podcasts, review shows, actual plays, deep dives, and more! We'd love to hear from you so we can profile you on our blog and elsewhere: The Form