Changeling: The Lost – On Ice is a weekly stream run by the folks at FinalShow Films. Set in the linked towns of Houghton/Hancock, Michigan, a weird little college town in the often icy Upper Peninsula. In the winter, people dig tunnels from dorm to class and try to ignore the howling winds. In the spring, ice thaws and frozen things emerge. In the summer, bloodsuckers come to feast.
Catch them live on: https://twitch.tv/finalshowfilms 
The current episode playlist is right here: https://www.youtube.com/playlist?list=PLhzgGaPSmkS4w9j5EbNIGlfWA-pKeOeke
The Schedule
Tune in to our Twitch channel over on https://www.twitch.tv/theonyxpath to catch our many videos go live! We have actual plays, deep dives, interviews, and more, and you can watch any or all of it if you follow or subscribe to us.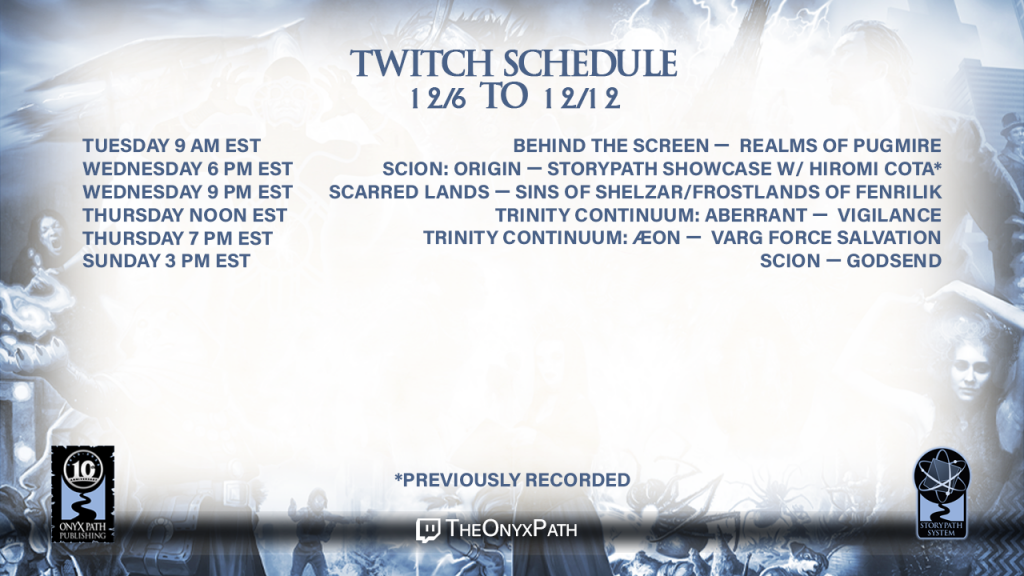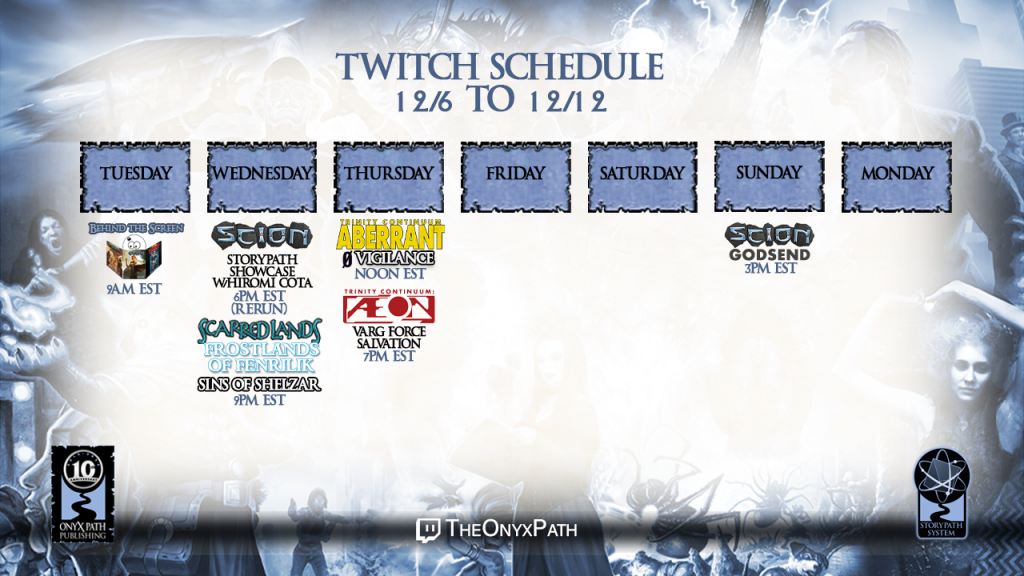 TikTok!
There's a buzz of activity over on TikTok as a number of content creators have been making videos promoting our games in all kinds of weird and wonderful ways! Check some of these short videos out and contribute your own. Don't forget to tell us when they go live so we can promote them:
IsobelStarling on outfits for Hunter: The Vigil 2nd Edition
MissingXLondon on Hunter: The Vigil 2nd Edition (Episode One)
RadioFreeWill on They Came from Beneath the Sea!
ItsEliseCatibog on alternatives to D&D
MissingXLondon on Hunter: The Vigil 2nd Edition (Episode Two)
The Vampire Interpreter on Aberrant
ItsEliseCatibog on They Came from Camp Murder Lake!
CJ Starry on They Came from Beyond the Grave!
Do check these out as they're only short, and give these creators your support!
WE WANT YOUR MEDIA!
We're on the lookout for new shows of the following types:
TikToks and other short media covering our games
Deep Dives into our various games
Character Creation streaming sessions
Actual Plays of any of our games
Reviews of our games
Interviews with writers, artists, developers at Onyx Path Publishing
And more! If there's content you'd like to produce on stream, we can help you out with the software you'll need to use, may be able to assist with your creation of an overlay, and if you can commit to a good amount of content, we can get you PDFs to assist in your game features.
Therefore, if appearing on the Onyx Path Twitch channel and YouTube channel appeals to you, please complete this form: The Form