That's right, we're back, and this time with a self-indulgent plug (as it were)! We've been uploading a lot of excellent content to the Onyx Path YouTube Channel over the past week, and there's a lot more to come in the weeks ahead. Read on to see what's up and what's coming!
The Spotlight
The Onyx Path YouTube Channel has been running for many years now, and is our regular depository of actual plays, character creation sessions, deep dives, and interviews with our game creators. You can find it right here at https://www.youtube.com/c/TheonyxpathRPG
In the past few months we've seen the following playlists get populated with superb content:
The Twilight Network
Over on the Twilight Network, we've seen deep dives in a number of our games, not limited to Werewolf: The Forsaken, Hunter: The Vigil, and Deviant: The Renegades! Which game do you want to see next? Comment below!
Scarred Lands – Sins of Shelzar
Our very own Travis Legge has run this multi-part Scarred Lands actual play, using the fantastic content from Dead Man's Rust, to run one of the best actual plays we have on the channel. Do check it out!
Storypath Showcase
If you've ever been interested in our various Storypath System games, from Scion, to Trinity, and They Came From to Dystopia Rising, this is the playlist for you. We show off every game and show you how to play them.
The Contagion Chronicle – Fog over Lyndon Station
If the Chronicles of Darkness are your thing, or you're just interested in getting into them, check out this adventurous crossover chronicle using The Contagion Chronicle as its basis!
Trinity Continuum: Core – The Phoebe Trust Actual Play
And here you'll find our newest Trinity actual play, based around the Phoebe Trust society you can find in one of our latest Tasty Bits!
The Schedule
Our Twitch channel can be found over on https://www.twitch.tv/theonyxpath where our schedule for this week is pretty light, but there's some wonderful comment coming up! Give us a subscription and a follow (it's free if you have Amazon Prime)!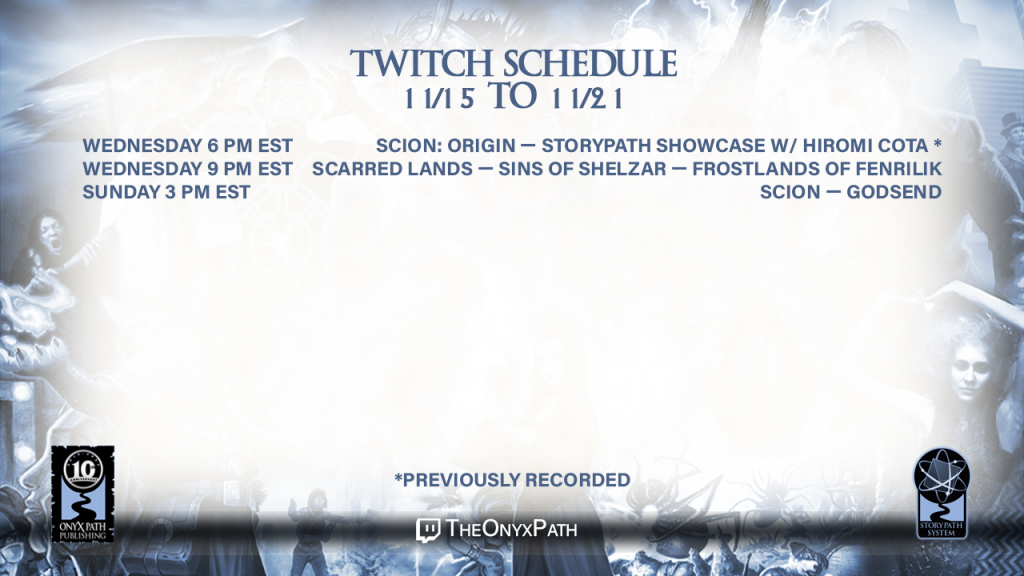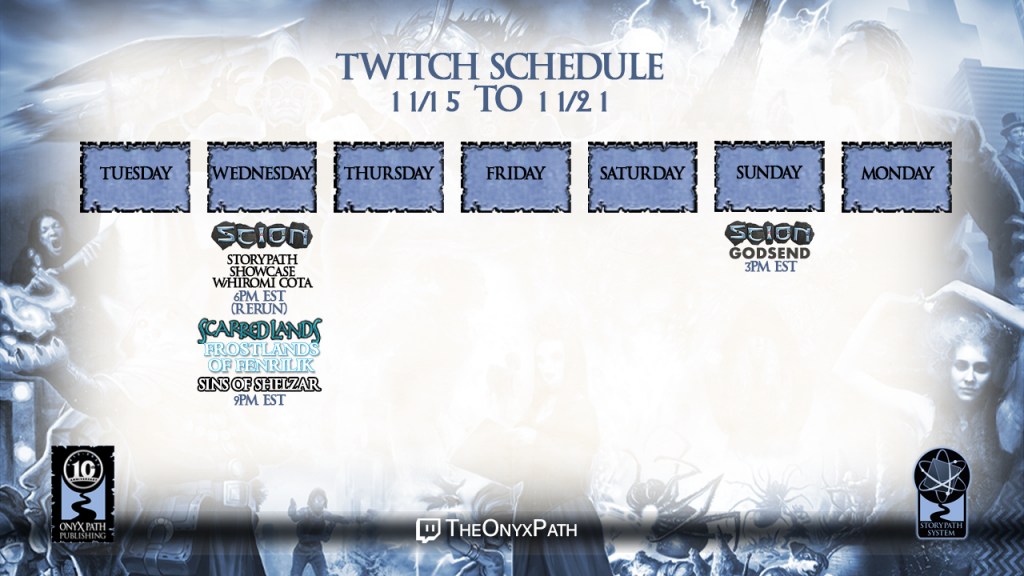 We want your media!
We're on the lookout for new shows of the following types:
Deep Dives into our various games
Character Creation streaming sessions
Actual Plays of any of our games
Reviews of our games
Interviews with writers, artists, developers at Onyx Path Publishing
And more! If there's content you'd like to produce on stream, we can help you out with the software you'll need to use, may be able to assist with your creation of an overlay, and if you can commit to a good amount of content, we can get you PDFs to assist in your game features.
Therefore, if appearing on the Onyx Path Twitch channel and YouTube channel appeals to you, please complete this form: The Form