Welcome back to our media spotlight blog, with this week's light shining on all the fun we've had making trailers for the They Came From games!
The Spotlight
Maybe it's a little self-indulgent to highlight out own content, but hell, in the run up to the They Came from [CLASSIFIED]! and They Came from the Cyclops's Cave! Double Feature Kickstarter launching this Thursday, why not?
The first two trailers we had produced for They Came From were by the masterful Larry Blamire, who some of you may know as the director of such features as The Lost Skeleton of Cadavra and Dark and Stormy Night. Not only that, but Larry contributed his fine words to Beneath the Sea!, [CLASSIFIED]!, and Cyclops's Cave! Revisit the Beneath the Sea! and Beyond the Grave! trailers here and here:
And in advance of our Kickstarter launch, myself and Travis Legge put together a double feature trailer for our newest additions to the They Came From line, which we're very happy with. It's incredibly silly, but conveys the tones of both games pretty well!
Click here to be notified when the Kickstarter launches: https://www.kickstarter.com/projects/200664283/they-came-from-the-cyclopss-cave-and-classified
The Round-Up
Keep an eye on our Twitch schedule for all manner of games and videos taking place in March!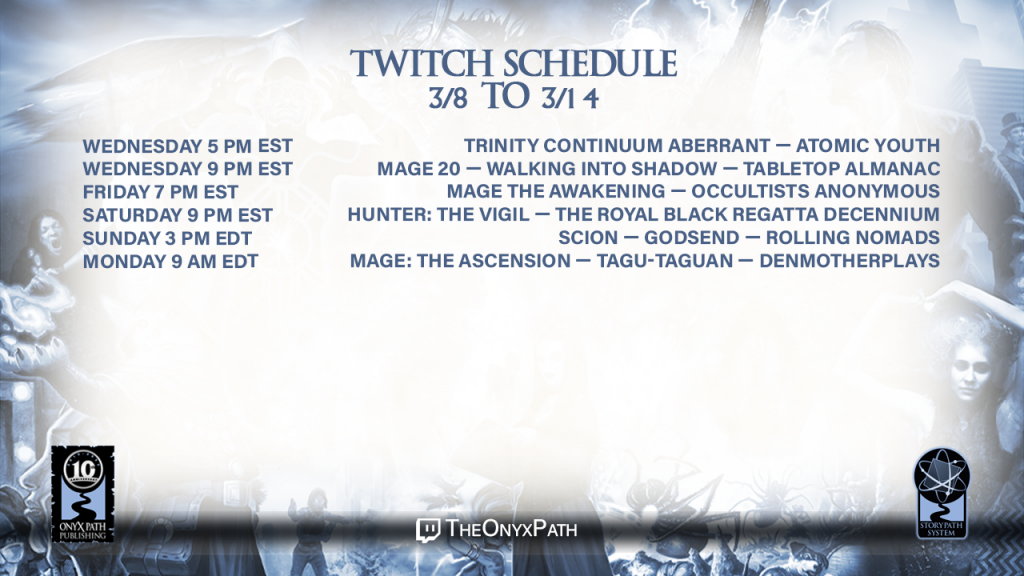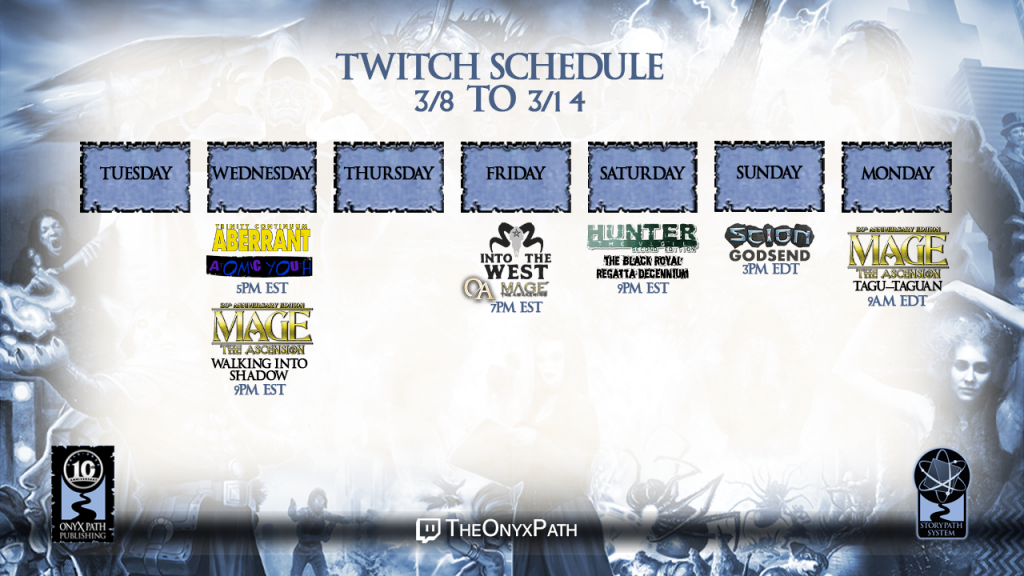 If you're not already following The Onyx Path on YouTube and Twitch, now's an ideal time to do so. We produce a wealth of content on Twitch every week with a group of stellar partners and content creators, and much of that content makes its way to our YouTube channel too. Check it out for yourselves:
https://www.twitch.tv/theonyxpath
https://www.youtube.com/c/TheOnyxPathRPG
Meanwhile, the latest Onyx Path News over on our YouTube channel is available for everyone to view. If you want to catch it live, click on the bell on our channel so you're notified each Friday when it streams!
The fantastic Scion: Dragon – Imprisoned by Fate has just got started over on our YouTube channel, so start a new show with Chaz Callendar's fantastic team!
If you're interested in the Scarred Lands setting, check out the continuing Scarred Lands: Sins of Shelzar, which will have its newest episode up on the YouTube channel later today! 
And if you want a sneak peek into the way the RPG industry works, upcoming projects, and reflections on old ones, check out Eddy Webb and Danielle Lauzon as they embark on another session of Lunch and Crunch:
The amazing Occultists Anonymous continue their stellar Mage: The Awakening show over on our Twitch, too, with the next episode coming on Friday at 19:00 EST! And if you've missed any of their episodes, you can find them all on their YouTube channel here: https://www.youtube.com/channel/UCZi12ZR6Yy8WHjNYvgdQ8Kw
Also running Mage, we have the ominously titled Walking Into Shadow coming this Wednesday at 21:00 EST, run by Tabletop Almanac! Check out and enjoy this new show, also on our Twitch channel!
Ekorren has produced an excellent video all about the God-Machine Chronicle over on their channel, so if you've ever wanted to delve into the secrets behind the Chronicles of Darkness, here's a good place to start:
https://youtu.be/pE7L14-_2W8
Ekorren isn't done though! There's another excellent Exalted video on their channel, all about creating good boss battles! This is a fun one to check out:
Devil's Luck Gaming have concluded their epic Exalted: Essence actual play, which you can find on their Twitch channel (http://twitch.tv/devilsluckgaming) along with their entire back catalogue accessible via their website here: https://devilsluckgaming.com/
Do give DLG your support, as their content really is top quality.
Meanwhile, The OpCast are delving into Trinity Continuum: Aeon's setting secrets and the first edition of Aberrant. They're such an enjoyable, relaxing listen, and really informative with it: https://anchor.fm/opcast/episodes/SETTING-SECRETS-Trinity-Continuum-Aeon-Part-3-e1dt7p4
Where I Read…
And now for something completely different, as we look at a few of the active "WIR" threads over on RPG.net, where folks read through our books chapter by chapter and give them deep reviews. Live currently, we have a thread for:
They Came from Beyond the Grave!
So if you're more inclined toward reading your reviews, this is a fine place to go.
Do you want to create media?
If you do, you should use the attached form to submit your suggestions for podcasts, review shows, actual plays, deep dives, and more! We'd love to hear from you so we can profile you on our blog and elsewhere: The Form