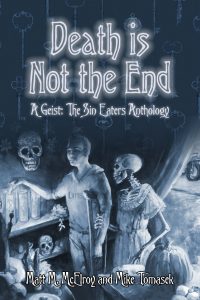 Now available in ebook and print from Storytellers Vault: Death is Not the End: A Geist: The Sin-Eaters Anthology!
Death is not the end.
You learned that firsthand when you died. In that darkness, you made a deal that brought you back — with something else. Now, bound inextricably to a geist — a shade, a monster, a tragic, broken soul — you stand between the world of the living and the world of the dead.
This collection of eleven stories inspired by Geist: The Sin-Eaters 2nd Edition explores the haunted places in the Chronicles of Darkness. The anthology includes dark tales written by Lauren Roy, Eric Zawadski, Renee Ritchie, and more!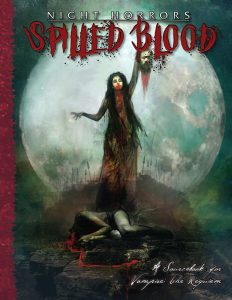 Also available, now in print-on-demand via Storytellers Vault: Night Horrors: Spilled Blood for Vampire: The Requiem 2nd Edition!
"Magic is at the heart of what we do here at the Esoteric Order of the Golden Star. With it you can find your heart's desire and riches beyond belief. I just need a small down payment, and sign here on the dotted line."
— Lady Jezebel Eliza Szilard
This book includes antagonists for both Vampire: The Requiem and other Chronicles of Darkness games.
Night Horrors: Spilled Blood includes:
Ten new bloodlines to serve as both antagonists and player character options.
Two new antagonistic covenants.
Several lost clans with reasons to both hate and work with Kindred.
Myriad antagonists who prey on vampires, either as diseases or those who need Vitae.
Sales
Indie Press Revolution has a number of great bundle deals up until May 24th, or while supplies last!
Kickstarter Update

Our Technocracy Reloaded Kickstarter for Mage: The Ascension 20th Anniversary Edition launched last week! We hit our $35,000 goal in just 45 minutes! We're currently at $134,789, or 385% of our original goal, thanks to our 1,582 backers. Wow!
We've hit a bunch of stretch goals already, including:
Technocracy Reloaded ST Screen
Technocracy Player's Companion: Constructs and Symposiums Expanded, Digital Web 3.0.2, Technomancer's Toybox 20: Q Division, Unlikely Allies
Technocratic Union PDF bundle
Backer T-shirt
Technocracy Digital Wallpaper
Did you miss one of our previous Kickstarters? The following Kickstarted products are still open for preorders via BackerKit:
Community Spotlight
The following community-created content for Scarred Lands has been added to the Slarecian Vault in the last week:

The following community-created content for Realms of Pugmire has been added to Canis Minor in the last week:
The following community-created content for Storypath has been added to the Storypath Nexus in the last week: