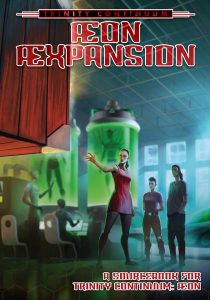 Now available: the Æon Æxpansion for Trinity Continuum: Æon! Now in PDF and print from DriveThruRPG.
New Equipment, New Threats, and New Heroes! 
The Æon Æxpansion expands the setting of Trinity Continuum: Æon by adding wondrous new technologies, two new types of playable characters, and a variety of terrifying new opponents. 
The Æon Æxpansion requires both Trinity Continuum: Æon and the Trinity Continuum Core Rulebook to play. Inside, you will find:
Information about new noetic biotech, hardtech cyberware, military weapons, and other technologies of the early 22nd century
Rules for creating and using the large and deadly battlesuits known as VARGs (Vacuum Assault and Reconnaissance Gear)
Rules for creating and playing psiad and superior characters within the Trinity Continuum
Rules for playing psions in the modern-day setting of the Trinity Continuum Core Rulebook
New and deadly Aberrants and insidious Aberrant cults for characters to battle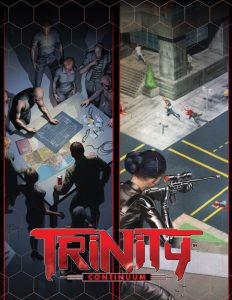 Also available: the Trinity Continuum: Æon Storyguide Screen and Storyguide Booklet! Now available from IPR in print, and on DriveThruRPG in PDF! We also had a bunch at Studio 2, but it's completely sold out already (THANK YOU!) so we're looking into options.
The Stars Await!
Humanity has begun settling on planets circling other suns. Teleporters like myself and the new Leviathan jump ships can take anyone across the galaxy in a few hours, so the stars are at last within our reach. However, we have found dangers as well as wonders out there, and only by working together can we overcome them and take our place on the galactic stage. 
– Bolade Atwan, Proxy of Upeo wa Macho, November 2122 
The Trinity Continuum: Æon Reference Screen and Document contains all the charts and important info a Storyguide could need.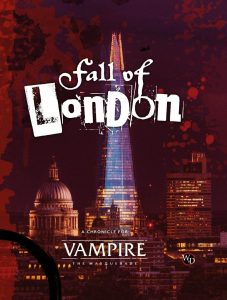 Our friends over at Modiphius have physical copies of the Fall of London for Vampire 5th Edition available for preorder. If you preorder now, you get a copy of the PDF immediately!
Sales
As part of DriveThruRPG's Teach Your Kids to Game sale, Realms of Pugmire products are on sale! That includes Pugmire, Monarchies of Mau, the Fetch Quest card game, and Canis Minor community content!
Scarred Lands products for Pathfinder (the Scarred Lands Players Guide and The Wise & The Wicked 2nd Edition) are upwards of 90% off from Indie Press Revolution! Both products are an incredible $5 each!
Kickstarter Update
The Kickstarter for Cults of the Blood Gods for Vampire: The Masquerade 5th Edition started yesterday. After hitting its $25,000 funding goal in just 47 minutes (and doubling it in under 10 hours), we currently at $73,289, or 244%. Thanks to our 1147 backers! We hit the following stretch goals:
Trail of Bone and Ashes: The Ties That Bind, a playable Hecata story; Old Wounds, exploring the enmity between the Cappadocians, Lamiae, Giovanni, Samedi, and Harbingers; Open Your Eyes: an examination of Golconda
Blood Gods Backer T-Shirt
Did you miss one of our previous Kickstarters? The following Kickstarted products are still open for preorders via BackerKit:
Community Spotlight
The following community-created content for Scarred Lands has been added to the Slarecian Vault in the last week:

The following community-created content for Realms of Pugmire has been added to Canis Minor in the last week:
The Storypath Nexus is now open! So far Scion content has been unlocked. The following community-created content for Scion has been added to the Storypath Nexus in the last week: