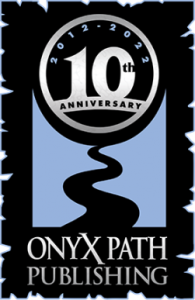 2022 is Onyx Path's tenth anniversary, so every month this year, we're celebrating a different game line!
February is World of Darkness month.
This week, we're focusing on Vampire: The Masquerade 20th Anniversary Edition! While the V20 core rulebook itself predates Onyx Path (and thus is not part of this sale), PDFs from most of the rest of the V20 game line are currently on sale for 10% of their original prices, for our 10th anniversary. That means it's 90% off!
Our partners at Indie Press Revolution also have all their physical World of Darkness stock at 20% off!