Each week during September, DriveThruRPG is offering themed sales. This week: Sail the High Seas with Pirate RPGs!
Pirates of Pugmire, a supplement for both Monarchies of Mau and Pugmire, is 80% off for this week only!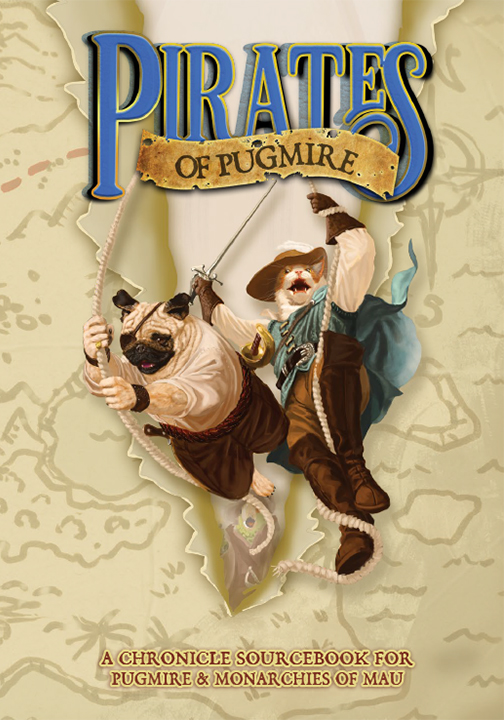 "Out here on the Acid Sea, it doesn't matter what your house is or what noble family you're descended from. All you need is a sturdy ship, a plastic hull, and a firm wind behind you. And maybe some guns."

— "Stumpy" Sabu Chromachilde, gecko captain of the Pig's Tale

With the advent of the plastic hull, people of all species took to the Acid Sea to explore, seeking new shores and facing dangers unknown. Life on the sea is different than life in the relative safety of the kingdoms and monarchies. Sailors must face the dangers of hunger, starvation, or becoming hopelessly lost and adrift while the plastic hulls of their boats slowly melt into uselessness. Large portions of the sea remain unexplored and uncharted, denying pirates the assurance of a safe journey home. If treasure is found, there's always a hostile crew or two out there on the waves, lying in wait to raid returning ships. And twisted corpses of dead sea life animated by Unseen forces haunt the waves. It takes an extra level of grit to brave the Acid Sea. Do you have what it takes?

Pirates of Pugmire is a chronicle sourcebook for both Pugmire and Monarchies of Mau. It's usable with either game, or as part of a joint experience.

Some highlights include:

Two new species for players to enjoy: lizards and birds
Six new callings, including two for dogs and two for cats
Rules for building, sailing, and sinking ships
A trove of new allies, enemies, and treasures
Information on Waterdog Port and Port Matthew
"Going on the Account," a chronicle of three new adventures, taking characters from 1st through 6th level

CAN YOU BRAVE THE ACID SEA?
We've got a selection of other titles available for 25% off, including Pirates of Pugmire supplements, and Blood Sea material for Scarred Lands!