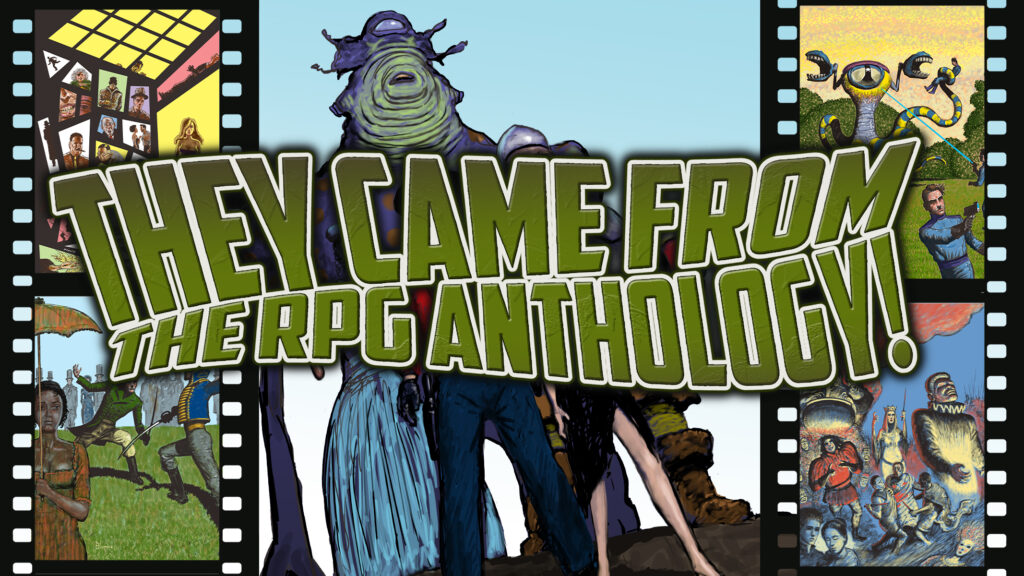 Finally, we confirm the name of our next game in the They Came From… series: They Came from the RPG Anthology! This one's a little different than the rest though, and the clue's in the title. This newest They Came From… isn't another single genre piece, but a compilation of multiple genres, spanning the big screen, the small screen, the stage, and possibly even more besides!
Why "possibly"? Well, when our Kickstarter campaign launches, one of the first things you'll likely read about is the polls we'll be running throughout its duration. Every week another poll, and every poll adding a new genre to the book. They Came from the RPG Anthology! already includes:
They Came from Cowboy's Gulch! (Westerns)
They Came from the Mean Streets! (Noir)
They Came from Bridgton Rectory! (Costume Dramas)
They Came from the Interstellar Starship! (Space Opera)
They Came from the Bard's Quill! (Shakespearean Plays)
But we'll be adding a further four chapters (at least) to this book from a selection of options you get to vote on!
You can click here to get notified when the campaign goes live: https://www.kickstarter.com/projects/200664283/they-came-from-the-rpg-anthology-tabletop-roleplaying-game
Each new genre contains at least five Archetypes with new Tropes and Quips, and new Cinematics too! What's more, each genre presents an array of antagonists for you to combat and some introduce genre-specific rules and features you can choose to use in your own games.
That's not all though. They Came From the RPG Anthology! provides two new system offerings for our loyal audiences:
The Quick Play System is a condensed, streamlined, and – as the name implies – quick system you can use for all your games of They Came From! So if you find the current system too complex for your games, you'll enjoy this slimline version of character creation and the accompanying rules.
The Storypath Ultra System is the updated version of our existing Storypath System present in games such as They Came from Beneath the Sea!, Trinity Continuum, Scion, and Dystopia Rising: Evolution, and They Came From the RPG Anthology! is the first place you'll find it in print! So if you're interested in the future of Storypath, this is the campaign to back.
As always we'll have a wide range of backer levels and stretch goals, so we hope you get involved with our campaign!
Is there anything you'd like to see in this new They Came From!? If so, leave comments here and on the Kickstarter itself, once it's live. We'll be watching backer suggestions closely in case there's a clearly dominant request for one or two particular genres.