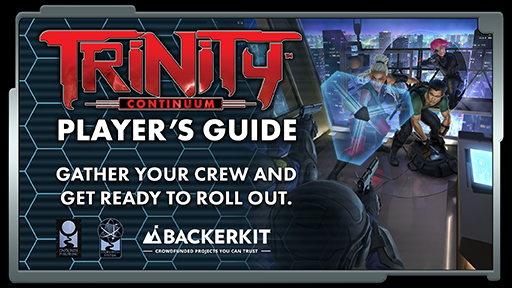 >>> Join Now <<<
The Trinity Continuum Player's Guide is a guide to playing Talents from the contemporary era and beyond. While this book is focused on the core rulebook and the games played there, the advice and rules found in this book can be used in any of the Trinity Continuum eras where Talents (daredevils or squires) are found.
This book contains new information for Talents such as expanded secondary Allegiances and new Gifts. It also contains tips on how to run interesting chases, heists, investigations, and more.
The primary purpose behind this crowdfunding campaign is to enable Onyx Path to create a hardcover edition of the Trinity Continuum Player's Guide compatible with the Trinity Continuum rulebooks (the Core Rulebook, Adventure!, Aether, etc.). Your support will allow Onyx Path to produce a fully-developed PDF and hardcover edition for this setting and rules expansion. With your help, we hope to not only deliver a beautiful book to all of our backers, but also fund at least one print run to be sold through distribution and into book and hobby stores that are so vital to our community.
Does that sound interesting to you?
>>> Click Here to Join the Crew! <<<