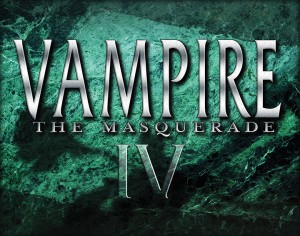 RichT here:
This isn't really a press release announcement so much as a recap of our announcement from the What's Up With cWoD? panel at Gen Con last week for the many folks who weren't there. Once we have the panel audio ready I'll link it, and if I miss anything here that audio should have it.
We started talking about having started work on V20 five years ago, and how 2016 will be twenty-five years since first edition Vampire: the Masquerade arose to darken the dreams of RPG gamers everywhere. V20 was designed as a singular book that compiled and polished all of the best and most iconic parts of the previous three editions. It was, as I've said many times, a "love letter to the fans of VtM".
What it was not was a true new edition that moved the game design or setting forward. Nor was it created with the idea that we'd spring a whole new V20 game line from it.
We've smashed our creative heads against that almost since the first supplement. For example, V20 was written with the idea of not abrogating any chronicle that folks might still be playing, so we went back to a nebulous time frame that was just not quite the start of VtM Revised but mostly VtM2. But part of the intensity of VtM is feeling like it is happening Right Now, in a world very much like ours, but darker. Every supplemental book had to deal with that in some way, and we tried them all. Stymieing your writers and developers is really not the best way to get their most creative work.
In addition, the rules had been tweaked a tad, but not a lot, because as I said on a few panels at the time, if you've been playing for 20 years those little odd bits to the rules are something you've learned to work around for years, and will actually miss in some cases.  Fixing them isn't a priority for a compilation edition like V20.
So that means that the last time the rules were changed for VtM was Revised, and that'll be 18 years ago next year. And that is a really long time to go with a bunch of systems that need fixing, not to mention that system design for RPGs has been in a constant state of evolution since then.
Set against both setting and rules needing attention was the simple fact that V20 is really great at being exactly what we wanted it to be, so for a while we tried to make it work as the basis for the line. Every year we'd talk about the next projects and we'd run into so many blockers to the amazing projects we could create. So when we looked at 2016, I proposed V4 to Eddy Webb, our VtM line developer, and all this last year we have both discussed this ourselves, and Eddy has been in contact with folks we've called the VtM Stakeholders in order to try and define the parameters of just what a new edition of Vampire should be.
These folks are a selection of smart and talented folks in both the tabletop RPG industry and outside of it who are dedicated to Vampire: the Masquerade in its many forms. We discussed all aspects of VtM with them in order to give us what Alan Moore calls a "high altitude pass" over the entirety of Vampire and to give us a feel for aspects that we might not be as aware of because it never touched us in the ways it did these folks. Besides tabletop creators from both the early days of WW as well as designers now working on different games, we had experts in the modern horror genre, ex-members of the WoDMMO team, VTES players, LARPers, and others with more obscure knowledge bases.
Some of them gave us their best thoughts on the subject, others committed but couldn't do much due to pesky life issues, and a few others dropped out because of disagreements with our process. But that very process did exactly what we needed and gave Eddy the ability to pull together these disparate ideas of just what VtM means to people, and from there to take the first pass at creating a "bible" for writing of V4.
Which brings us to this year's Gen Con and how, when, and why we announced it as we did.
We didn't announce it to prime you all for buying it, we announced it as simply as possible because that announcement is the start of a time when Eddy will begin posting blogs asking for your thoughts on V4. Some might be general, others alarmingly specific. There will be a time for coherent marketing campaigns – this is the time for creation, and we want and need your involvement.
The announcement starts the time that we are going to take our current ideas and slam them against the white-hot emotional anvil of our on-line community and see whether they are as strong as we think they are.
The announcement starts the first time that designers have the opportunity to truly communicate with our VtM community in the creation of a new edition of Vampire.
The announcement is also the first time we can engage at this stage of a project with any of our Open Development Process, which began during the creation of V20 in it's most basic form, and like other Open Dev Process projects, we will be interested in hearing what you have to say, even if we choose to go a different way. The Process has never been intended as a vote or popularity contest, nor as a way to force our creators towards design decisions they don't like. It is a communication tool we are excited to be able to use on V4, but it's not a mandate from the masses.
We did reveal a few more things at the panel:
V4 is the next edition of Vampire: the Masquerade, which means that it is the successor to VtM Revised Edition, not V20. V20 was a compilation, not a new edition.
The format of V4 has yet to be determined, but the one thing we do not want it to be is a single huge volume like V20. We want this edition to please all our current community, of course, but it is vital that V4 is accessible to new players.
That being said, V4 is the next edition of Vampire: the Masquerade, not a different vampire game. We love VtM, and are not totally reimagining it. We look at the modern era of Doctor Who, or Mad Max: Fury Road as examples of how to create a new version that is right for its time but still evokes all the qualities that the originals did and can still be seen as a continuation of the whole series.
We will be setting the setting in the year it releases (our plan is for 2016) and the overall setting will be one that traces back to where things left off with Gehenna. It will not be post-apocalyptic.
Mechanics, they need changes. We're looking at some new rules mechanics that simplify the previous versions while boosting the connection to the themes of the game.
Because V20 was a compilation volume of the very best elements of the earlier editions, it struck me that it was really still a 20th century book, even though released in 2011. V4 is going to be the first edition of Vampire: the Masquerade created for the 21st century. It is a different world now than in 1991, 1992, or 1998. I was proud and honored to be able to work on Vampire during all those years as well as on V20, and am thrilled to be able to work with all of you to make V4 the latest in that proud lineage.
Thanks!