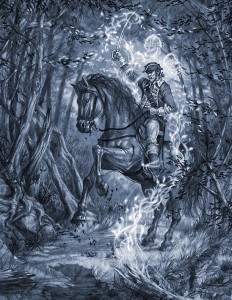 I dunno if any of you remember, but I started this as a LiveJournal page back when I first became Creative Director at White Wolf. It has been a while, and the format and such has evolved from then, through the years Fast Eddy Webb was the primary poster, and now to this weekly blog. I've noticed recently that most of what I'm currently writing about is based on imparting project info to you folks, even if it is in the form of anecdotes or like last year, in the form of positive messages and thanks. (Which we did primarily to provide an oasis from the nasty online dramas that was all that we here at Onyx could see in our social media). Now, that's OK, we have a mega-ton of projects in various stages and across more and more game lines as we keep bringing lines on line, so naturally we want to keep letting you know about them.
But I'm worried that this blog has evolved more towards shilling, and less about an inside look at what we are up to each week. And I'm worried that this gives a general appearance of our happy band of misfits being more about business and commerce than about art. Make no mistake, I personally have to be at least "concerned" about business, or we don't get to make these fun and beautiful games anymore. Yet my whole point of founding Onyx Path Publishing was that the business would enable me to do wild, artistic work with people I liked creating fantastic worlds and the games we could make from them. That has not changed at all, and I'd like this blog to reflect that.
So I'm going to list a bunch of styles the blog content could move towards here, as examples, and you tell me what style or combination of styles you'd like to see here:
1) Reminders/announcements not covered below: The Vampire: the Masquerade Bundle of Holding is in it's last 4 days and is a fantastic chance to get big discounts of PDFs from the Vampire 2nd Edition and Revised eras. Check it out here and every contribution also adds to the amount we're sending to The Dream Foundation, which is a charity that fulfills chronically ill children's dreams around the world. http://bundleofholding.com/index/current/name/Vampire2015
2) Reaching out to our community: I tweeted about this last week, but thought maybe you folks could help out too. I'm currently assembling both a "visual target" of imagery and styles that feel right for Pugmire, as well as a preliminary list of artists who would be good for it. I'm looking for very realistic illustrations of animals and/or animals in fantasy medieval clothes and armor. If Rembrandt or Caravaggio painted bi-pedal adventuring dogs, they'd fit right in. So if you know any artists whose work sounds like it might be right for this, or if you are such an artist, slap some links into the comments here. Thanks!
3) Inside story of things Eddy and I talk about in our meeting like I used to go into detail about: Eddy and I had a long talk focusing on Vampire: the Masquerade today that started with how we are handling metaplot in the V20 line, and moved into overall "scared cows" of VtM. One of the things that occurred as more books came out after V20, which we tried to keep metaplot agnostic so that it didn't stomp all over anybody's long-term games, was that we started to update the setting. I still didn't want to full-out just put out an ongoing story from book to book that changed the status quo, but so much had changed in our world since Vampire Revised that we had to talk about things like cell phones in V20 Companion. And then we added some layers of history with the bios of the vampires in Children of the Revolution. And then we looked at and expanded and "modernized" very specific groups like human hunters and the Anarchs, or specific subsets of magic in Rites of Blood. But as that happened, it was made obvious to us that the community was looking for more and so we tweaked a bit, here, and made a vague reference that could be waved away by any players who didn't like it, there.
What we were trying to avoid was using the nWoD justification of it all being a sandbox and restating that you can pick and choose. Classic WoD and VtM aren't toolboxes, and the depth of consistent background is one of the things people love about it. That's why we set on the idea of Beckett's Jyhad Diary as a place where we can bring back the richness of deep stories and histories, and move things in the setting itself forward to the modern nights, because Beckett is compiling this information but it could be wrong. They are the truths of how the setting has progressed as far as most know, but not presented with an outside force that calls it The Truth.
From there, we talked about such things that really make Vampire: the Masquerade what it is. A deep mythology like we touched on above. I think humanity is a vital component in all the ways it provides an anchor and a contrast for the character, as well as a challenge for roleplayers to deal with as they play. Another quality early VtM had more than later editions was a simple basic system (which humanity was part of) that was crunchy enough to provide a framework but could be pushed out of the way. It was a "rules-lite" system, but it was light enough. If anybody would like to contribute their own VtM sacred cows, those elements that make VtM so evocative for you and your friends, I'd love to hear them.
4) More info on the issues the Onyx Path gang deals with bringing your favorite games to life: From our Onyx Path meeting today, we went over the nWoD Dark Eras Kickstarter and how to communicate a few key ideas out to backers and the community as a whole. While we're thrilled with the response so far, after reviewing both the metrics from Kickstarter on where pledges are coming from, and comments we have noted as a group, we're not sure that we sufficiently stressed how backer-driven this KS is compared to our previous ones.
The possible additional Dark Eras and chapter expansions are all based on suggestions from our community, and the voting is in the community's hands. We haven't pre-written anything except the one Dark Era per gameline for the book we had ready at the start of the KS that guarantees that every line gets an era. So more than any of our previous Kickstarters, this one is driven by and requires community interaction and support. If you want a chance for more Dark Eras, then the primary way that can happen is to get other folks to back the project- you are in the position where you can make us hit the next stretch goal and trigger a new Dark Era vote. It is an unprecedented amount of input into the contents of one of our books, but it also requires a bit of effort and the shouldering of getting the word out if you want things to happen.
We heard that some backers wanted to use this as a chance to get friends into playing their favorite game line. Perfect, and that's why we have the $40 PDF Starter Set that provides you with the base rules sets and Dark Eras as PDFs. We've heard some folks want to support their local retailer. Awesome, and that's why we have 5 book Retailer Tiers that you can point out to them. Maybe they haven't even heard about this KS, or if they know they have a couple of sales already, because of you and your friends, they might be far more interested in backing. We have a few more interviews set up that we talked over, and other ways we're spreading the word, and we planned how we'll be pushing pretty hard in the last week, so now is the time we wanted to emphasize the community-based key to this one.
Here's the link if you haven't yet checked it out, we have 10 days still to go: https://www.kickstarter.com/projects/200664283/world-of-darkness-dark-eras-prestige-edition
5) More inside looks at other parts of what we're making: Just to give examples here, as any one of these would be a full post, but things like the stages we went through to create the new crafts symbols for Mage20, or the heraldry for V20 Dark Ages. Or just what are these steps in the creation of a book that are just given stages below- what really goes into them? What is the thinking behind our Kickstarters strategy? Rose and I are talking to all of our line developers starting last week, and why are we doing that? That sort of more detailed information on how and why we do our projects the way we do.
Let me know what you think in the comments!
And now, a part of this blog I won't be changing because it works so gooood:
DEVELOPMENT STATUS FROM ROLLICKING ROSE (Projects in bold have changed listings)
First Draft (The first phase of a project that is about the work being done by writers, not dev prep)
W20 Pentex Employee Indoctrination Handbook (Werewolf: the Apocalypse 20th Anniversary Edition) (Going for open development soon.)
M20 Book of Secrets (Mage: the Ascension 20th Anniversary Edition)
Secrets of the Covenants (Vampire: The Requiem 2nd Edition) – In Open Development
Exalted 3rd Novel by Matt Forbeck (Exalted 3rd Edition)
Demon Storytellers' Guide (Demon: the Descent) Extension to writers was given.
Beckett's Jyhad Diary (Vampire: the Masquerade 20th Anniversary Edition) (Preview post last night.)
M20 Anthology (Mage: the Ascension 20th Anniversary Edition)
Demon Translation Guide (Demon: the Fallen and Demon: the Descent)
Changeling: the Lost 2nd Edition, featuring the Huntsmen Chronicle (Changeling: the Lost 2nd Edition)
nWoD Hurt Locker (World of Darkness 2nd Edition)
Pugmire (Be a Good Dog.)
Redlines
Mummy Fiction Anthology (Mummy: the Curse)
Arms of the Chosen (Exalted 3rd Edition)
Mage: the Awakening  2nd Edition, featuring the Fallen World Chronicle (Mage: the Awakening) – In Open Development
Wraith: the Oblivion 20th Anniversary Edition
W20 Changing Ways (Werewolf: the Apocalypse 20th Anniversary Edition)
"Sardonyx" System Rules (Base rules set for Scion and the Trinity Continuum)
Cursed Necropolis: Rio (Mummy: the Curse)
Second Draft
Beast: the Primordial core book (Beast: The Primordial)
V20 Black Hand: Guide to the Tal'Mahe'Ra (Vampire: the Masquerade 20th Anniversary Edition)
W20 Shattered Dreams (Werewolf: the Apocalypse 20th Anniversary Edition)
W20 Novel by Mike Lee (Werewolf: the Apocalypse 20th Anniversary Edition)
Development
V20 Red List (Vampire: the Masquerade 20th Anniversary Edition)
V20 Ghouls (Vampire: the Masquerade 20th Anniversary Edition)
Promethean: the Created 2nd Edition, featuring the Firestorm Chronicle (Promethean: the Created) Being playtested.
M20 How do you DO that? (Mage: the Ascension 20th Anniversary Edition)
Dreams of Avarice (Mummy: the Curse)
Editing
Development (post-editing)
Sothis Ascends (Mummy: the Curse)
ART DIRECTION FROM MIRTHFUL MIKE
Sothis Ascends –  More sketches in. Should start seeing some finals in the next week or so.
Book of the Wyrm 20 – Looking into the cover is going along smoothly as I haven't heard a peep from the printer.
V20DA –  Backer PDF out. Errata will start to collect I'm sure. Screen out for approvals.

T-Shirts – Might work on one or two this week.
Art O' The Changin' Breeds –  Mage still a priority.
Fallen World Chronicle Anthology – Got the errata, working on that

Monday

morning. http://rpg.drivethrustuff.com/product/143174/The-Fallen-World-Chronicle-Anthology
WtF 2 – Sto working on it.
Wraith 20 – Getting Mr Cobb started on remaining Guild logos.
M20 – Proofing with Phil.

Dark Eras – KS rolling along. (see above)

V20 Lore of the Clans – Finals starting to roll in.
Lore of the Deceived – Second proof off to Colin today.
M20: How Do You Do That? – got art notes from Phil for everything now. Going to start putting together the art buy for that now that I got DA wrapped up.
EX3- RichT here, once again tagging onto Mirthful Mike's report: the last few pieces of art are still coming in. Waiting for Dev notes on the roughly laid out pages.
REASON TO DRINK: Below zero temperatures…need warmth.