"I consider myself a seeker of reluctant information. 'Scholar' sounds like academia. Ugh."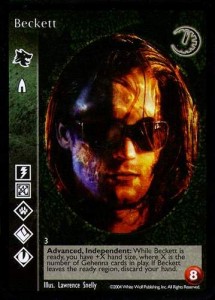 Happy (day after) Valentine's Day, Onyx Path fans! I'm Neall Price, beleaguered freelancer and developer of Beckett's Jyhad Diary. On this feast day (after) of St. Valentine, let's talk about two sides of the same coin: love and hate.
People love metaplot. People hate metaplot. Metaplot – interconnected stories between books that reference one another and move the setting forward – provides a rich story and context within a larger world. On the other hand, metaplot alters the setting with the actions of characters who aren't PCs, shifting focus away from the people at the table. Over thirteen years, Vampire: the Masquerade amassed a tremendous wealth of interesting canon characters and timeline events that shook the World of Darkness as it slouched towards Gehenna. It also gave characters the opportunity to witness those world-shaking events, through connected stories such as the Transylvania Chronicles or the Giovanni Chronicles.
One very attractive element of metaplot was that it gave you the sense of being in a much larger world. You stare at the great black lake and see huge shapes and shadows moving under the surface, not yourself reflected back at you. If you were to go into torpor this very night, and sleep for a decade, the world would not move around you, it would move on without you. Individuals – even player characters – can't stop the machinations of powerful elders that began centuries before Christianity got real big. But they can situate themselves at flashpoints emblematic of the larger conflict. And maybe, with a little luck, pluck and technology on their side, they can make a difference.
Metaplot isn't quite the same as a setting moving forward in time, nor is it the same as fleshing out lore between books. Vampire's moved on since 2004, and so have elements of the plot. While Rites of the Blood and Anarchs Unbound reference events happening in the future, they both explicitly move many events to the modern day, and incorporate elements of Vampire: The Eternal Struggle to boot. Further, even V20 itself explicitly changes some details that existed in Vampire Second Edition: Dominate Malkavians, the breaking of the Assamite Curse, the rising of the Ravnos Antediluvian. V20 presents them as setting options, events that could potentially transpire in your chronicle.
Part of the goal of Beckett's Jyhad Diary is to introduce elements and events of the metaplot, but in a way that sets them up going forward as potential events or events-in-motion, easily incorporated into your game. By discussing elements of the metaplot as flashpoints – events that could transpire, versus events that move forward – we keep Beckett being just ahead of the storms sweeping across the world.
We'll do this in the book by taking flashpoints of the Jyhad as individual diary entries of Beckett's, compiled by his faithful (and put-upon) ghoul, Cesare. Each flashpoint is comprised of recorded transcriptions, interviews, photographs, and Beckett's own take on the events going on around him. The title of this blog entry isn't just a cute reference to Valentine's Day: one of the first supplements to delve deeply into the nature of the Jyhad was Bloody Hearts: Diablerie Britain. Our faithful seeker's investigation of the Jyhad centers around the pursuit of a tome mentioned in that early supplement: the Book of the Grave-War, a text that details how the rising of elders heralds Gehenna.
Here's a snippet of one of the earliest interviews in the book, detailing Beckett's entry into Milwaukee to confront Carna, the Tremere regent whose chantry-mate (Doc Mortius, if you're keeping track) translated the Book of the Grave-War. Unfortunately, she's got ambitions of her own.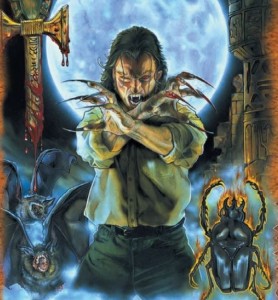 [Recording begins]
Akawa: You're a lucky fucker. How do you think Homeland Security reacts to corpses awake and sat at the table?
Beckett: I was confident it wouldn't be mortals greeting me.
Akawa: I'm guessing your boy there is allowed to hear all I'm about to say?
Beckett: He once scraped me off the road in Mexico City and helped put me back together. Cesare is a trusted ear.
Akawa: Fine. Who in fuck do you think you are, flying into Milwaukee without invitation from the Prince?
Beckett: My name's Beckett. I'm an archaeologist.
Akawa: Whose side are you on?
Beckett: In most cities they get Blue Bloods or Warlocks to do all the probing questions.
Akawa: Yeah, well, we're running short. Answer the fucking question, please.
Beckett: I'm not of the Sabbat, if that's what you're getting at.
Akawa: But you're not Cam?
Beckett: Bright boy.
Akawa: Don't talk down to me, you limey prick. I know how to disguise my age.
Beckett: I apologize, unreservedly. No, I'm not in bed with either clubhouse.
[There's a pause in the conversation at this point, the only sound being Cesare's breathing]
Beckett: I'm not lying, but feel free to study me. I had no idea how to contact the Prince in advance of my trip. In any case, my reasons for coming to Milwaukee aren't related to the Camarilla or the Sabbat.
Akawa: Everything is related to those shitheads.
Beckett: Which ones?
Akawa: Both. Sabbat want to dick Camarilla. Camarilla want to dick Sabbat. We all get pulled into it.
Beckett: Aren't you of the Camarilla?
Akawa: Up 'til recently I'd have called myself an Anarch, until the shit hit the fan in the last couple of weeks. The Kindred working security detail here disappeared, leaving me to meet and greet visitors.
Beckett: You're quite the welcoming committee. What shit hit which fan?
Akawa: Did you say your name was Beckett?
Beckett: I did.
Akawa: [laughs] Well, you're the shit. You were expected. Decker is going to love meeting you.
Beckett: I'm guessing I have cause to be concerned.
Akawa: Could say that. The Sabbat have been huffing and puffing for a good few months now. That wasn't changing. The Lupines were increasing their attacks on the city. That was hell, but we could deal with it. Then the Primogen council dissolved. Do you know what we found when we went searching through former council member Carna's library?
Beckett: Former council member? Where is she? What did you find?
Akawa: Nice to see a cool-ass Kindred in shades losing his composure. Carna's flown the nest. She left Milwaukee two weeks ago, brought along a weird cult of Tremere from along Lake Michigan shoreline. Chicago, Green Bay, even one from Manitowoc. Nobody had any idea why the Warlock population suddenly shot up, but we figured they were to be a weapon against the Sabbat packs. No such luck. They all left, even the native Milwaukee Tremere. And her library? Nothing but hundreds of scraps of paper with your name scribbled over them.
Beckett: I see.
Akawa: Yeah? Word is that Carna went Anarch somehow, which I didn't even know was possible for Tremere. But fleeing your home city just before it's about to get attacked? That's fucked up. Most of the non-Tremere Anarchs saw it as permission to make a break for the Free States. But I'm not about to just quit Milwaukee. I'd rather be Cam than tarred with that brush. This city's defenses are falling to pieces because Carna decided she preferred the view on the West Coast. At least, that's the way I heard it.
Beckett: What's your name?
Akawa: Akawa. I was born on this land, Embraced on this land, and I'll die here to protect this land if I have to.
Beckett: I'd like to see your Prince.
Akawa: Thought you might say that. Come with me.
[Recording ends]
That's it for this week. Next week (or two) we'll talk a bit more about metaplot and what that means for Beckett's investigation into the Jyhad.
Music: We need something that's both early aughts and mid-new teens. Ah, here we go.