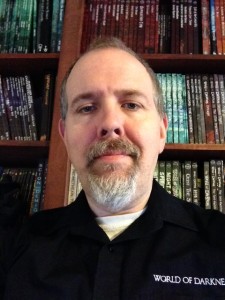 As many of you may have heard already, CCP has cancelled and/or shelved the World of Darkness MMO and laid off the remaining MMO team. Some team members, I hear, have been given a chance to stay with CCP working on EVE. Because I was once part of that team (you can see me wearing one of my WoD Dev Team shirts in the photo above), and like many of you was looking forward to the game coming out, I understand some folks are having mixed emotions right now. I certainly am. But mostly, I'm trying to support those talented MMO team members who brought the project this far and now need to find work, and get their heads around where things wound up. This isn't about us, here on the sidelines, it's about our friends who were right there to the end. Official press release here: http://www.ccpgames.com/en/public-relations/press-releases/article/77171/ccp-games-halts-development-of-world-of-darkness-mmo/
Meanwhile, to head things off at the pass a bit. Onyx Path's license with CCP is still the same. I have been told by a CCP rep that they are very happy with how things are right now. In my chat with Eddy today, he mentioned both that he was one of those laid off, but also that the intention is that he act as a license consultant for CCP. So, for now, we are functioning as normal- well, normal for us. We will continue to create new projects for cWoD, nWoD, and Exalted as long as they'll let us, and love every minute of it!
And of course, in true Onyx Path transparency-style, I'll let you know if things change.
Remember, we're on a path through the darkness. Finding our way. With only the glints off the black stone path at our feet to guide us. The Onyx Path.
Things we love that we're working on:
– Mummy the Curse – Cursed Necropolis DC is in layout and almost ready for approval proofing once all the art gets in.
– Exalted 3rd Edition:  From Holden: The final knot of Solar Charms are still being wrestled into submission, and playtest information is being collated for final-pass touch-ups to the combat Charms (particularly Melee). Chapter Four (Traits), encompassing the Great Curse, the Castes, Attributes and Abilities, Merits, Health, Willpower, Essence, anima powers, and character advancement, is DONE. Flaws, a feature that people have long been asking for, are implemented and finished. Righteous Devil Style is getting some revisions to line up with one of the Evocation cascades that is expected to heavily synergize with it.
Zub's EX3 Comic is in approvals at CCP and both EX3 novels are being worked on. Starting to get one of the EX3 Music Suites to a finished state, the Dragon Blooded theme but our composer got caught in a time crunch with another project which is why we haven't gotten much done lately.
– V20 Hunters Hunted 2:  US/Canadian missing packages being gone through case by case- at this point I should have messaged all of you back. Posted an Update asking for missing International packages last week, and starting to review each one as per the US ones.

– V20 Anarchs Unbound : The extra text on the added Free State is in editing- plus an added Free State that Justin was so passionate about that we're including as a bonus.
– Deluxe Werewolf 20th Anniversary Edition: As with HH2, US/Canadian missing packages being gone through case by case- at this point I should have messaged all of you back. Posted an Update asking for missing International packages last week, and starting to review each one as per the US ones. The Heavy Metal Deluxe W20 is done with assemblage and being packed to send to the shipper. Mike Lee has a new batch of chapters of the W20 "Houses of the Moon" novel for Bill to review. Jess Hartley has the White Howlers Tribe Book in second drafts. W20 Wyld West is in layout and art is coming in.
– Mage the Ascension 20th Anniversary Edition- going to review the M20 schedule this week and chart out the various Rewards and new projects coming out of the Stretch Goals.
– Mage 20 Quickstart: To press- proofs OK'd after some tweaks.
– W20 Changing Breeds  PDF and PoD versions are on sale at DTRPG! Deluxe files are printing, and embossing. The Changing Breeds Fiction Anthology is ready for layout.
– W20 Book of the Wyrm is in layout. This will be the next Kickstarter project in a week or two if everything times out as expected. We think this book should appeal to W20 and W20 Changing Breeds fans alike. Getting this KS together, bit of a delay with the stuff happening mentioned above which just cut into prep time
– V20 Rites of the Blood: is ready for layout, but layout is not yet ready for it, waiting on one artist for finals.
– Trinity Continuum: New System ideas continue being hammered out. Had a big meeting yesterday with lots of excitement-looking for combat examples before the whole document is ready for the community.
– Scion: New Systems discussion continue. Both Scion and the TC above are now moving into active mode for 2014. Contracts and art notes out for the Scion: Origins cover.
– Demon: The Descent: Demon is now available in PDF/PoD/PDF&PoD combo versions. The Demon: Ready Made Characters PDF link has been sent to backers- getting ready to set the PDF and PoD versions for sale on DTRPG. Demon Seed Collection is in first drafts. DtD Seattle is in first redlines. Heirs to Hell is in final development. Demon Translation Guide is being written.
– Hunter: Mortal Remains: Is in post editing development, almost in layout.
– Book of the Deceived (MtC): Redlines. The loss of a writer means their section has to be given to a new writer, CAS is on top of it.
– nWoD: Dark Eras: Second drafts coming in.
– V20 Dark Ages: Scribes are scribing 2nd Drafts. David Hill is working on some art notes.
– DtD Players Guide: Flowers Of Hell: In layout and waiting for art.
– V20: Ghouls: In redlines.
– V20 Red List: In final draft stage.
– The Making of the Art of Children of the Revolution: Out to backers who pledged for it. Creating PoD files to go with PDF for sale on DTRPG.
– W20: The Umbra: In redlines.
– WtF: The Idigam Chronicle: First drafts coming in. Keep an eye on the blogs and forums here- lots of good discussion happening right now: https://theonyxpath.com/category/projects/werewolftheforsaken/
– GtSE: Geist Ready Made Characters: In redlines.
– Also: nWoD Skull and Scion Pantheon shirts now on the RedBubble T-shirt site.
Reason to Drink: To those who tried to create an MMO worthy of WoD.