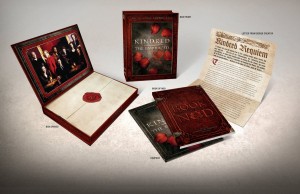 A new Kindred: The Embraced DVD set is now available on Amazon!
Enter the dangerous and sexy world of the undead when vampires clash with mortals — and each other — in modern-day San Francisco. Five clans of urban vampires are known as the Kindred, and in their terrifying embrace, one becomes forever young… forever beautiful… forever doomed. From the savagery in the premiere episode to the chilling climatic finale, Kindred draws you into a mysterious realm of corruption, turf wars, forbidden liaisons, and inhuman hunger — in a spellbinding saga of erotic danger and otherworldly suspense!
Originally airing between April 2 and May 9, 1996, this eight-episode set also includes a letter from the series creator, and a copy of the Book of Nod with a unique Kindred cover.
Sadly, the series was cut short with the death of principle actor Mark Frankel (Julian Luna).