Tonight we cast our illuminating gaze darkward, in the direction of a video maker and podcaster by the name of Lore by Night.
The Spotlight
Lore by Night is a show that's been running for a good while now, with its largest focus on exploring the World of Darkness properties, combining reviews of books with in-depth explorations from different elements of the World of Darkness setting. Lately, they've also started delving into the Chronicles of Darkness, with an actual play of Deviant: The Renegades! Do check them out: https://www.youtube.com/c/LoreByNightVtM
The Video Round-Up
If you're not already following The Onyx Path on YouTube and Twitch, now's an ideal time to do so. We produce a wealth of content on Twitch every week with a group of stellar partners and content creators, and much of that content makes its way to our YouTube channel too. Don't take our word for it, however; you can check it out for yourselves:
https://www.twitch.tv/theonyxpath
https://www.youtube.com/c/TheOnyxPathRPG
Here's this week's schedule, and don't forget, if you missed something you want to watch, you can find it by subscribing (for free, if you have Amazon Prime) to our Twitch channel: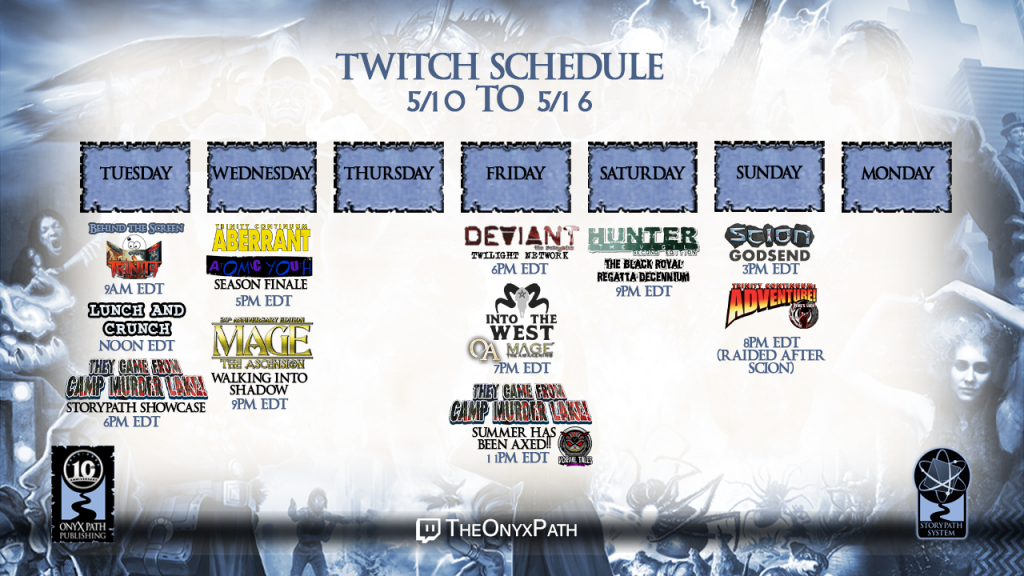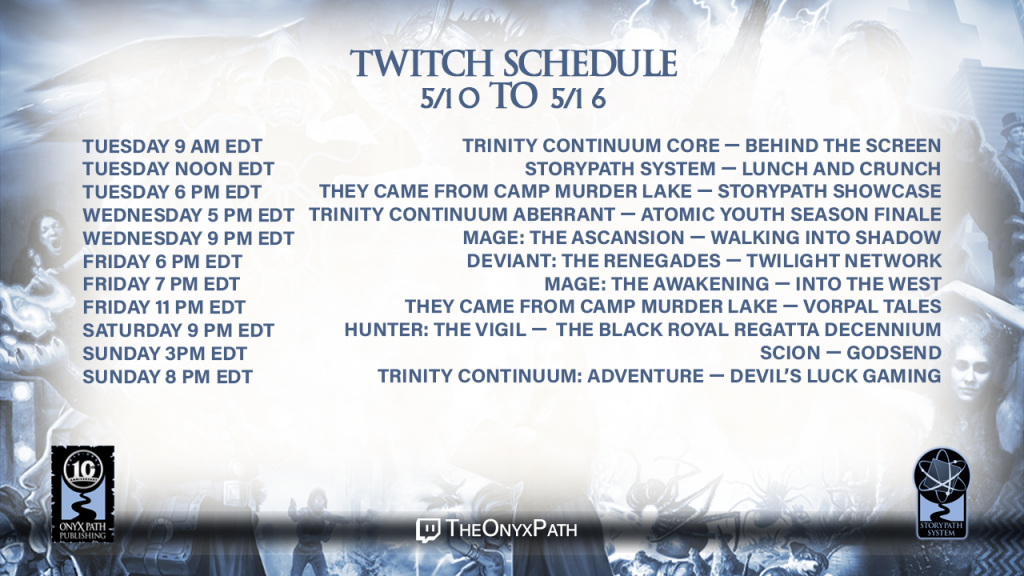 That's a loaded schedule for this week, with a whole heap of offerings from Mage to Trinity to They Came From and everything in between. Do tune in and give the various shows your support!
In the past week, we uploaded the following videos to our YouTube channel:
And here's the latest edition of The Onyx Path News covering Squeaks in the Deep, Mummy, Deviant, and more!
And here's the ever amazing Simulacra Studios with their Aberrant: Atomic Youth series returning for Blood Makes Nose Pt.6!
And another excellent return from the same gang, as we reach ÆON: Luna Rocks Episode 4:
The Podcast Round-Up
Mage: The Podcast has ventured into the M20 Book of Secrets in its most recent episode, so we strongly recommend you give this always stellar show a listen:
A Bunch of Gamers continues with their stellar Werewolf show:
https://podcasts.apple.com/gb/podcast/werewolf-the-apocalypse-episode-38-unexpected-strife/id1499268564?i=1000476757504
And on the subject of Werewolf, you can find the ongoing Werewolf: The Podcast right here:
https://keepontheheathlands.podbean.com/
And here's the stellar Changeling: The Podcast for you:
https://changelingthepodcast.com
That's right, there are podcasts for all World of Darkness seasons.
Last, but by no means least, the ever excellent OPCast covers Aberrant right here:
https://anchor.fm/opcast/episodes/Trinity-Continuum-Aberrant-Part-1-of-5-e1etpv4
Where I Read…
We're looking for some new Where I ReadERS, so if you want to start up a thread over on our forum, on E.N. World, or on RPGnet where you read through one of our books, do post a link below and we'll be sure to show it off!
Do you want to create media?
If you do, you should use the attached form to submit your suggestions for podcasts, review shows, actual plays, deep dives, and more! We'd love to hear from you so we can profile you on our blog and elsewhere: The Form