We don't just highlight actual plays here on the media blog; we also delve into the world of podcasts and analyses of our various game lines. This week, we're paying a visit to the Deliberative Podcast!
The Spotlight
The Deliberative Podcast has been running for a good while and has really broken down Exalted into several interesting chunks, deeply analysing the game's parts from a fan and a Storyteller perspective. We recommend you check out any one of their episodes over here:
https://podtail.com/en/podcast/the-deliberative/
The Video Round-Up
If you're not already following The Onyx Path on YouTube and Twitch, now's an ideal time to do so. We produce a wealth of content on Twitch every week with a group of stellar partners and content creators, and much of that content makes its way to our YouTube channel too. Don't take our word for it, however; you can check it out for yourselves:
https://www.twitch.tv/theonyxpath
https://www.youtube.com/c/TheOnyxPathRPG
Here's this week's schedule, and don't forget, if you missed something you want to watch, you can find it by subscribing (for free, if you have Amazon Prime) to our Twitch channel: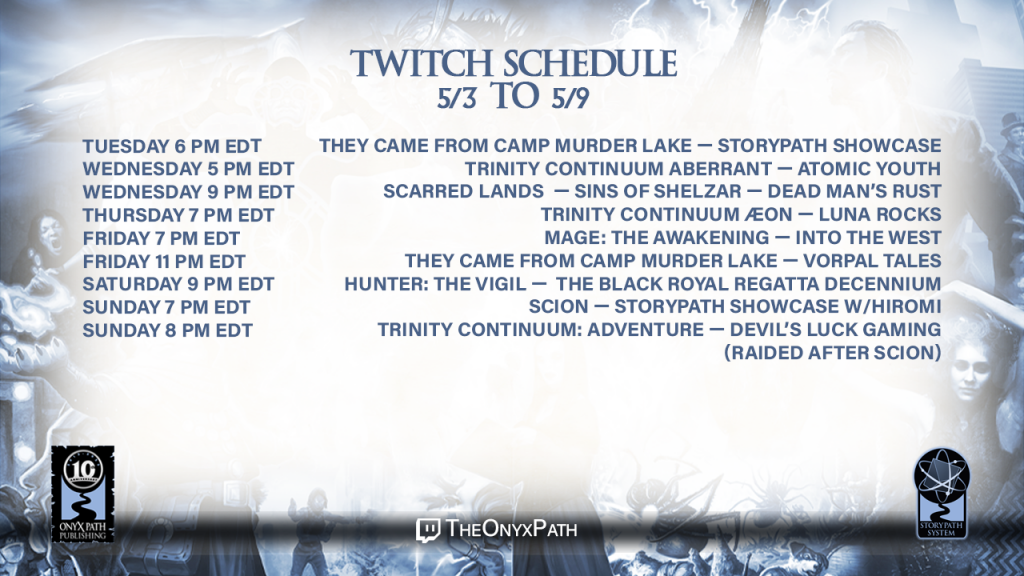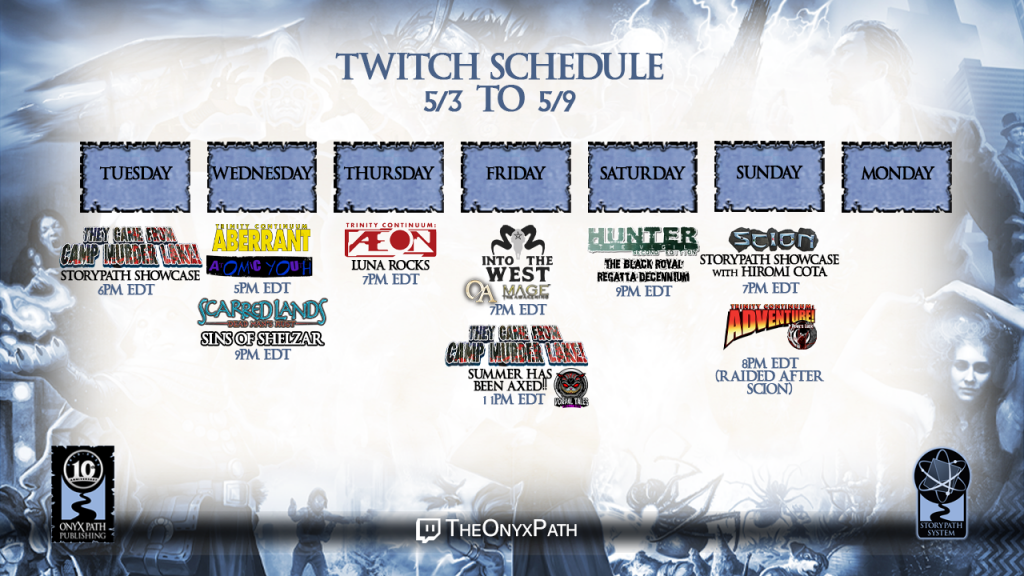 In the past week, we uploaded the following videos to our YouTube channel:
So if you've been paying attention, that's a heaping of Hunter and Scion for you to enjoy! In particular, do check out Hiromi's Scion story as it's been going incredibly well!
And here's the latest edition of The Onyx Path News covering Karnstein, wallpapers, and more!
But that's not all!
Simulacra Studios continues with Aberrant: Atomic Youth, so you can enjoy one of the best Trinity actual plays going right now:
And last week we asked YOU to submit your media to us, in case there were any videos, podcasts, or the like we've been missing. Thank you so much for the response! Check out one of the podcasts in the below section, and Innocence in Blood for Vampire: The Masquerade right here:
Plus, the Shadows by Firelight show covers all manner of games on their Twitch and YouTube channels, not limited to World of Darkness and Trinity Continuum: Anima! Tune in live or subscribe to view their existing content:
https://www.twitch.tv/shadows_by_firelight
https://www.youtube.com/channel/UCDnkgqFq2XMirpBtxL5g3gQ
Their focus on YouTube is currently Werewolf: The Apocalypse, so it's definitely worth checking out the channel if you're interested the pestilence on our planet that is the Garou.
The Podcast Round-Up
One of the shows submitted to us last week was Changeling: The Podcast, of course covering Changeling: The Dreaming – a game for which I have a huge amount of fondness. If you've ever wondered how to get into Changeling, here's a good entry point:
https://changelingthepodcast.com
Give them a follow on Twitter over on @changelingcast and support them on their journey!
Mage: The Podcast has ventured into the M20 Book of Secrets in its most recent episode, so we strongly recommend you give this always stellar show a listen:
A Bunch of Gamers continues with their stellar Werewolf show:
https://podcasts.apple.com/gb/podcast/a-bunch-of-gamers/id1499268564
And on the subject of Werewolf, you can find the ongoing Werewolf: The Podcast right here:
https://keepontheheathlands.podbean.com/
While the ever excellent OPCast covers Aberrant right here:
https://anchor.fm/opcast/episodes/Trinity-Continuum-Aberrant-Part-1-of-5-e1etpv4
Where I Read…
Now let's look at a few of the active "WIR" threads over on RPG.net, where folks read through our books chapter by chapter and give them deep reviews. Live currently, we have a thread for:
They Came from Beyond the Grave!
Do you want to create media?
If you do, you should use the attached form to submit your suggestions for podcasts, review shows, actual plays, deep dives, and more! We'd love to hear from you so we can profile you on our blog and elsewhere: The Form