Today out spotlight gets Exalted, as we shine a beam on The Wondrous Atlas of Creation's Destiny!
The Spotlight
The Wondrous Atlas of Creation's Destiny looks at characters, concepts, and places throughout Creation, the setting of Exalted 3rd Edition, and spends two episodes a piece examining each and the way you can use them in your Exalted chronicles.
This show was brought to our attention through last week's media blog (along with a lot of other shows, profiled below) and we very much encourage you check them out! it's excellent stuff and a great way to access Exalted.
Show website: https://www.wondrousatlas.wordpress.com
Anchor: https://anchor.fm/wondrous-atlas-of-creations-destiny
Spotify: https://open.spotify.com/show/00kUymWSFkHbzamDk7Hohm
Apple Podcasts: https://podcasts.apple.com/us/podcast/wondrous-atlas-of-creations-destiny-an-exalted-podcast/id1621765257
The Video Round-Up
If you're not already following Onyx Path on YouTube and Twitch, now's an ideal time to do so. We produce a wealth of content on Twitch every week with a group of stellar partners and content creators, and much of that content makes its way to our YouTube channel too. Don't take our word for it, however; you can check it out for yourselves:
https://www.twitch.tv/theonyxpath
https://www.youtube.com/c/TheOnyxPathRPG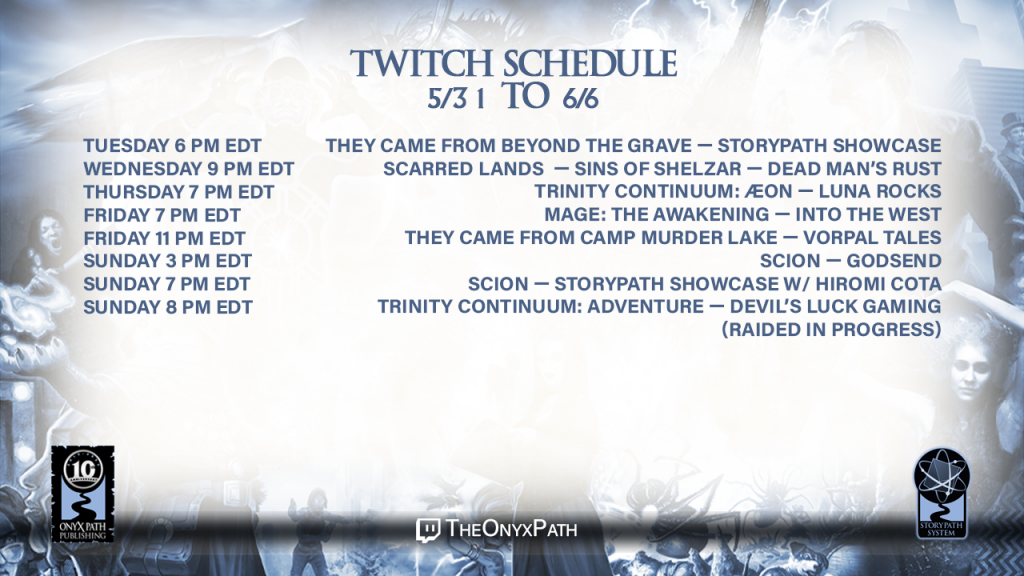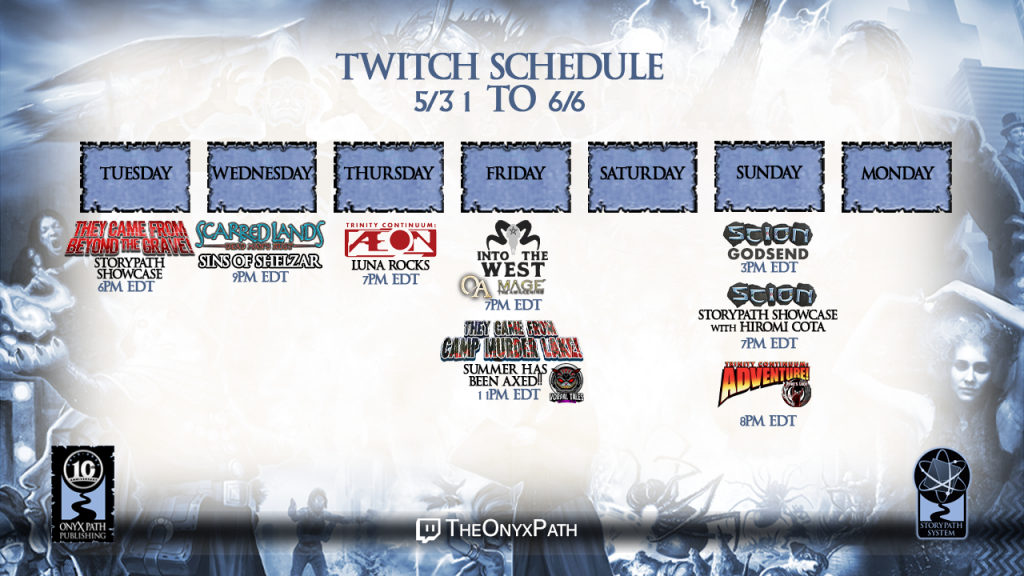 As ever, we have a packed schedule with everything from Scion to Mage, to a return to Camp Murder Lake!
In the past week, we uploaded the following videos to our YouTube channel:
What's that? Oh yes, a whole They Came from Camp Murder Lake! series along with the continuing adventures of Hunter: The Vigil! Enjoy!
And that's not all, because the fine folks who submitted media for us to profile last week included Shadows by Firelight's Werewolf: The Apocalypse chronicle, A Rite to Remember!
And if you're a Spanish speaker, you'll enjoy Hombre Lobo: El Apocalipsis covering off Vampire, Werewolf, and more!
The Podcast Round-Up
And then we have the always fun podcast round' up, including:
Mage: The Podcast has ventured into M20 Gods & Monsters, our massive bestiary for Mage:
A Bunch of Gamers has wandered into the murky waters of They Came from Beneath the Sea!
https://podcasts.apple.com/gb/podcast/tcfbts-the-crabby-lizard-from-the-murky-depths-part-1-of-2/id1499268564?i=1000478123387
You can find the always excellent Werewolf: The Podcast right here:
https://keepontheheathlands.podbean.com/
And here's the newish Changeling: The Podcast for you:
https://changelingthepodcast.com
The ever excellent OPCast interviews developer and writer Leath Sheales about Prometheus Unbound for Trinity Continuum: Æon:
But we also received word of a new podcast to check out!Path of Night Podcast delves into Mage, Geist, Werewolf, Changeling, and more in their Chronicles of Darkness podcast, Forgetting Ashville:
https://path-of-night-podcast.simplecast.com/episodes/forgetting-ashville-1-homecoming
Where I Read…
We're looking for some new Where I ReadErs, so if you want to start up a thread over on our forum, on E.N. World, or on RPGnet where you read through one of our books, do post a link below and we'll be sure to show it off!
Do you want to create media?
If you do, you should use the attached form to submit your suggestions for podcasts, review shows, actual plays, deep dives, and more! We'd love to hear from you so we can profile you on our blog and elsewhere: The Form