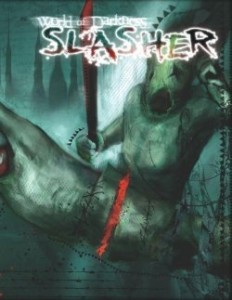 I mentioned in my Hunter the Vigil 2E developer announcement that I wanted to use OpenDev as a way to introduce how I'm addressing gameplay, structure, and the three tiers in the context of the Slasher Chronicle. This will be an experiment, for both you and for me, that will help us understand how discussions like this can affect development prior to the outline phase.
First, let's kick off Hunter OpenDev by addressing what a slasher is, since this type of monster is crucial to the Slasher Chronicle. So, outside of the horror trope and being dangerous killers–what is a slasher? The Slasher supplement has a great introduction that talked not only about how this book examines the trope, it takes this idea a step further by saying:
"That's the hunter advantage: working together, a unified front of defense and attack.

But what it the slashers had that advantage, too? What if, say, we gave you the tools to consider what happens when slashers aren't the lone killers so commonly expected, but instead band together? A family of thrill-killing mutants? A cabal of ritualistic killers? A squad of mindless brute thugs, their faces concealed behind featureless masks? The danger is multiplied. The killings grow exponentially. A hunter cell facing a cabal or a cult of slashers is in for a very rough ride, indeed.

And did we mention that sometimes, hunters become slashers?" (Slashers, p 11.)
The fact that all hunters have the potential to become slashers is terrifying, and in a supplement this is a fantastic option to explore. In the Hunter 2E rulebook, however, one of the things I'm looking at is how cells, compacts, and conspiracies are presented for standard gameplay and how they might fit into the overarching chronicle. When I was thinking about this, the compact Ashwood Abbey immediately jumped out to me as potentially problematic. (For those of you who are new to Hunter, cells are a Tier One style of play, compacts reflect Tier Two, and conspiracies are Tier Three.)
The Scotland-based Ashwood Abbey is a compact on pp. 102-105 of the Hunter the Vigil 1st Edition corebook. Abbey members tend to be thrill-seekers, hedonists, and social climbers whose status is based on:
"…who you know and, to a lesser degree, what you've killed. But mostly it comes from getting a reputation for being adventurous, for putting on great, bizarre parties, for doing imaginative things to your quarry." (H:tV 1E, p. 105)
The compacts were also addressed in the Slasher supplement, and Ashwood Abbey was presented in part as thus:
"When you're the kind of person who loves a good hunt, what better prey than a killer possessed of native cunning, speed, determination and a seeming inability to lie down and know he's licked?

It doesn't get any better than that. Of course, the Abbey members are mostly borderline psychos anyway, and slashers — particularly Charmers and Geniuses — might get a kick out of joining. Once or twice, the Freak-ish offspring of those inbred moneyed families you hear about have been brought along on hunts, kept on a tight leash (sometimes literally). There have been several members of the Ashwood Abbey who, over the years, have either maintained dual membership or transferred their membership to the Hunt Club.

Sometimes the members of the Abbey find a killer they respect and invite him to join — in part of get him off the streets and into some "productive" killings, in part to honor his twisted talents. In 1888, a group from the Abbey found Saucy Jack himself. The story is common currency among the Abbey: he joined, he was good at killing beasts, but then he got bored. When he went back to killing prostitutes, the Abbey ended up hunting down and killing him." (Slashers pp. 47-48)
While I don't want to give the entire story for Hunter 2E away, you can safely assume that there are more slashers present now (with respect to an "in game" timeline) than there were in 1E. Applying that to Ashwood Abbey, this means the compact is more likely to harbor and work with slashers, and this increases their potential threat level to other compact members — which makes them more antagonistic to other hunters. The seeds of this possibility was introduced in the Slasher supplement as well, through the Hunt Club. Here's a little more about them:
"An irony: the Hunt Club isn't an organization of hunters. It's an organization of killers. Superficial similarities between the Hunt Club and Ashwood Abbey (the affluence of their members, the exclusivity of their membership practices) cause some hunters to confuse them, or assume that one is a department of the other, but notwithstanding the occasional member of the Abbey who joined the Hunt Club, they're wholly separate organizations with their own structures and their own resources." (Slashers p. 48)
I feel these aspects have the potential to limit the opportunities for Ashwood Abbey members to work with non-Abbey members and, more importantly, it could also turn the compact into a target for slashers, hunters, and other monster types. With all of this in mind, I'm mulling over three possibilities for Ashwood Abbey in Hunter 2nd Edition. They are:
No Change: First, we can keep Ashwood Abbey mostly "as is" with few changes per my above-quoted text. This wouldn't be impossible to do, but it wouldn't be my preferred option.
Blending the Two: Second, we can reinforce that it's a challenging time to be a member of the Ashwood Abbey. A growing number of hunters are fleeing to join the Hunt Club, and other hunters are not only confusing the two groups, they are actively keeping tabs on them for fear they might be slashers, etc. This means that the Hunt Club would also be included in the Slasher Chronicle, and would take the place of a new antagonist. By far, this is the safest route to take.
Major Update: Or, third: we turn Ashwood Abbey into antagonists who've been taken over by the Hunt Club, and design/use a new compact to take their place. By doing so, Hunter's version of the Hellfire Club wouldn't be as much of an outlier for this book, and we can use or create a more appropriate compact that's more interested in dealing with the overall mystery and has the potential to work with other compacts. (Please keep in mind that VASCU, which first appeared in Slasher, is a conspiracy.) This is a more inventive option that would allow for a new compact based someplace new, such as Brazil, Nigeria, Japan, etc.
Now that I've given you some background, some quotes, and some options, I'd like to open up this post to discussion.
Which of these three options do you prefer and why?
If you're worried about a change, what is your hangup and how do you feel this'll affect your group?
If you're excited by a specific idea, what do you like most about it?
If you already play Hunter, are Tier Two chronicles your preferred style of gameplay?
Please, in your comments, be clear as to why you do/don't like the options I've proposed. As a gentle reminder, I'm not looking at your responses as a poll, nor am I counting comments as votes for the most popular option; I'm much more interested in figuring out what's best for the new edition, for both new and existing fans, within the context of the Slasher Chronicle. After all, Hunter 1E was published almost nine years ago and a lot has changed since then! Lastly, please keep in mind we've got some new Hunter fans who might be reading this post, too, so if your comment isn't clear it might trigger more questions for clarity.
Next time, I'll let you know what I've decided. Then, I'll specifically address your questions and concerns about Tier Two with respect to the number of compacts we'll include, as well as ways we can fit more existing and new compacts in this book. I am looking forward to discussing the possibilities with you!